SCHNITZEL and Rainbow Potato Salad! is on the menu in Book recipe, and we are going to teach you how to make this delicious recipe from scratch!
Crispy outside and juicy inside! Schnitzel with sour potato salad is one of my favorite meals. I leveled up this classic beef schnitzel recipe with a kadayıf (shredded phyllo) twist and it became one of our beloved mash-up recipes. I strongly recommend you try it with my silky potato salad to meet this dream couple! ????
Follow along with the ???? recipes below????????????????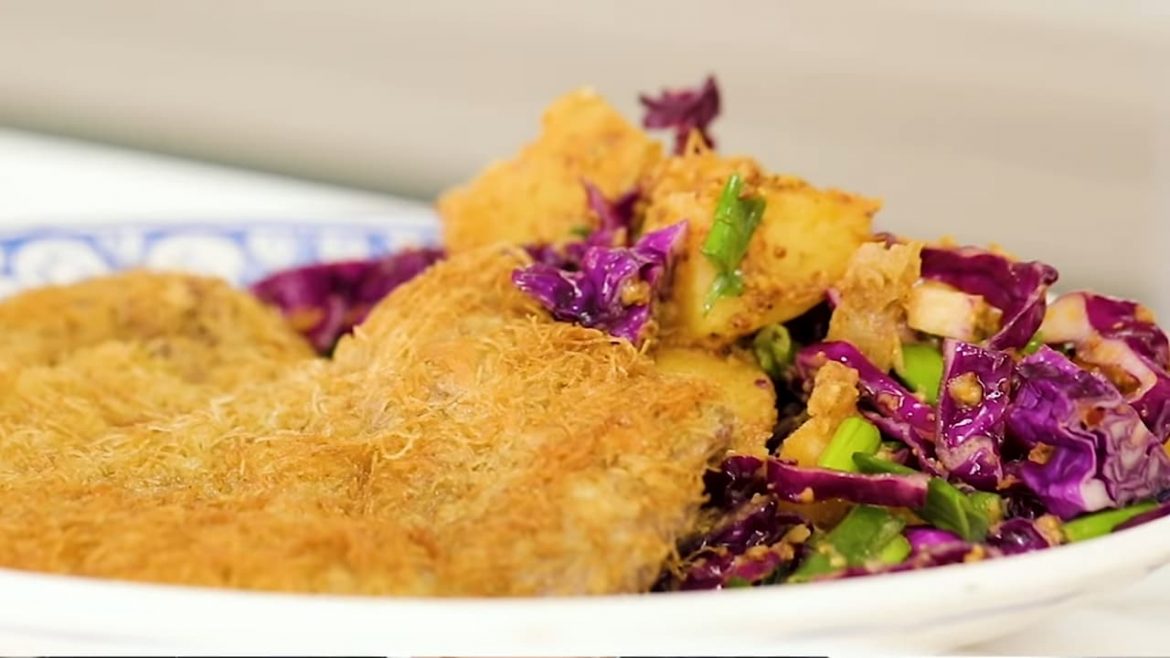 Ingredients
5x 100 g beef tenderloin (rib eye)
1/2 cup all-purpose flour
2 eggs
2 tablespoons heavy cream
2 cups of dried kadayıf (shredded phyllo, available in Middle Eastern shops or online. Alternatively, use breadcrumbs)
Salt
Olive oil or vegetable oil, for frying
To garnish:
Potato Salad with Red Cabbage:
4 medium potatoes, chopped into even 2-3 cm (1-2 in) pieces
½ of a small red cabbage, cut into 2 wedges, and sliced
2 tablespoon white wine vinegar (any vinegar works well)
6 sprigs of spring onion, sliced
9 tablespoons olive oil
1 tablespoon mustard (mild)
2 tablespoon whole grain mustard
1 heaped teaspoon of salt
1 heaped teaspoon cayenne pepper
1 heaped teaspoon hot red pepper flakes (or hot paprika)
1 heaped teaspoon freshly ground black pepper
Instructions
Place the flour on a plate which is large enough for the beef tenderloin and generously season with salt Whisk the eggs and cream in another large dish and season. Mix the kadayıf with a pinch of salt and place it on a plate. If using fresh kadayıf, heat and dry the kadayıf in a large pan for 2 minutes on high heat and stir occasionally to prevent browning. Crumble it on a plate when it has cooled down enough to handle.
Cut the two long edges of a large plastic (or freezer) bag and open it like a book. Place one of the beef tenderloin slices on the bag and fold it back to cover.
Pound the beef slices to 2- 3 mm (1/10- 1/8 in.) thickness with a mallet or a small saucepan. Be careful not to tear and always slide the mallet right after each stroke. Sliding helps to flatten the meat quicker.
Heat a large frying pan on medium-high heat and pour in the olive oil until it reaches to 1 cm (2/5 in) depth.
Working with one beef slice at a time, dredge in the flour and shake off any excess. Dip into the egg mixture and coat evenly. Then, coat with the kadayıf. Make sure that each side of the beef is coated with kadayıf and don't press because that may wet the kadayıf and you will end up with a less crispy schnitzel.
Transfer the slice to the pan and fry for about 1-2 minutes. Turn and fry for another 1 minute until golden brown. Transfer to a paper towel-lined sheet and repeat with the remaining slices.
Your insanely delicious and crispy schnitzel is ready. I strongly recommend you serve it with my potato salad with red cabbage and squeeze some lemon or clementine just before you dig in!
Potato Salad with Red Cabbage:
Cover the potatoes with salted room temperature water in a pan. Bring to boil and cook until tender for about 6-7 minutes.
To make the dressing, mix the vinegar, olive oil, whole grain mustard, mustard, salt, cayenne pepper, red pepper flakes, hot pepper flakes and black pepper in a large bowl.
Drain the potatoes and gently mix the potatoes with the dressing while they are still warm. Potatoes soak up the flavours better while they are warm. Leave them to cool slightly.
Add the red cabbage and spring onions and give it a last mix.
Did You Make This Recipe?
---
Enjoy
Let us know what you think of today's SCHNITZEL and Rainbow Potato Salad! tips, tricks, and hacks!