CHOCOLATE CHIP COOKIE is on the menu in Book recipe, and we are going to teach you how to make this delicious recipe from scratch!
Anna Olson's Chocolate Chip Cookie recipe is world famous, and now it's getting an upgrade!
Follow along with the ???? recipes below????????????????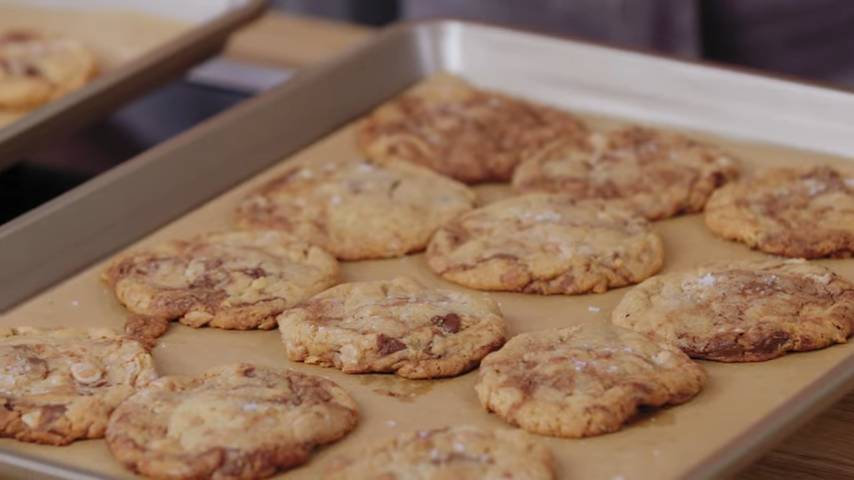 Ingredients
¾ cup (175 g) unsalted butter
1 cup (200 g) packed light brown sugar
¼ cup (50 g) granulated sugar
2 Tbsp (30 mL) caramel sauce or dulce de leche
1 large egg, at room temperature
1 tsp (5 ml) vanilla extract
1 1/2 cups (225 g) all-purpose flour
¼ cup (25 g) regular rolled oats
1 Tbsp (7.5 g) cornstarch
½ tsp baking soda
½ tsp flaked sea salt, plus extra for sprinkling
1 cup (180 g) semisweet chocolate chips
½ cup (90 g) salted caramel chips
Instructions
Preheat the oven to 375°F (190°C) and line 2 baking trays with parchment paper.
Melt the butter in a saucepan over medium heat until the foaming subsides and you see brown bits form at the bottom, 3 to 4 minutes. Measure the brown and granulated sugars into a large mixing bowl and pour the butter (including the brown bits) and whisk to combine. Whisk in the caramel sauce (or dulce de leche). The mixture may not look smooth, but it will once the dry ingredients are added.
Switch to a spatula and stir in the egg and vanilla. Stir in the flour, oats, cornstarch, baking soda and ½ tsp salt until well-combined and then stir in the chocolate and salted caramel chips. Scoop the cookies onto the baking trays, leaving 2-inches (5 cm) between them. Flatten them with your palm and sprinkle lightly with sea salt. Bake for 8 to 10 minutes and give the trays a good smack on the oven door or counter before setting them on racks to cool.
Notes
The cookies will keep up to 4 days in an airtight container
If not available, you can replace the salted caramel chips with regular chips or another flavour.

Did You Make This Recipe?
---
Enjoy