Egyptian Kahk is on the menu in Book recipe, and we are going to teach you how to make this delicious recipe from scratch!
Today, I'll be showing you how to make Perfect Kahk El Eid (Egyptian Eid Cookies) with three different fillings that are really easy to make. I'm sure you'll be making this recipe for years to come! Please like the video if you enjoyed it and be sure to subscribe and watch the next videos. I'm Obi from Middle Eats and I'm on a mission to show you how to cook delicious food from across the Middle East. If you want to request a video for a Middle Eastern Recipe, please leave a comment below.
Follow along with the ???? recipes below????????????????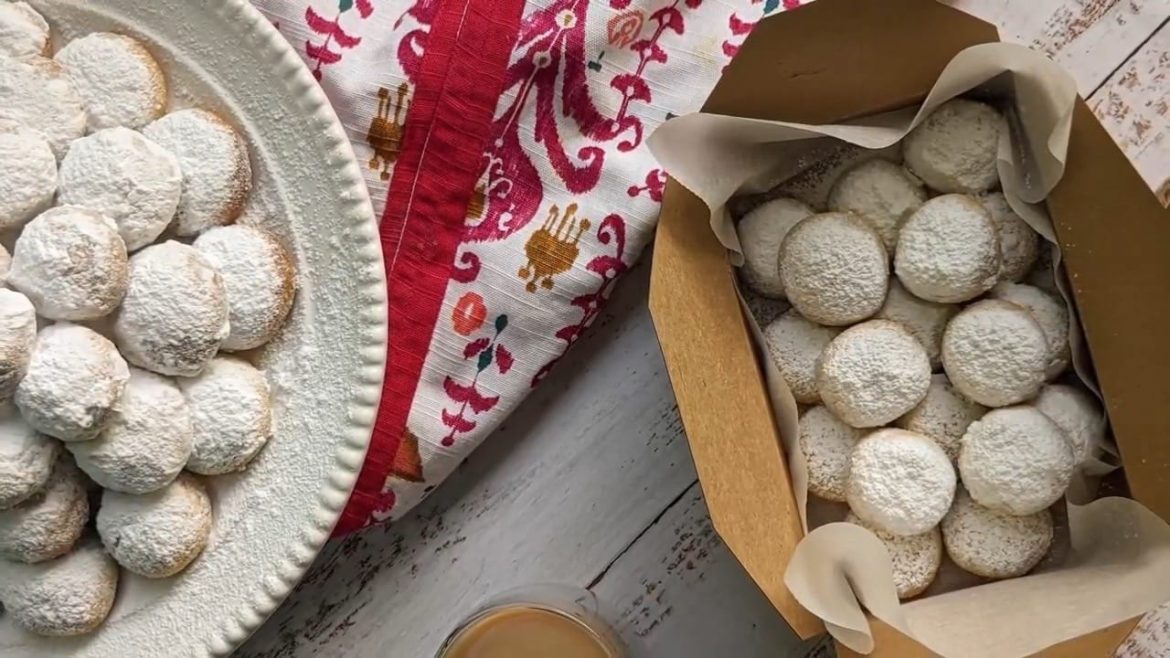 Ingredients
Samna:
1/2 - 1 kg ( 18 - 36 oz) of High-quality butter
Kahk Seasoning:
1 Tbsp Mahlab Powder
1/2 Tsp ground Cardamom
1/2 Tsp ground Clove
1/2 Tsp ground Cinnamon
1/2 Tsp ground Nutmeg
1/2 Tsp ground Chinese Tailed Pepper
(if you are missing anything, just leave it out, feel free to make substitutions with your favorite dessert seasonings)
Dough (48 Cookies):
500g (18 oz) flour
300g (11 oz) samna
50g (2 oz) Powdered (icing) Sugar
1tsp Baking Powder
Pinch Salt
1/2 Tbsp Kahk Seasoning
90g (3 fl oz)Milk
1.5 Tbsp Sesame
Honey Walnut (Agameya) filling (24 pieces):
40g (1.4 oz) Ghee
20g (0.7 oz) Flour
180g (6.3 oz) Honey
1 Tbsp Sesame
100g (3.5 oz) Walnuts
Date (Agwa) filling (24 Pieces):
120g (4.2 oz) Pitted Dates
15g (0.5 oz) Butter
1 Tbsp water (optional)
1/2 Tsp Cinnamon
Pecan Filling (30+ pieces):
110g (3.8 oz) Soft Brown Sugar
2 Tbsp Water
250g (8.8 oz) Pecans
Instructions
Ghee:
Melt your butter on a High Heat, after it melts it will foam up
Let it boil till all the foam evaporates and your butter splits into fat and milk
Turn the heat to medium-low and let it simmer till the milk evaporates and your milk solidifies on the bottom of the pot
Pour out into a sterile container using a cheesecloth-lined funnel or sieve.
Let it cool overnight and set.
Toast your sesame seeds on low heat until slightly browned and fragrant
Toss them every few seconds to prevent them from burning
Honey walnut filling:
Put 40g of Ghee in a small pot on medium heat.
When melted add 20g flour and mix then cook for 2-3 minutes
Add 180g of honey and stir then bring to a boil
Cook for another minute after it boils then remove from the heat
Chop 100g of walnuts into small pieces and add 1 Tbsp of toasted sesame to the cooked honey
Mix thoroughly until combined then place in the fridge to cool
Date Filling:
Put 50g of butter in a pot and melt it
Pit and chop a handful of dates till you have 120g of chopped dates
Add to the pot along with 1 Tbsp water if your dates are dry
Add 1/2 Tsp cinnamon and cook till the dates form a soft paste
Nut Filling:
Add 110g of soft brown sugar and 2 Tbsp of water to a pot and cook till the sugar dissolves and it comes to a boil chop 250g of pecans into small pieces and mixes into the caramel
Spread the mixture out onto grease-proof paper to cool.
Dough:
Combine 500g of flour, 1/2 Tsp of Kahk seasoning, 1 Tsp baking powder, a pinch of salt, and 1 1/2 Tbsp of toasted sesame in a bowl and mix thoroughly
Whisk together 300g of cold ghee and 50g of powdered sugar, till they have creamed together and formed a fluffy texture.
Mix your flour into the ghee till it is well combined and the flour is all coated in ghee and crumbly
Add 90g of milk and mix it into the dough.
Rest the dough for half an hour
It's ready to use when you can form it into a ball and it doesn't crack when you press on it
Assembly
Portion out your dough into 20g cookies, and roll in your palms to form individual balls.
Use a melon baller or teaspoon to scoop your filling (except the pecan one) into balls half the size of the cookies, then roll into smooth balls.
To stuff your cookies, place a ball of dough in your hand and make an indentation, flattening it in the center. Place a ball of filling in the center and wrap the remaining dough around it, then roll into a smooth ball.
Use any kitchen utensils to mark your different flavors with unique indentations (except for the honey ones).
Cooking:
When ready to bake preheat your oven to 160 degrees Celsius and line a baking sheet with grease-proof paper. Evenly space your cookies on the tray.
Place in the center of the oven and bake for 16-18 minutes until the bottom has browned, the top should not darken much. Trial a few plain (no filling) cookies till you figure out the right timing as each oven is different. Filled cookies will bake for 2 minutes less than the plain ones.
Remove from the oven when cooked and let cool for a few minutes before moving onto a wire rack.
When cooled, place on a work surface and dust generously with powdered (icing) sugar.
Did You Make This Recipe?
---
Enjoy
Let us know what you think of today's Egyptian Kahk tips, tricks, and hacks!