Turkish Buttered Pide is on the menu in Book recipe, and we are going to teach you how to make this delicious recipe from scratch!
Around 10 months ago, in our first döner video, we used this flatbread to make the döner sandwich. Ever since then, you've been asking for the recipe! Today, we are making that bread with Burak (a.k.a bread man). You may use the bread for döner or make a delicious sandwich like I did in the video. Even on its own, it will blow your mind! ????
Follow along with the ???? recipes below????????????????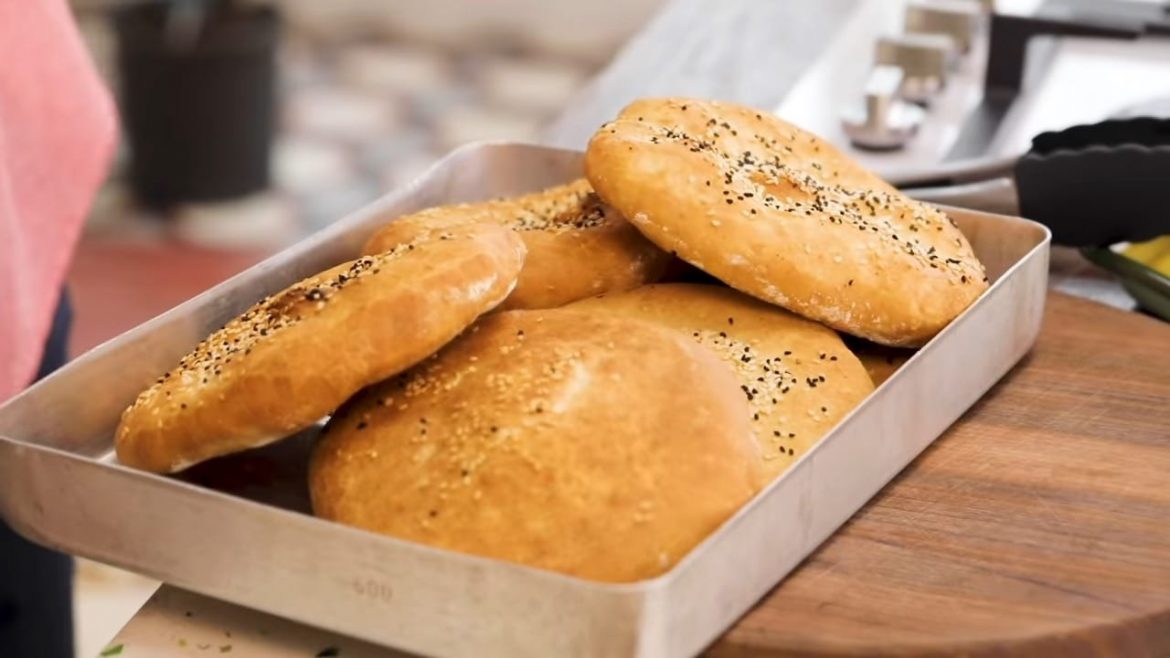 Ingredients
200 gr all-purpose flour
120 ml water, lukewarm
2 tablespoons butter (50 gr)
1 teaspoon dry yeast
A pinch of sugar
1 heaped teaspoon of salt
1 egg
1 teaspoon sesame seeds
1 teaspoon nigella seeds
For the sandwich:
4 tablespoons cream cheese
40 g Manyas cheese, diced (you can use parmesan or any other aged cheese)
5 slices of smoked and cured meat (any kind of cured meat would do great)
2 pickled cucumbers, diced
Baby lettuce leaves
A pinch of black pepper
A pinch of red pepper
Chips
Instructions
Preheat your oven on upper and lower heat, without a fan to 280 C (536 F). If you have a baking stone, place it into the bottom of your oven. You can use a cast iron pan instead of a baking stone.
Mix the water and yeast in a cup and add the sugar. Let the mixture sit for 5 minutes.
Meanwhile, melt the butter and let it cool down. Butter shouldn't be hot while adding it to the dough.
Mix the flour and salt in a large bowl. Add in the melted butter and yeast.
Mix and knead the dough for about 6 minutes until you have a smooth and elastic dough.
Rub the dough and the bowl with oil and cover with a damped kitchen cloth. Let the dough rise for 40-45 minutes at room temperature.
After rising, transfer the dough to your counter and divide it into two equal balls.
Dust your work surface with flour and flatten the balls. Shape them into 15-20 cm (4-8 in) rounds with your hands. You can use a rolling pin for shaping as well.
Dust your wooden cutting board with flour and place the shaped dough on it. Cover with a kitchen cloth and let it proof for 15 minutes.
Beat the egg and brush on top of the dough. Sprinkle the sesame seeds and nigella seeds.
Slide the dough from the peel onto the baking stone, which is already hot, and bake for 11-12 minutes.
Take out the bread and let it rest on a cooling rack for 5 minutes. Voila! Your crunchy outside, soft and warm inside is ready.
To make the mind-blowing sandwich, halve the bread and spread it with 2 tablespoons of cream cheese.
Mix the rest of the cream cheese with 3 tablespoons of pickle juice. Add in the Manyas cheese, black pepper, and red pepper. Give it a last mix.
Layer over the cured meat slices, cream cheese mixture, pickles, and lettuce.
Crumble some chips and pop the other half of the bread on top. You can spread some more cream cheese on the sides of the sandwich and dip it into the chip crumble!
Did You Make This Recipe?
---
Enjoy
Let us know what you think of today's Turkish Buttered Pide tips, tricks, and hacks!