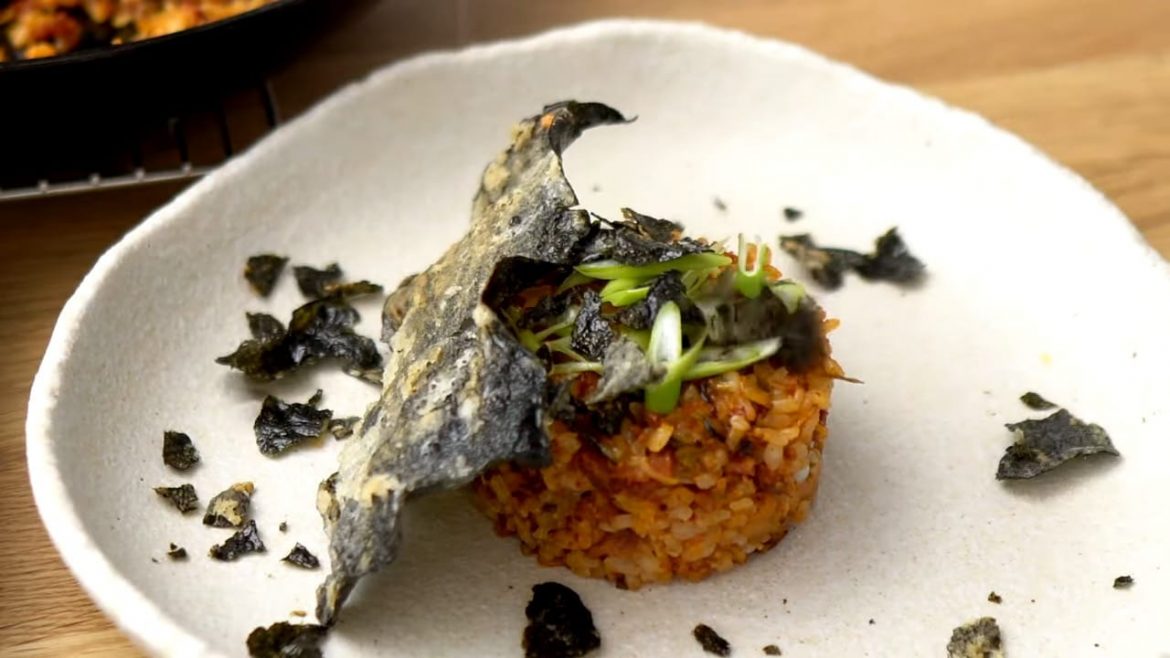 Ingredients
Chorizo Kimchi Fried Rice :
Kimchi 1 cup, finely chopped
Chorizo 1 cup (around 300g), finely chopped
Scallions, 3 stems finely diced (leave some for garnish!)
Cooked day old rice, 2 cups (freshly made rice has too much moisture for fried rice)
Sesame oil, 1 tsp oil
Vegetable oil, 2 tsp
Sauce (to taste) :
this depends on what meat / kimchi you're using, so taste and season as you go!
Oyster Sauce 1 tsp
Honey 1 tsp (If your kimchi is overly sour, the sweetness can balance out your dish and bring it together.)
Gochujang (Korean red chili paste) 1 tsp
Onsen Tamago / Sous Vide Eggs:
Bugak / Crispy Seaweed crackers:
Nori, 3 sheets
Rice flour, ¼ cup
Water, 1 cup
1 tsp sesame oil
1 tsp sesame seeds
Oil, for frying
Instructions
Bugak:
[For convection ovens & dehydrators, no need to preheat. However, for normal ovens, pre-heat to 250F/120C]
Prepare the glue for the bugak. Mix rice flour and water in a small sauce pan.
Heat on medium low and whisk to break down any lumps.
After 5 minutes, the consistency should be a thick, glue-like paste. If the consistency is too thick, then add more water and stir.
Transfer to a small bowl and let it cool.
Prepare the nori sheets. Cut the nori sheets in half.
On a parchment lined baking tray, oil with sesame oil. This ensures the bugak doesn't stick once it has finished drying.
On a separate dish (not on the baking tray yet!), paint the glue on the nori sheets. Aim for about 1 tsp of glue on each side.
Place gently on the baking tray. Garnish with sesame seeds.
Bake in the oven for 2 hours at 120C or 250F or until all the moisture has evaporated from the bugak.
While the bugak is baking, let's prepare the Onsen Tamago:
Sous vide the eggs at 145F/62.7C for 45 minutes.
OR!! Place the eggs in a rice cooker and cover with tap water. Set it at [Keep Warm] setting (it should be around 70C or 160F) and cook for 40 minutes.
Place the eggs in an ice bath to stop them from cooking further.
Kimchi Fried Rice:
Drizzle 1tsp of sesame oil and 1tsp of neutral oil on your rice. Break up the rice granules- this ensures that the oil has covered the individual granules and prevents the rice from sticking and becoming gooey.
Finely chop the kimchi and the chorizo. I used a food processor because it gives a fine dice to make it easier to mold, but this is just me being extra dextra.
Finely chop your scallions. Leave a third of a scallion and cut diagonally in 45 degree angle. Set aside for garnish.
Heat your pan on high. Drizzle neutral oil. Once the pan is hot, put the scallions and the chorizo in.
Sautee until the chorizo fat is well rendered and the scallions are translucent to golden brown.
Once the fat has rendered, add kimchi. Sautee until some of the moisture has evaporated, about 5 minutes.
Add the rice. Break up any lumps and toss and mix together.
This is a good time to taste your fried rice. If it needs more seasoning or heat, add the sauce in. Depending on your kimchi or chorizo, you may not need it.
Turn the heat off and let it rest for 10 minutes.
While the rice is resting, let's fry the bugak:
In a skillet, pour enough oil to cover the bottom of the pan.
Heat the oil on medium. Once the oil has come up to temperature, gently place the dehydrated bugak in the pan. Push it down with a chopstick or spatula to keep it from curling.
Cook for 30 seconds on each side.
Place on a wire rimmed baking tray and salt immediately.
Assembly:
Spoon the kimchi fried rice into a ring mold.
Make a hollow well for the egg to go in.
The eggs should be ready by now. In a separate bowl, gently crack it with a back of your spoon. Spoon the egg and gently place in hollow kimchi fried rice well.
Cover with more kimchi fried rice and pat gently.
Let it rest for 5 minutes. This helps it firm up and retain its structure.
Garnish with crushed bugak and scallions. Enjoy!
Did You Make This Recipe?
---
Enjoy
Let us know what you think of today's chorizo kimchi fried rice tips, tricks