Refreshing Beet and Grapefruit Salad is on the menu in Book recipe, and we are going to teach you how to make this delicious recipe from scratch!
Follow along with the ???? recipes below????????????????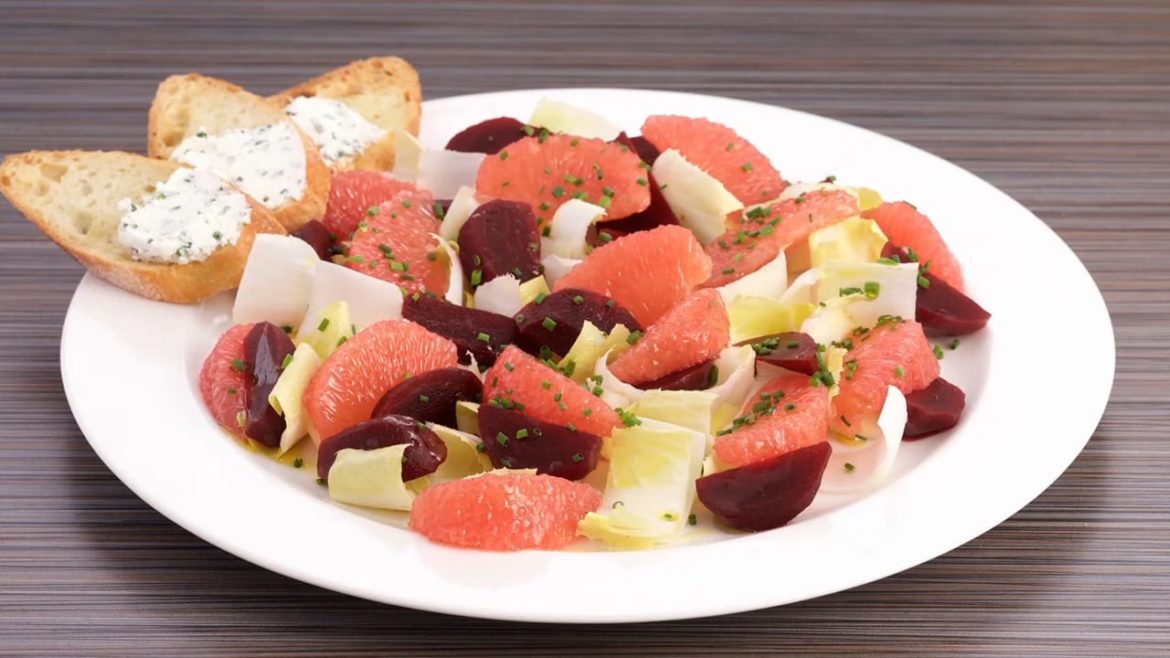 Ingredients
Salad
350 g (3/4 lb) raw beets (about 3 large)
1 head Belgian endive
2 pink grapefruit
30 mL (2 Tbsp) extra virgin olive oil
15 mL (1 Tbsp) chopped fresh chives
salt & pepper
Crostini
100 g (3.5 oz) fresh goat cheese
15 mL (1 Tbsp) chopped fresh mint
15 mL (1 Tbsp) chopped fresh chives
salt & pepper
8 thin slices of baguette, toasted until crisp
Instructions
To cook the beets, boil them whole in acidulated water (add a splash of white vinegar or lemon juice to the water) for about 45 minutes, until tender. Drain the beets, allow them to cool, and then trim and peel them by rubbing the skins off with a paper towel. Cut the beets into wedges and chill until ready to assemble the salad.
To assemble the salad, coarsely chop the Belgian endive and scatter it onto a platter. Arrange the beet wedges over top. For the grapefruit, remove the peel using a chef's knife, including the membrane of the fruit. Switch to a paring knife and cut in between the membranes of each grapefruit segment. Arrange the fruit over the salad and squeeze any juices onto it. Drizzle with olive oil, sprinkle with chives, and season lightly. Chill until ready to serve.
For the crostini, beat the goat cheese to soften it and beat in the mint and chives, and season lightly. Immediately before serving, spread the goat cheese onto the baguette toasts and serve alongside the salad.
Notes
Serves 6 as a side salad, 4 as a salad course

Did You Make This Recipe?
---
Enjoy