Learn how to make this wonderful cake "Tiramisu Crepe Pouch Recipe" step by step, even if it seems difficult but in the end, it's easy
I made a cute pouch-shaped tiramisu crepe cake.
I made a cute pouch-shaped tiramisu crepe cake.
I used a muffin mold to shape it.
I made cream using mascarpone cheese but the savory and light taste goes well with coffee.
Put the chocolate sponge sheet, apply coffee syrup and pile up the remaining crepe to finish the cake sheet naturally and it looks interesting.
Cut the crepe with scissors, and the overlapped shapes look like wrinkles in the pocket.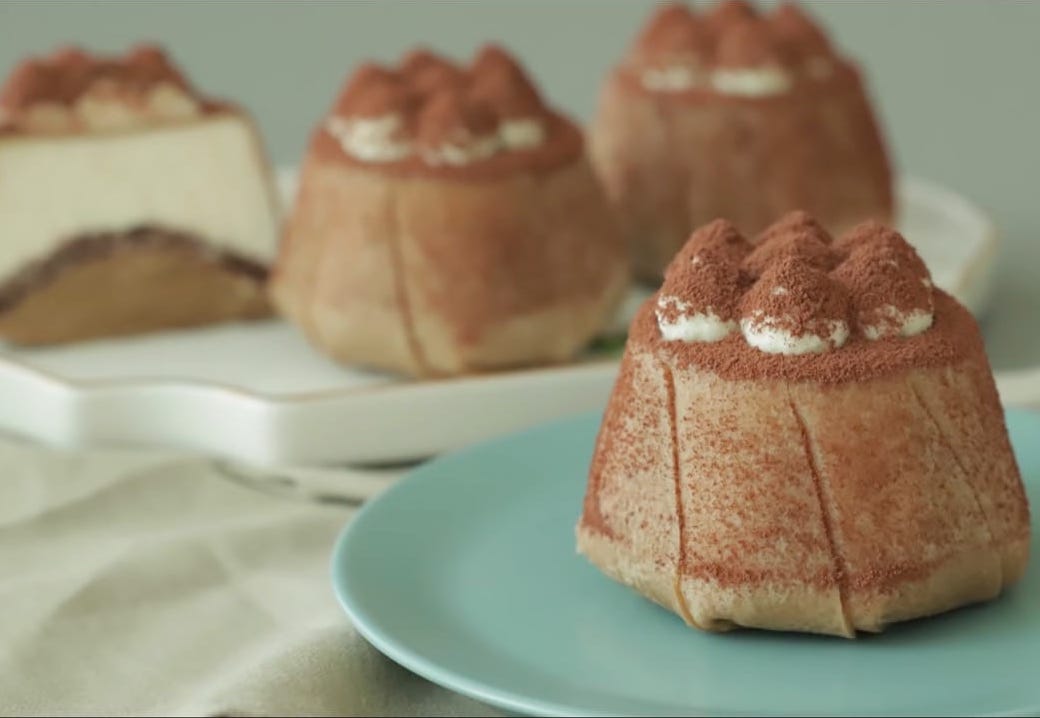 Ingredients
1 Egg
15g Sugar
a pinch of Salt
2g Instant coffee powder
1g Vanilla extract 
50g Cake flour
125g Milk
20g Melted unsalted butter
30g Warm water
10g Sugar
1g Instant coffee powder
120g Mascarpone cheese
25g Sugar
120g Whipped cream (whipped up 60%)
1 Chocolate sponge cake sheet
Instructions
Mix the eggs with sugar and salt, then add instant coffee powder and vanilla extract and mix.
Sift the soft flour, add a little milk, and mix, then add all the remaining milk and mix. Add the melted unsalted butter and mix.
Filter the dough through a sieve, put it in a beaker, and let it rest in the refrigerator for 1 hour.
Mix sugar and instant coffee powder in warm water.
Mix the rested dough once, pour the dough into a pan heated over low heat, spread it thinly, and when bubbles rise, turn it over to cook and cool.
Add sugar to the mascarpone cheese, loosen it gently, add the whipped cream that is diluted about 60%, and mix to make the cream.
Cut the chocolate sponge cake sheet into a circular mold to fit the size of the muffin mold.
Cut the crepe dough into 8 pieces except the center using scissors, shape it into a muffin mold, and fill it with cream.
Put a chocolate sponge cake sheet on top and soak it in coffee syrup. Then cut the crepe left on the side with scissors and wrap it in the middle.
Put the bowl on the frame and fix it in the shape, and then harden it in the refrigerator for 3 hours.
Did You Make This Recipe?
---
See also: