Homemade Baklava is on the menu in Book recipe, and we are going to teach you how to make this delicious recipe from scratch!
I'm going to show you how to make Baklava in 2 different ways, and it's easier than you imagine. We'll make a square Pistachio Baklava, and a cream one as well.
Follow along with the ???? recipes below????????????????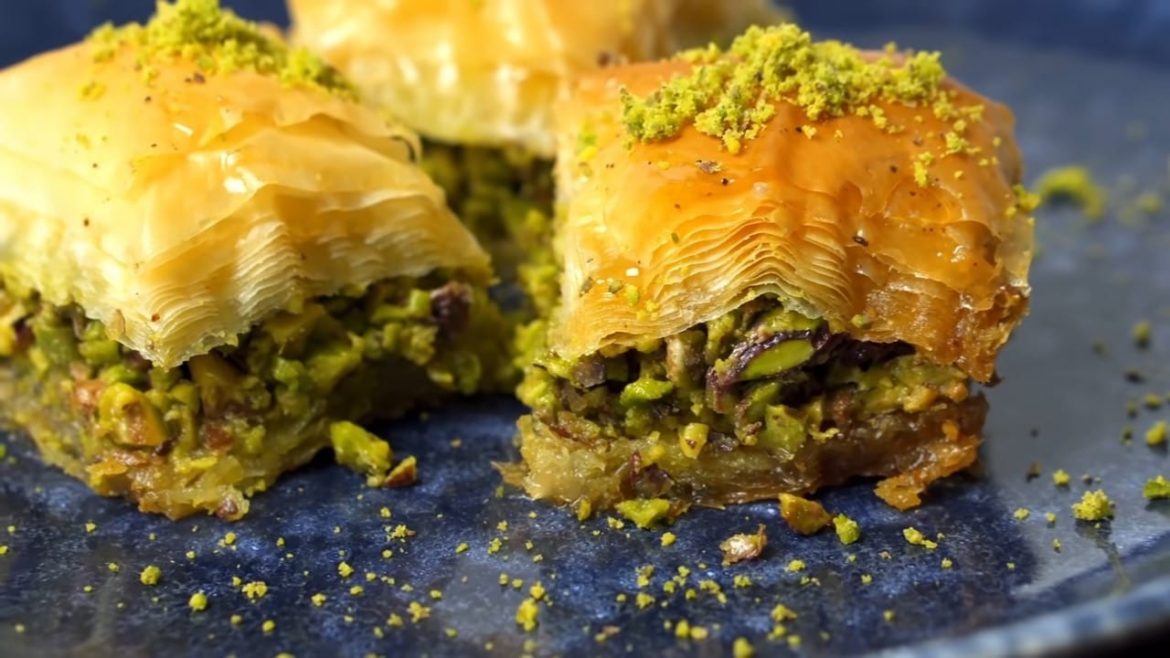 Ingredients
Amounts correct for a 10-inch round pan or a 12*8-inch rectangular pan. DO NOT USE SPRINGFORM OR THE BUTTER WILL LEAK
Syrup:
250g Sugar
150ml water
1 Tsp Vanilla powder or essence
1/2 Tbsp Lemon juice
Cream filling:
750g cream
350g whole milk
7 Tbsp corn starch
8 Tbsp sugar
1.5 Tsp vanilla powder or essence
Nut Baklava:
350g of Pistachios, walnuts, cashews, or almonds
Ingredients for either recipe:
400-500g pack of Yufka/Filo pastry
250g Butter
Instructions
To make the syrup:
Add all the ingredients to a small pot over medium-high heat and bring to a boil
Once the sugar has dissolved turn the heat to low and let simmer for 20 minutes
To make the clarified butter:
Melt the butter in a pot over medium heat, stirring constantly
Cook for about 5 minutes until milk solids separate from the fat
Strain and discard the milk solids keeping the remaining fat
To make the cream filling:
Add the corn starch to a pot and some of the milk, and whisk thoroughly to dissolve the powder until no clumps remain
Add the remaining ingredients and heat on medium heat, stirring constantly until it thickens
Use immediately, and avoid mixing it once cooled
To make the round cream baklava:
Cut the pastry into circles to fit in the pan
Use a pastry brush to paint the base and walls with butter
Add your first sheet, press out any air bubbles, and center in the pan
Brush with more butter, until completely coated, add another sheet on top
Repeat until you have added 10-15 layers
Pour the hot cream filling into the pan and level it
Add a layer of pastry on top of the filling, then repeat the butter pastry process until you have added 15-20 layers
Place in the fridge to cool until the filling has solidified
Cut into quarters, then each quarter into 3 pieces for a total of 12 slices
Bake in a 180c oven for 50-60 minutes until golden
As soon as it comes outpour the syrup over the pastry, and around the edges
Allow it to sit for at least 45 minutes before re-slicing and eating
To make the pistachio baklava:
Chop your nuts into small pieces
Slice the pastry to fit your tray, then butter the bottom and sides of the tray
Add 10-15 layers of pastry to the bottom of the dish, without any butter between them
Add your nuts onto the pastry in an even layer, then top with 15-25 more layers
Use a serrated knife to chop this into even squares or diamonds
Pour over all the clarified butter (from 250g of butter), then tilt the tray to distribute it
Brush any uncovered bits with butter, then bake at 180c for 40-50 mins
Preheat your syrup, and as soon as it comes out of the pour all the syrup evenly over the tray
Allow to cool before re-slicing and eating
Did You Make This Recipe?
---
Enjoy
Let us know what you think of today's Homemade Baklava tips, tricks, and hacks!