Mahalabia is on the menu in Book recipe, and we are going to teach you how to make this delicious recipe from scratch!
This pudding only uses 4 ingredients and it's one of the easiest desserts you can make. We'll be making it with three different flavors; Cream, Orange Blossom, and Saffron.
Follow along with the ???? recipes below????????????????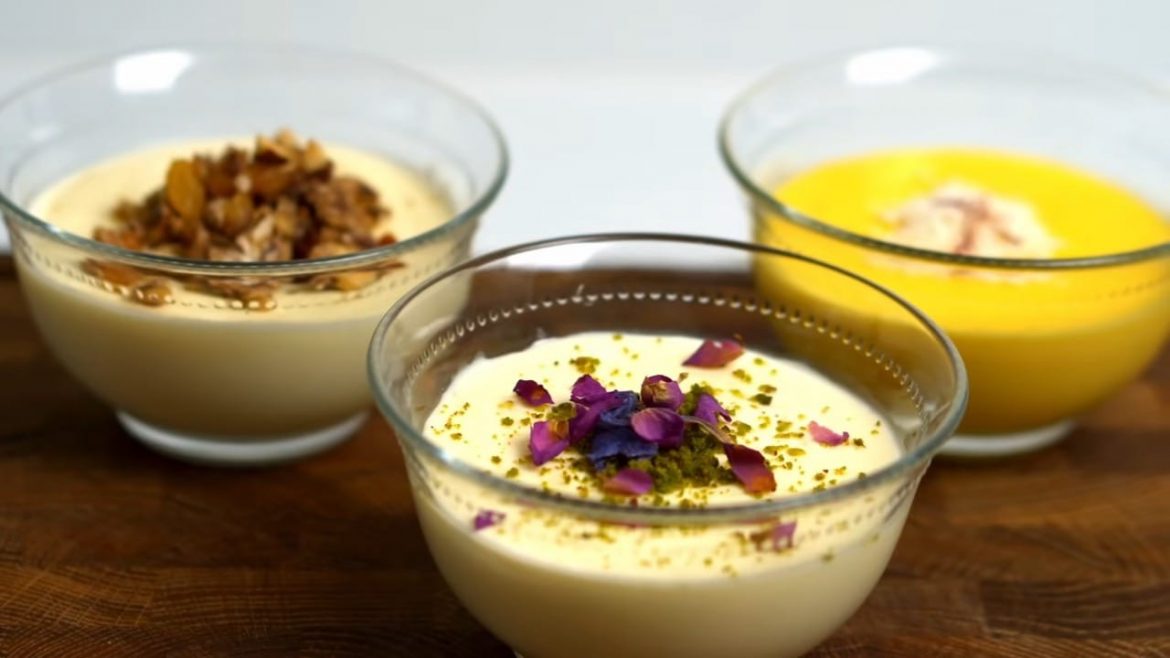 Ingredients
Ratio (BY WEIGHT):
4 Parts Milk
2 Parts Cream
1/2 Part Sugar
1/3 Part Corn starch
Ingredients (for 2 large portions):
400g Full Cream Milk
200g Heavy Cream
50g Sugar
33g Corn starch
Flavorings (For the above ingredient amounts):
20-30 Strands of saffron or
1 Tsp Orange Blossom/Rose Water or
1 Tsp Vanilla/Vanillin Powder
Topping:
35g Roasted Hazelnuts
12g Sultanas/raisins
1/2 Tbsp Sugar
1/2 Tbsp desiccated coconut
1 Tsp Softened butter
1/8 Tsp Cinnamon
Instructions
To infuse a whole spice into the milk:
Place more milk on the stove than needed (500g per 400g needed) and add your spices to the pot
Turn the heat to low, and let this simmer for about 30-60 minutes until well infused
To dissolve ingredients into the milk:
Place the ingredient in a pestle and mortar, and crush with some sugar until they turn into a fine dust
Mix in a small amount of milk, until the ingredient has been absorbed
To make the pudding:
Add all of your ingredients to the pot (except if using rose/orange blossom water)
Whisk very thoroughly to dissolve the cornstarch, until no lumps remain
Turn the heat to medium (6/10) and begin whisking. This needs to be whisked constantly until the pudding is ready
Continue whisking and heating, until it simmers, and large bubbles form on the surface
Once you see LARGE bubbles, count for 10 seconds then turn off the heat
Mix in any liquid flavorings, then pour out into bowls immediately
This can be served hot but is best served cold
Notes
To make the topping, mix all ingredients together and serve on the pudding

Did You Make This Recipe?
---
Enjoy
Let us know what you think of today's Mahalabia tips, tricks, and hacks!