Blueberry Cheesecake is on the menu in Book recipe, and we are going to teach you how to make this delicious recipe from scratch!
I wanted to share this simple blueberry cheesecake recipe, so others can create a delicious dessert that is both easy and fun to make. This recipe is suitable for beginners and experienced bakers.
Follow this recipe to make a simple blueberry cheesecake in 7 easy steps.
Follow along with the ???? recipes below????????????????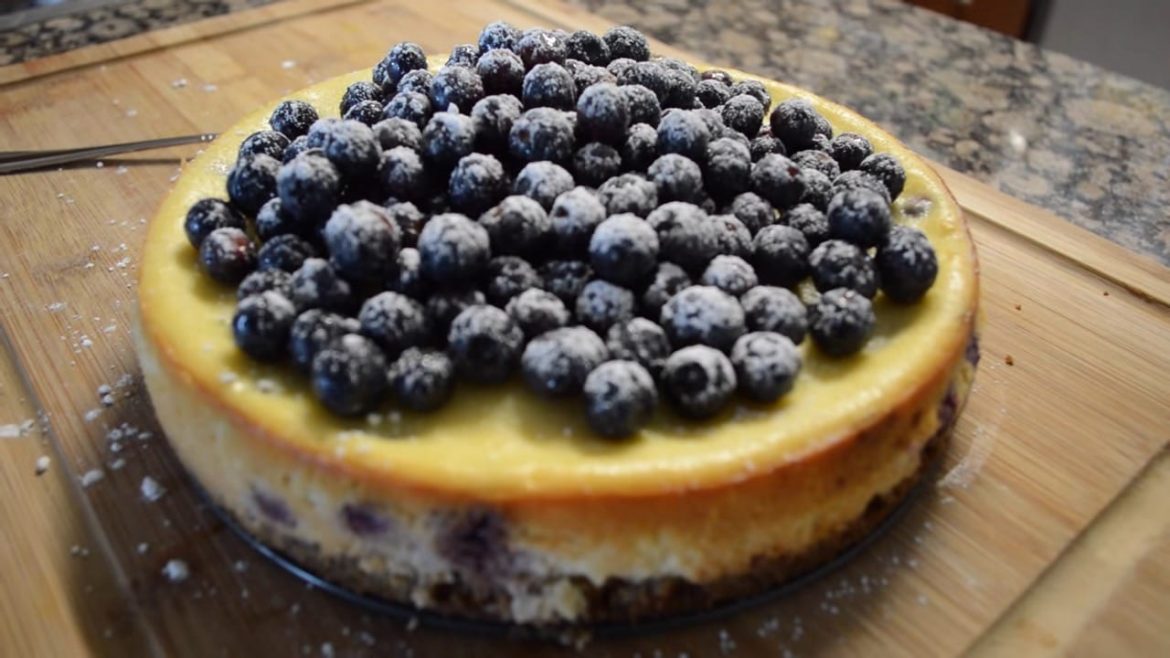 Ingredients
 cups graham cracker crumbs
½ cup butter (melted)
1 cup of white sugar (2 tbsp for garnish and base)
3 packages of cream cheese (softened to room temperature)
3 eggs (room temperature
4 cups of fresh blueberries
2 tbsp of sour cream
1 tbsp of vanilla extract
Instructions
Preheat the oven to 350 degrees F (176 degree C).
Mix the graham cracker crumbs, 1 tbsp of the white sugar and the melted butter together until it resembles wet sand that you can pack together. Press the mixture into the bottom of the 9 inch springform pan. Bake for 10 mins at 350 degrees F. Leave to cool on the counter for 20 mins.
Turn down the oven to 250 degrees F (121 degrees C).
In a large bowl, mix together the cream cheese and eggs (add the eggs one at a time). Add in 1 cup white sugar, 2 tbsp of sour cream and 1 tbsp of vanilla extract. Blend until smooth.
Fold in 2 cups of blueberries to the cream cheese mixture and pour into the spring form pan.
Bake the cheesecake at 250 degrees F (121 degrees C) for 2 hours, or until the filling is set. Take the cake out and leave it to cool at room temperature. Wait until the cheesecake is cool to remove the sides and bottom of the pan. Refrigerate overnight.
In a large bowl, take the remaining 2 cups of blueberries and mix in 1 tbsp of sugar. Place the blueberries on top of cooled cheesecake and sprinkle powdered sugar for a finishing touch.
Did You Make This Recipe?
---
Bon Appétit
Let us know what you think of today's Blueberry Cheesecake tips, tricks, and hacks!
---
Tools you will need:
9 inch springform pan
Parchment paper (cut to fit the pan)
A sharp Knife
Measuring spoons
Measuring cup
3 large bowls
A spatula