Instant Pot Beef Curry is on the menu in Book recipe, and we are going to teach you how to make this delicious recipe from scratch!
In this post, I show you an easy recipe to make a simple, flavorful beef curry dish in the instant pot. I use the pot-in-pot (PIP) method to cook rice at the same time as the curry. Let's get cooking!
Follow along with the ???? recipes below????????????????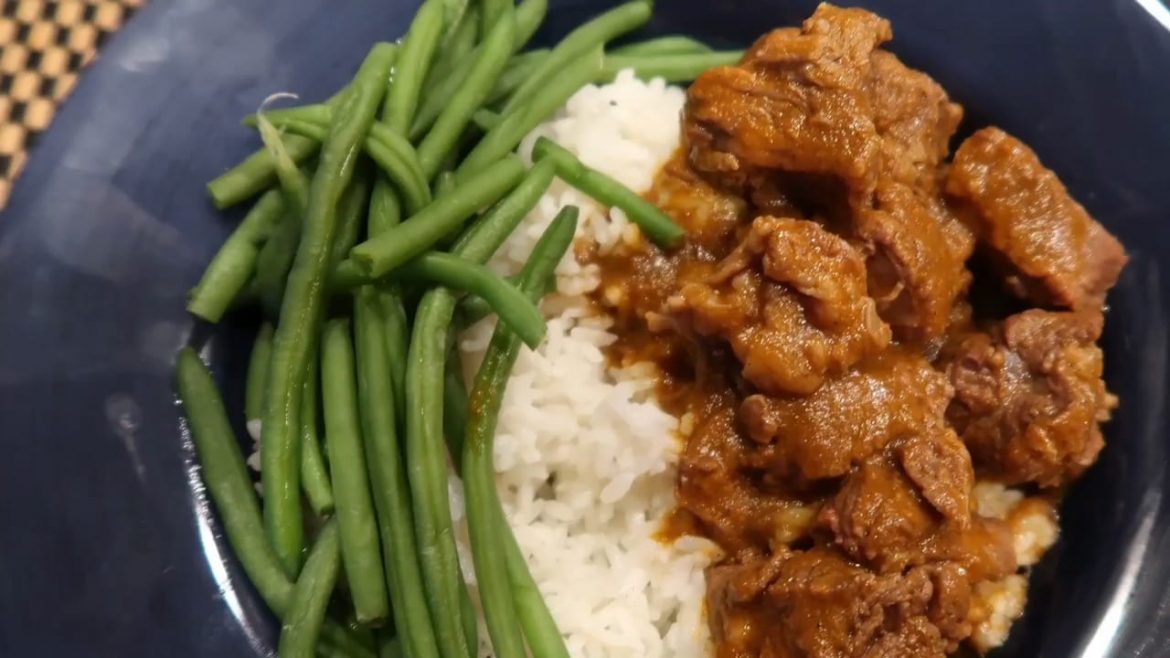 Ingredients
2 lbs beef chuck roast
1 can fire roasted tomatoes, diced or 2 fresh tomatoes, cut into quarters
4 cloves of garlic, peeled and chopped
1/2 cup fresh cilantro
1 tsp. ground cumin
1/2 tsp ground coriander
1 tsp Garamond Masala
1/2 tsp ground cayenne pepper
1 tsp salt, plus more for seasoning
2 tbls oil for browning meat
If doing Pot in Pot method need:
Pyrex or metal bowl
2 rice cups of rice (approx 1.5 actual measuring cups)
Equal amount of water to rice.
Instructions
Chop beef into 1 inch cubes, or a bit smaller. Roughly chop onion. Chop 1/2 cup cilantro.
In blender, add tomatoes, onions, garlic and cilantro in blender until smooth. Add cumin, coriander, Garamond masala, cayenne pepper and salt. Blend for a few minutes until smooth.
Push the 'sautee' button on the instant pot. When the display reflects 'hot' add a bit of oil, and lightly brown the meat, not over cooking it. Sprinkle the meat with salt and pepper while browning. Brown in batches if necessary. Add the vegetable purée on top of the meat.
If doing pot in pot method, rinse rice until water clear and then add equal parts of water and rice to glass dish or metal bowl. dd trivet with long legs to stand in pot above curry. Place rice dish on trivet. Cover if bowl has a lid but not necessary.
Turn instant pot off and put pressure cooker lid on and lock in place. Select manual mode on high (more setting) for 20 minutes. Ensure the valve is set to 'sealing'. Leave the curry in the pot on natural pressure release for at least 10 minutes after the cooking time. Do a quick release of the valve to release the rest of the pressure, until the pin drops and the lid unlocks. Stir curry and turn on sauté mode to reduce sauce to desired consistency and adjust spices to taste. Serve with rice.
Did You Make This Recipe?
---
Enjoy
Let us know what you think of today's Instant Pot Beef Curry tips, tricks, and hacks!