Burger King is on the menu in Book recipe, and we are going to teach you how to make this delicious recipe from scratch!
Eating healthy is great and all, but it can sometimes get tedious especially when burger craving hits you in the stomach! So we decided to flip some patties and went with a BurgerKing challenge video this time around. We made their classic #Whopper and my personal favorite, Texas smokehouse burger in under 30 minutes – of course we didn't forget about the deliciously crispy french fries. If you're someone who misses a messy yet deliciously forgivable burger every now and then like me, do not miss our video ????????
Follow along with the ???? recipes below????????????????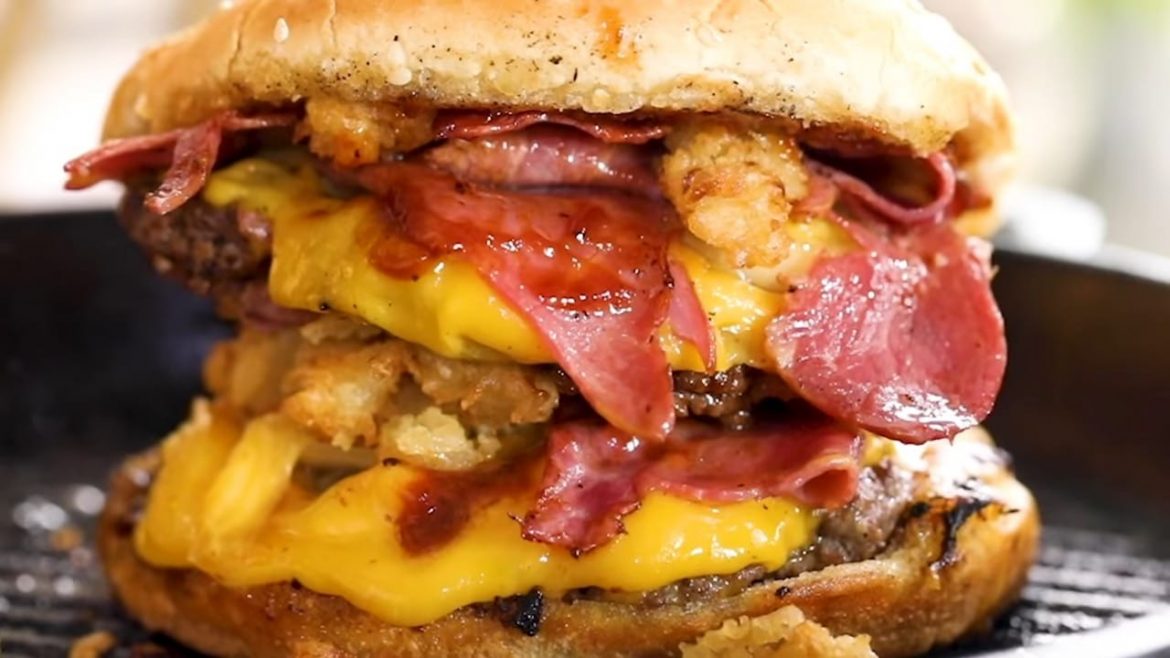 Ingredients
400 grams (~0,9lb) minced meat (beef brisket, plate or rib)
1 teaspoon salt
1 teaspoon black pepper
1,5 tablespoons molasses
1 tablespoon balsamic vinegar
1 teaspoon butter
2 slices of American cheese
2 burger buns
1 onion
2 slices of tomatoes
Pickles
Lettuce
Ketchup
Mayonnaise
1 liter (~4 cups) hazelnut oil (or sunflower oil)
2 large potatoes
3 heaping teaspoons flour
1 heaping teaspoon of cornstarch (or potato starch)
90 ml (9 tablespoons) sparkling water
a handful of breadcrumbs (or panko, cornflakes)
4 slices of American cheese
4-5 slices of smoked beef
BBQ sauce
Instructions
Place a cast-iron pan on heat. It takes around 5 minutes to get hot before cooking.
Put 400 grams (~0,9lb) of minced meat in a large bowl. If you have single grinded minced meat it is better for burgers. But I am using what I have at home in quarantine conditions which are a double grinded one. I usually prefer beef brisket, plate, or rib to make burgers.
Add a teaspoon of salt and a teaspoon of black pepper. To make the burger juicier and a little sweet as a Refika's alternative to Worcestershire sauce 1,5 tablespoons of molasses and a tablespoon of balsamic vinegar.
Lastly, add a teaspoon of butter. Butter increases the amount of fat and makes it tastier.
Mix the mixture but not knead too much as we do in kofte.
Divide the mixture into 4 equal parts. And shape them into rounds Make your patties a little bigger than your buns. While the meat is cooking it will shrink and get smaller.
To make it easier to shape you can spread some butter on your working surface.
After shaping put 2 of the patties on the hot cast iron pan. When they are cooked on the side flip them and place 2 slices of American cheese if you want to. Cover them with a bowl to melt the cheese. Around 2 minutes your patties will be cooked perfectly. If you want to cook them less you can cook to your desire of course.
Take your patties and place 2 burger buns to soak up all the flavors in the pan.
To build your whooper, spread a tablespoon of ketchup to the bottom half of the bun. Place the meat and ketchup again.
Put one slice of onion, 2 slices of tomatoes, and sliced pickles.
Place lettuce leaves on top and finishes with the mayonnaise. Spread some mayonnaise to the half top of the bun. After covering it to your burger, Your whooper is ready to eat.
For fried potatoes, pour around 1 liter (~4 cups) hazelnut (or sunflower) oil into a saucepan and turn on the heat. While the oil is heating peel 2 large potatoes and cut them into thin sticks. Around half a cm in width will be great.
When the oil is ready put the potatoes in your pan in 2 batches and fry them until they get golden- brown. If you are using fresh potatoes like me, they tend to be soggy after frying because of their high water content. Frying them twice might be an option to have more crispy potatoes. To do that, take out your potatoes before they get colored.
Rest them and fry the other batch. During this time water will evaporate. After frying the second batch rest them as well.
Finally, fry them all for another couple of minutes until they are crispy and golden-brown.
For the Gourmet whooper,
In Turkey, we call this one Texas smokehouse. I don't ıf you have it in the rest of the world. It has smoked beef, BBQ sauce and crunchy onions and it is my favorite burger.
To make crunchy onions, finely chop half of a small onion. You can use a food processor to make that as well.
Add 3 heaping teaspoons of flour, a heaping teaspoon of corn or potato starch, and a pinch of salt.
Mix them well and add 90 ml (9 tablespoons) sparkling water.
After sparkling water just roughly mixes and add the onions.
Take the onions out and mix them with a handful of breadcrumbs. You can use panko or corn flakes as well.
After that fry your mixture until they get golden brown.
Place 2 burger patties and 2 slices of onion on the hot cast iron pan.
Flip when one side is done and place 2 slices of American cheese on each patty.
Put 4-5 slices of smoked beef into the pan.
Flip onions and smoked beef.
Again, after patties are done. Put the burger bun to soak up all the flavors.
To build your burger, spread BBQ sauce on your bun. Place the meat and onion.
Put crunchy onions and smoked beef on them.
Repeat all with cheesy meat, onion slice, smoked beef, and crunchy onions again.
Spread BBQ sauce to the top half of the bun and cover the burger.
Easy, smoky, and super delicious Texas smokehouse is ready! Enjoy or Afiyet olsun as we say in Turkish!
Did You Make This Recipe?
---
Enjoy
Let us know what you think of today's Burger King tips, tricks, and hacks!