Egyptian Lamb Fattah is on the menu in Book recipe, and we are going to teach you how to make this delicious recipe from scratch!
Egyptian Lamb Fattah is a unique celebratory dish that is bursting with flavour. Succulent tender lamb is served with a mixture of rice and pitta bread flavoured with stock and a tangy vinegar garlic sauce.
This dish is served on major occasions across Egypt as the centrepiece. I'm Obi from Middle Eats and I'm on a mission to show you how to cook delicious food from across the Middle East.
Leave a comment with any recipe requests you'd like to see me cook.
Follow along with the ???? recipes below????????????????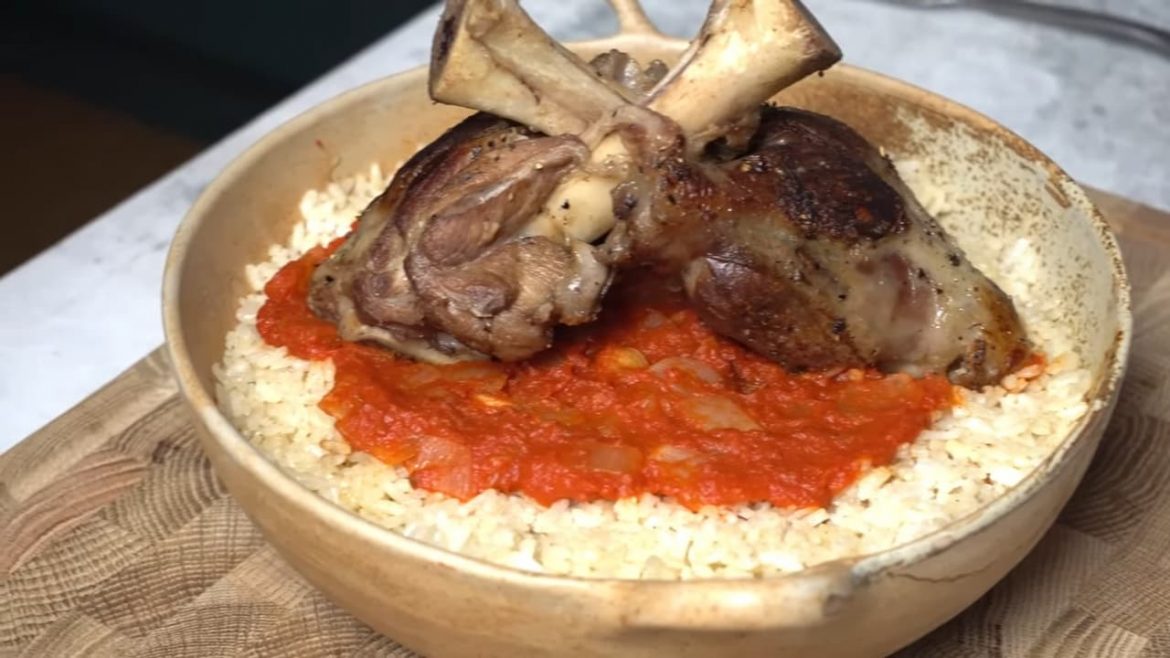 Ingredients
Stock ingredients:
1 KG (2 LB) Lamb shanks or leg pieces
2 Brown onions
1 Tbsp Butter
4 Garlic cloves
2 Pieces of Mastic
2 Bay Leaves
7 Cardamom pods
1 Tsp Black Peppercorns
Rice ingredients:
1.5 Cups Medium grain rice (Egyptian or Japanese)
1 Tbsp Butter
1 Tbsp Oil
1 Tsp Salt
1/2 Tsp White Pepper
Bread:
Per pitta:
1/2 Tbsp Olive Oil
1/4 Tsp Salt
1/8 Tsp Pepper
Tomato Sauce:
500ml (18 oz) crushed tomatoes
250ml (9 oz ) water
1 Brown Onion
1 Tbsp Butter
2 Garlic Cloves
2 Tbsp White Vinegar
1 Tsp Salt
1/4 Tsp Pepper
Garlic sauce:
6-8 Garlic Cloves
6-8 Tbsp White Vinegar
1 Tbsp Butter
Instructions
Stock:
Melt the butter in a pot and add the mastic, let it melt into the butter
Add the meat to the pot and sear on all sides till evenly browned
Crush garlic cloves and add to the pot
Cut onions in half and add along with the whole spices
Mix well then pour enough water to submerge the meat
Bring to a boil then skim the surface to remove the scum
Turn the heat down to low and simmer for an hour
Bread:
Cut the pitta into bite-sized pieces
Evenly place on a greaseproof paper-lined baking sheet
Add olive oil, salt and pepper then mix thoroughly
Bake in a 180c or 350f oven for 8-12 minutes until golden brown and toasted
Tomato sauce:
Melt a tablespoon of butter in a saucepan on medium heat
Chop onion to a medium dice and add to the pot
Saute for 3-5 minutes until translucent
Slice 2 garlic cloves as thin as you can then add to the onions (you can mince instead)
Fry for a couple of minutes then add the white vinegar to deglaze the pot
Add crushed tomatoes and water to the pot and bring to a boil (blend 1 can of tomatoes to make)
Add salt and pepper, once boiling turn down to a simmer
Cook for 15-20 minutes until thick
Rice:
Rinse rice 3-4 times until the water runs clear
Add Butter and Oil to the pot then add rice and fry until toasted and shiny
Season the rice with salt and pepper and mix well, spread the rice out into an even layer
Add enough stock to the pot to submerge the rice by about 1.5cm or 1/2 an inch
Bring the pot to a boil and cover with a tight lid
When all the water has evaporated turn the heat down to low and leave it to steam for 20 minutes
Garlic Sauce:
Add butter to the pot and melt
Thinly slice or mince the garlic cloves and add to the pot
Fry until the garlic is a light golden color
Add the vinegar and let it boil for 1 minute before setting aside
To assemble:
Melt a tablespoon of butter in a frying pan
Season the meat then add to the pan and sear on all sides till golden brown
Add toasted bread to an oven-safe dish
Add half of the vinegar sauce to the bread and a couple of tablespoons of tomato sauce mix thoroughly
Bake in a 180c or 350f oven for 5 minutes until crispy once more
Add the rest of the vinegar to the bread and then pour over a few ladles (about 250 ml - 9 oz) of stock to the bread and mix thoroughly
Cover with a plate or tray and leave to steam
Top the bread with the rice in a single even layer
Add tomato sauce to the rice and then top with a layer of tomato sauce
Notes
You don't need to add all the vinegar sauce, only add as much as you are comfortable with. Taste the bread before covering with the rice

Did You Make This Recipe?
---
Enjoy
Let us know what you think of today's Egyptian Lamb Fattah tips, tricks, and hacks!