Vegan Balls are on the menu in Book recipe, and we are going to teach you how to make this delicious recipe from scratch!
This week we are here with a vegan köfte recipe for you. Fellah köfte can compete with 80% of the kebabs in Turkey, even 100% for a vegetarian. The Star of the show for this recipe is the ever-versatile bulgur which is an essential ingredient in Turkish cuisine.
Bulgur is a type of cracked wheat and provides an excellent base for the flavors used in a recipe, absorbing them all like a sponge and leaving a party in your mouth with every single bite. I guarantee that you won't miss the meat with this budget-friendly köfte.
Follow along with the ???? recipes below????????????????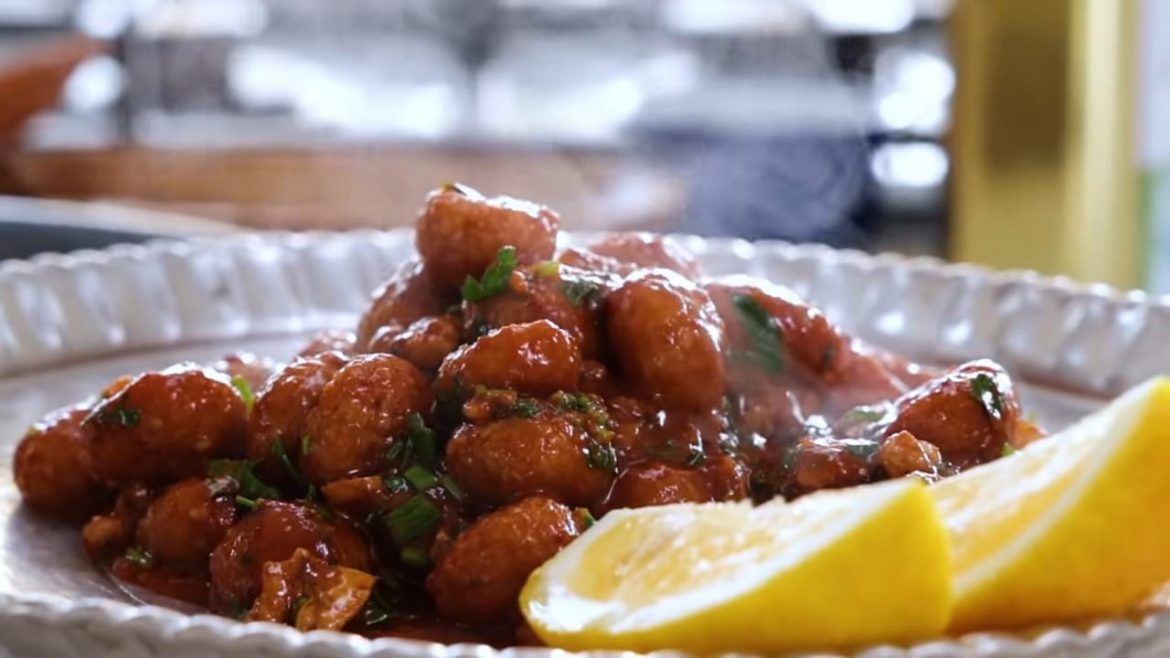 Ingredients
1 cup fine bulgur
½ cup boiling water
½ cup all-purpose flour
1 heaped tablespoon pepper paste
1 teaspoon cumin
1 teaspoon salt
For the sauce:
6 cloves garlic, crushed
3 tablespoons olive oil
1 heaped tablespoon tomato paste
1 heaped tablespoon pepper paste
2 good handfuls of walnuts, chopped
10 sprigs parsley, chopped
5 sprigs of spring onions, chopped
Instructions
Mix the bulgur and boiling water in a large bowl and cover with a plate. Let the bulgur soak in the water and soften for five minutes.
Add in the flour, pepper paste, salt and cumin.
Knead until the mixture comes together and becomes smooth. Always wet your hands with cold water while kneading and press on the mixture with the palm of your hands.
Pull apart small pieces from the dough, which are slightly bigger than a hazelnut and make small rounds of the mixture in your hands don't forget to get your hands every time. Then make small craters in the centre with your index (or little finger) finger. Shaping can take some time but if you have someone to help you it is easy and fun with some small talk or singing!
While shaping them boil 1,5-2 L (6-8 cups) of water in a large pot and add a teaspoon of salt to the water.
Place the köftes in boiling water and cook for 10 minutes or until they float.
It is time to make the delicious sauce while koftes are boiling.
Heat the olive oil in a large pan on medium heat and add half of the garlic and sauté for 30 seconds. Be careful not to burn the garlic or it becomes bitter.
Add in the tomato and pepper paste and press with your spatula to distribute well. Sauté for a minute and add 2 ladles of cooking water from the pot while stirring
Heat the walnuts in a pan for a couple of minutes. Just heating would do great you don't have to toast or brown them.
Take out the köftes with a strainer and add the sauce.
Add the walnuts, set aside some for topping, and the rest of the garlic. Adding raw garlic at the last minute adds another dimension of flavour and makes a huge difference in taste.
Turn the heat off and add in the spring onions and parsley. Stir well and fellah köfte is ready to take you up to the clouds. Don't forget to squeeze some fresh lemon juice just before eating.
You can serve the dish as it is or there are different serving options for this beauty. It can be served on top of garlic yoghurt or add some purslane in the yoghurt and put some minced meat on top and it is a feast on its own.
Did You Make This Recipe?
---
Enjoy
Let us know what you think of today's Fellah Kofte tips, tricks, and hacks!