Levantine Aubergine Fatteh is on the menu in Book recipe, and we are going to teach you how to make this delicious recipe from scratch!
This Levantine Aubergine Fatteh is the perfect midweek meal with tons of great texture and flavour. Only taking about 30 minutes to cook, it's made of Layered Crispy Pitta and Eggplant topped with a tangy tomato sauce and tahini yoghurt sauce. Eat it hot or warm and I guarantee you'll finish the whole thing in one sitting.
Follow along with the ???? recipes below????????????????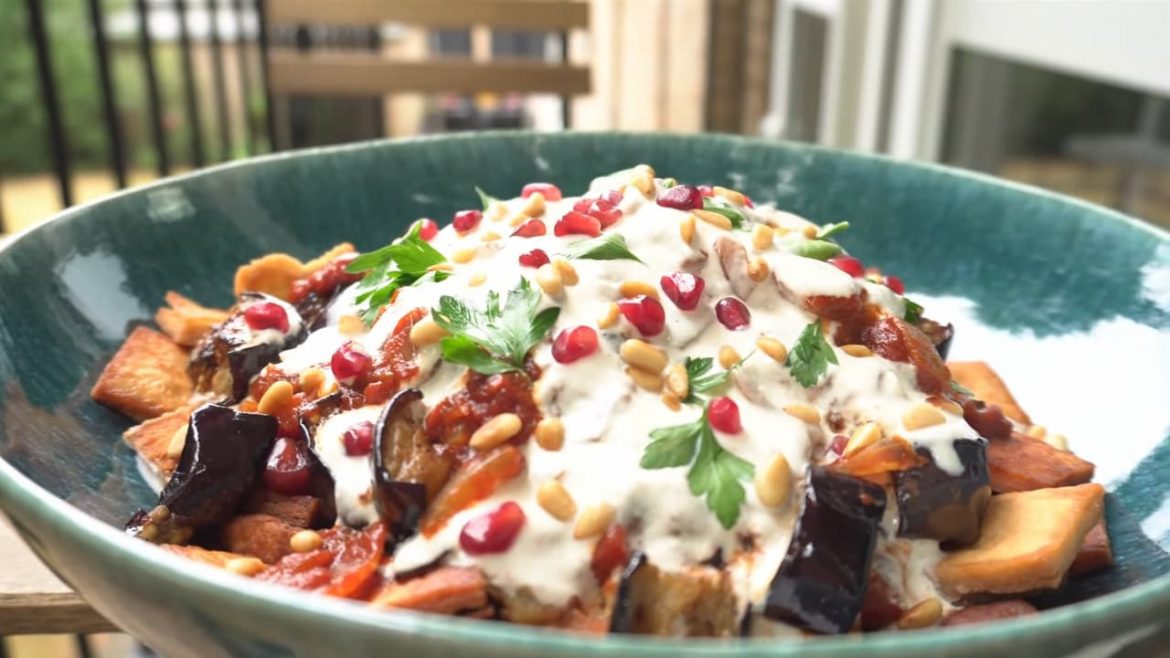 Ingredients
2-3 Large Aubergines (Eggplants)
4 Pitta Breads
1 Brown Onion
1 Garlic Clove
400g (14 oz) chopped tomatoes
350g (12 oz) Yoghurt
4 Tbsp Lemon Juice
3 Tbsp Tahini Paste
1 Tbsp Tamarind Concentrate
1 1/2 Tsp Salt
1/2 Tsp Black pepper
1/8 Tsp Cayenne Pepper 
Instructions
Slice your pitta into squares about an inch or 2.5 cm wide
Fry the pitta pieces in a pan for about 2 minutes until golden brown then drain on a paper towel-lined tray
Slice your aubergines into large chunks and fry for 4-5 minutes per batch until golden brown on all sides
Remove and let drain on a paper towel-lined tray. Season each aubergine with 1/4 teaspoon salt while still warm
Dice your onion into a medium-sized dice and add to a pot on medium heat with a tablespoon of butter or oil
Saute until translucent then add the chopped tomatoes and 1/2 cup of water
Cook for about 10 minutes then add 1 tbsp tamarind concentrate*
Add 1/2 a teaspoon of salt and a 1/4 teaspoon of pepper and mix together till well combined
Simmer on a low heat until thick
Add your yogurt to a mixing bowl and then add in the tahini paste
Grate or mince the garlic clove, then add 1/2 a teaspoon of salt, a 1/4 of a teaspoon of pepper, and the cayenne to the bowl
Add 4 Tablespoons of lemon juice and mix thoroughly. Taste for seasoning and add more lemon if required
Boil water and mix 1 tablespoon of water into the tahini sauce at a time till the sauce loosens up and becomes runny
To assemble, place your fried bread on a platter and then top with a 1/3rd of the tomato mixture
Add the fried aubergine on top in a pile
Top with remaining tomato sauce then add the tahini yogurt sauce on top
Garnish with some parsley, pine nuts, and pomegranate seeds
Serve and Enjoy
Notes
If you can only find regular tamarind pulp, dissolve a large chunk in some boiling water then add about 6 tablespoons of concentrated tamarind water to the tomato sauce. If you can't find tamarind at all you could use a few tablespoons of pomegranate molasses

Did You Make This Recipe?
---
Enjoy
Let us know what you think of today's Levantine Aubergine Fatteh tips, tricks, and hacks!