Fry Beef Ramen Noodles is on the menu in Book recipe, and we are going to teach you how to make this delicious recipe from scratch!
If you are not acquainted so far with a Mongolian beef, a dish created by the American Chinese, you have an opportunity to taste such beef, this time with Japanese ramen noodles. We believe you will like this recipe as many lovers of Pan-Asian cuisine do. Cooking time 25 minutes.
Follow along with the ???? recipes below????????????????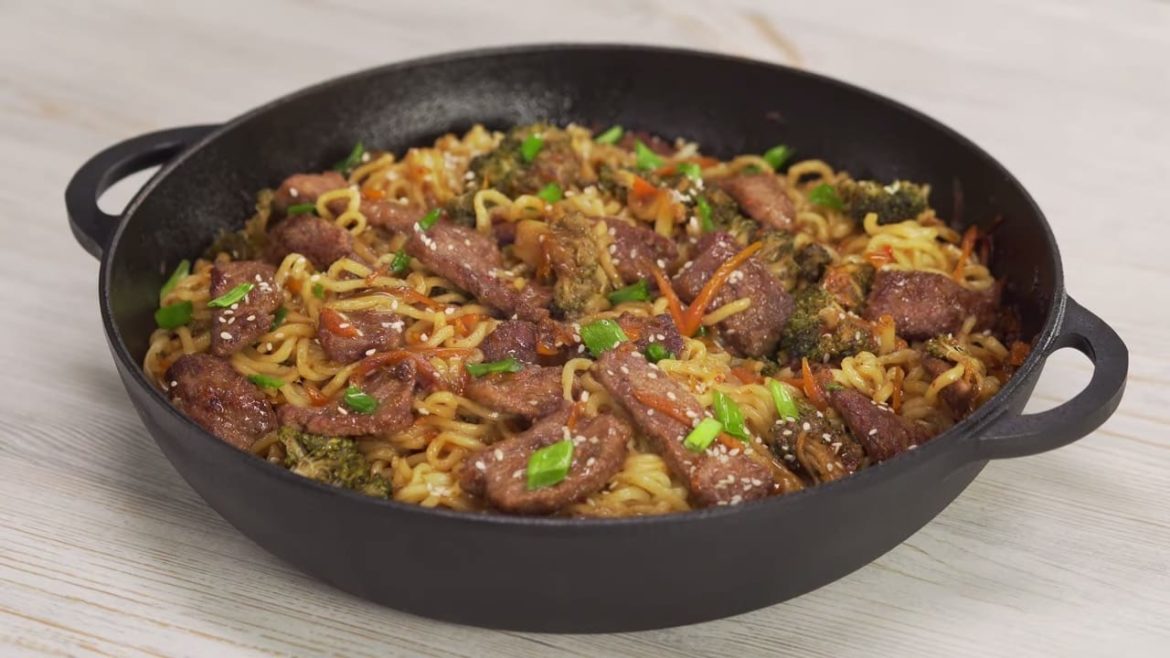 Ingredients
ramen noodles – 12½ oz /360 g
beef fillet – 15½ oz /500 g
corn starch – 2 tbsp
broccoli – 14 oz /400 g
carrot – 3 oz /100 g
scallion – 3 stems
vegetable oil – 4 tbsp
sesame oil – 1 tbsp
garlic – 3 cloves
ginger – 1 oz /20 g
soy sauce – ½ cup /125 ml
brown sugar – 2 oz /50 g
chicken broth or water – 1 cup /250 ml
sesame seeds – 1 tbsp
chili pepper flakes – 1 tbsp
corn starch – 3 tbsp
water – 1 tbsp
You will need:
carving board
pan with a lid
stockpot
Instructions
Cut the carrot into strips, divide the broccoli into florets and mince the garlic and ginger.
Cut the beef into strips, sprinkle with 2 tbsp of corn starch and toss well.
Heat a pan with 2 tbsp of vegetable oil and fry the meat over high heat for 2 minutes on each side, add some oil on need. Take the meat out into a bowl.
Reduce the heat to low, if needed add some vegetable oil and fry the minced garlic and ginger for a minute.
Add the broth, soy sauce and sugar and simmer over low heat for 3 minutes.
Add the carrot and broccoli, cover with a lid and braise over low heat for 5 minutes until veggies are soft.
Boil the ramen noodles as indicated on the package, drain in a colander without rinsing.
Combine 1 tbsp of corn starch and water each and add into the pan with the veggies, the sauce must thicken.
Add the fried beef, ramen noodles, sesame oil and chili flakes and stir for a minute over low heat. Sprinkle the ready Mongolian beef and ramen with the fried sesame seeds and scallion.
Did You Make This Recipe?
---
Enjoy