Lemon Cranberry Scones is on the menu in Book recipe, and we are going to teach you how to make this delicious recipe from scratch!
Chef Anna Olson takes you from step one to step yum with this amazing Lemon Cranberry Scones recipe! Follow the directions below and you'll be baking up a storm in no time!
Follow along with the ???? recipes below????????????????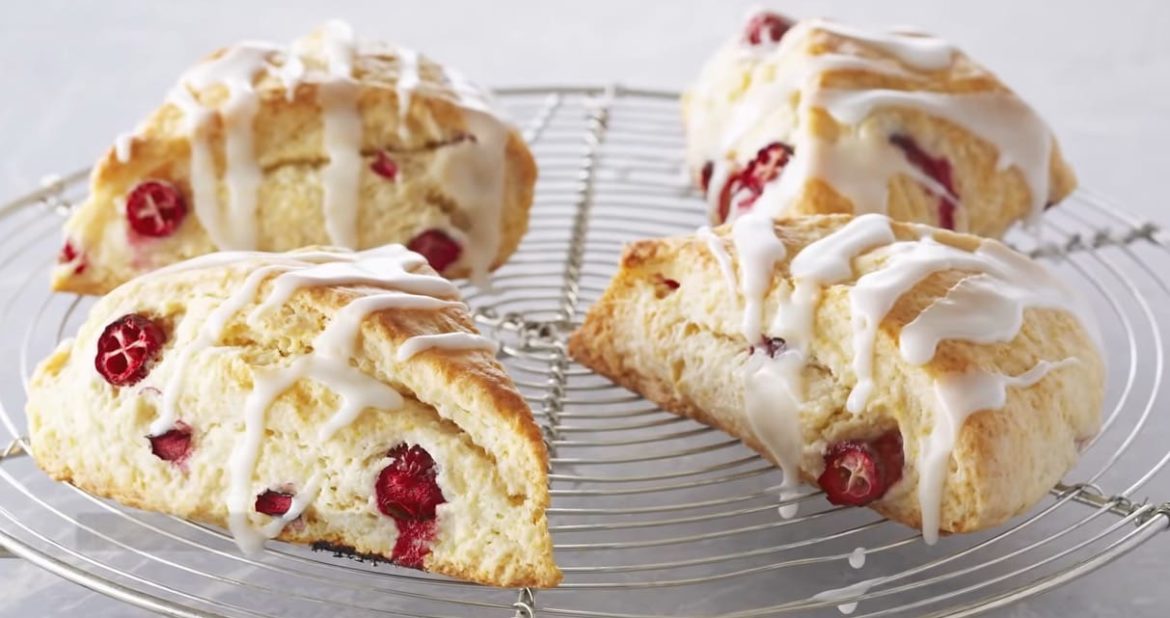 Ingredients
Scones
2 cups (300 g) all-purpose flour
¼ cup (50 g) sugar
1 Tbsp (15 g) baking powder
¼ tsp (1 g) salt
1 Tbsp (6 g) finely grated lemon zest
½ cup (115 g) cool unsalted butter, cut into small pieces
½ cup (125 ml) whipping cream
¼ cup (60 ml) 2% milk, plus extra for brushing
1 large egg
1 tsp (5 ml) vanilla extract
1 cup (160 g) fresh or frozen cranberries
Glaze
1 cup (130 g) icing sugar, sifted
1 ½ (22 ml) Tbsp lemon juice
Instructions
Scones
Preheat the oven to 375 F and line a baking tray with parchment paper.
Sift the flour, sugar, baking powder and salt into a large bowl. Stir in the lemon zest. Cut in the butter until the mixture is rough and crumbly but still small pieces of butter are visible.
In a separate bowl, whisk the cream, milk, egg and vanilla together. Add this to the flour mixture and stir to just bring the dough together, turning out onto a work surface to complete bringing it together with your hands. Flatten the dough out and press the cranberries into the dough, folding it over and flattening it out a few times to incorporate the cranberries.
Shape the dough into a disc about 10-inches across. Cut the disc into 8 wedges and place them on the prepared baking tray, leaving a few inches between them. Brush the scones with a little milk and bake for 20 to 25 minutes until the scones are lightly browned on top. Cool completely before glazing.
Glaze
For the glaze, whisk the icing sugar and lemon juice together and drizzle over the scones using the whisk or a fork. Let the glaze set for an hour before serving.
The scones are best enjoyed the day they are baked.
Did You Make This Recipe?
---
Let us know what you think of today's Lemon Cranberry Scones tips, tricks, and hacks!