Creamy tom yum goong soup is on the menu in Book recipe, and we are going to teach you how to make this delicious recipe from scratch!
A true tom yum, it's like a big Thai adventure filled with mouth-watering aromas, creamy taste, spicy excitement and happy delight. You will definitely find tom yum in menu of any Thai restaurant but try to cook Tom Yum home and that will be a real happening for those tasting it.
Follow along with the ???? recipes below????????????????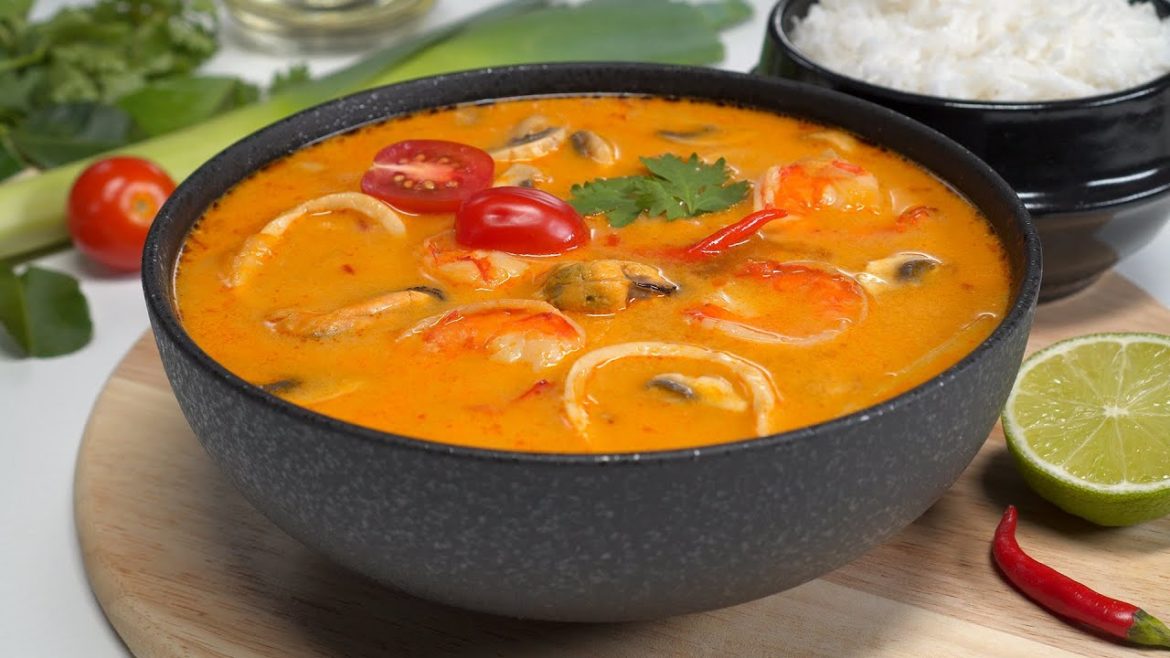 Ingredients
chicken broth – 6 cup /1,5 l
galangal or ginger – ½ oz /15 g
button mushrooms – 6 oz /180 g
ringed squid – 3 oz /100 g
shrimp – 9 oz /260 g
scrubbed mussels – 3 oz /100 g
4 cherry tomatoes
4 red chili peppers
lemongrass – 6 stems
leek – 2 oz /50 g
10 kaffir lime leaves
2 limes
pepper paste – 2 tsp
chili garlic sauce – 1 tbsp
fish sauce – 6 tbsp
brown sugar – 1 tbsp
soy sauce – 5 tbsp
coconut milk – ½ cup /120 ml
tom yum soup base – 5 ½ oz /160 g
fresh cilantro – to taste
basmati rice – 7 oz /200 g
vegetable oil – 2 tbsp
water – 14 fl oz /400 ml
You will need:
Instructions
Preparing ingredients: cut the galangal into thin slices, mushrooms into wedges, halve the tomatoes, pound the lemongrass stems carefully with a tenderizer and cut into a few of pieces, cut the leek into slices and pound the chili peppers lightly.
Peel and devein the shrimp, scrub the mussels, wash and peel the squid and cut into rings.
Wash the rice thoroughly and drain.
Add 2 tbsp of vegetable oil into a stockpot, heat over medium heat, add the rice and fry for 3-4 minutes over medium heat stirring constantly.
Then pour in the boiling water slowly. Reduce the heat to low, cover with a lid and boil for 15 minutes.
Heat the chicken broth over low heat in another pot and add the galangal, lemongrass, leek and chili peppers. Cook over low heat for 5 minutes.
Add the mushrooms, soy sauce, fish sauce, pepper paste, chili garlic sauce, juice of 2 limes, sugar and tom yum base into the broth. Crumble a bit the kaffir lime leaves with hands and add into the stockpot. Stir and cook over low heat for 2 minutes.
Add the coconut milk into the soup and stir.
Add then the shrimp, mussels and squid rings. Stir and cook for 2 minutes over low heat.
Serve your tom yum soup hot and the rice apart. Add a couple of fresh cilantro leaves and the halved cherry tomato into each serving.
Notes
You can use ginger instead of galangal.
Button mushrooms can be changed for straw or shiitake mushrooms.
Fresh galangal and kaffir lime leaves can be also changed for dried ones.
If you prefer a highly spicy soup do not pound chili peppers.
Did You Make This Recipe?
---
Enjoy