Zucchini, Spinach, Mushroom, Kale is on the menu in Book recipe, and we are going to teach you how to make this delicious recipe from scratch!
In the summertime, one of the best things that you can eat is a cold slice of watermelon or crispy chips with a cold beer. Mücver is one of those incredible summer recipes that you can't get enough of.
Crispy outside and soft inside, loaded with flavors and almost official side meal of Kabak dolması (stuffed zucchini) to use the spongy inside of the zucchinis.
Today we are going to make the classical zucchini mücver (you can call them fritters as well) but remember that you can use any vegetables like spinach, pumpkin, chard, or even mushrooms to make it. Fry it or bake it, however, you wish it will be amazing!
Follow along with the ???? recipes below????????????????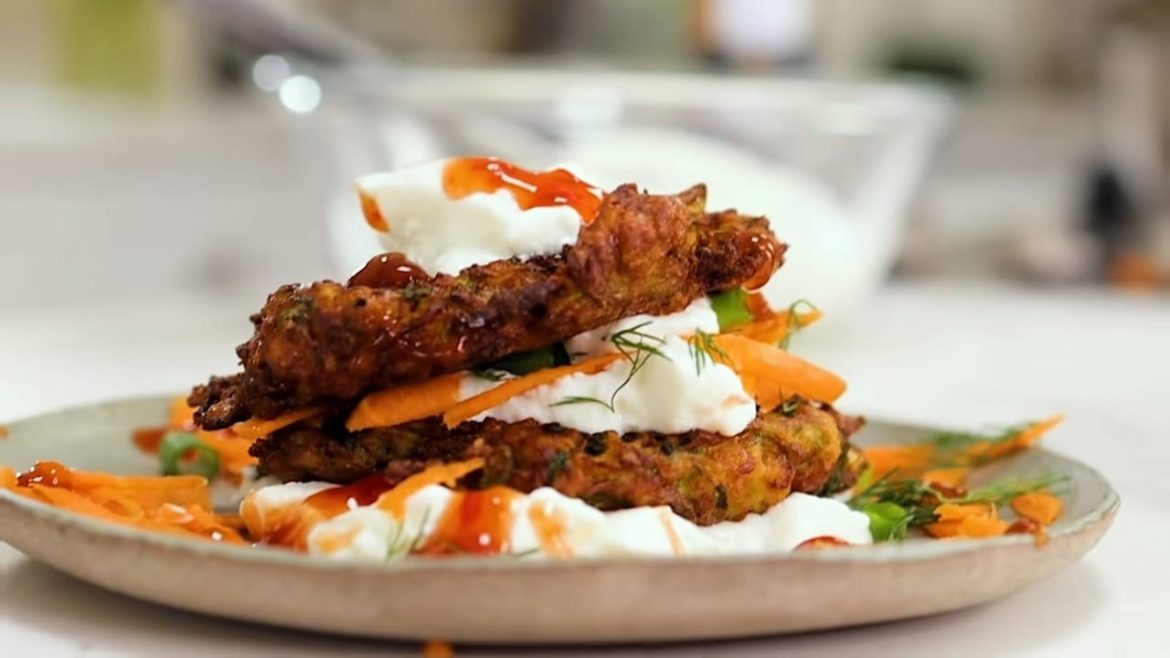 Ingredients
3 zucchinis, grated
2 small onions, grated
4 eggs
4 tablespoons all-purpose flour, use oatmeal flour or lentil flour for the gluten-free version
4 pinches of salt
2 pinches of black pepper
1 tablespoon baking powder (10 g)
1 teaspoon nigella seeds
A good pinch of mahaleb seeds
12-15 sprigs of dill, chopped, alternatively, parsley or coriander
Sunflower oil, any oil that you use for frying would work great like olive oil or grapeseed oil
Instructions
Place the grated zucchini in a colander over a bowl. Mix with 2 pinches of salt. Squeeze for a couple of minutes to drain excess juice from the zucchini. Don't squeeze longer, we still want to keep them a little juicy.
Transfer the zucchini to a large bowl and grate the onions in it.
Pour the oil into a large frying pan to a depth of 3-4 cm (~1 in.) The oil should barely cover the mücvers while frying.
Add the eggs, flour, 2 pinches of salt, black pepper, and baking powder into the bowl and give it a mix. To keep the mixture thick and batter-like consistency avoids mixing too much.
Grind a pinch of mahaleb seeds with a pestle and mortar and add to the mixture. You can skip mahaleb if you can't find but believe me, it upgrades the taste to another level.
Mix in the nigella seeds and dill. You can add diced halloumi if you like to, it makes mücver more incredible.
After mixing all ingredients, it is better to cook quickly because as time passes, the mixture will become runny and will apart as it cooks. You can avoid this by adding more flour, but then it will affect the taste in a bad way.
Dip a wooden spoon into the oil, if bubbles come out of it, it means the oil is hot enough for frying.
Dip two spoons into the oil and scoop a heaped tablespoon of batter for each mücver, slide the batter into the hot oil with the second spoon, and press with the back of the spoon. Fry until golden brown. Flip and fry the other side.
Transfer on a colander to drain excess oil.
Serve immediately while they are crispy.
To prepare a cool starter, spread some thick savory yogurt in a round shape on a dish. Top with a mücver. Place some yogurt on top and layer over another mücver. Garnish with, grated carrot, chopped spring onion, and dill. Top with some yogurt and drizzle sweet chili sauce. It is the Refika's fun version of mücver and going to blow your mind!
To make the mücver in the oven instead of frying, preheat the oven to 200 C (390 F) on upper and lower heat without a fan. Grease a tray with olive oil and spread the mixture on it. Top with some halloumi or mozzarella. Place into the bottom of the oven and bake for 20 minutes. Then transfer to the middle shelf of the oven and bake for another 10 minutes. Guilty-free, easier and delicious mücver is ready!
Did You Make This Recipe?
---
Enjoy
Let us know what you think of today's Zucchini, Spinach, Mushroom, Kale tips, tricks, and hacks!