Biscotti is on the menu in Chef Anna Olson's amazing kitchen, and she is going to teach you how to make this delicious recipe from scratch!
Follow along with the ???? recipes below????????????????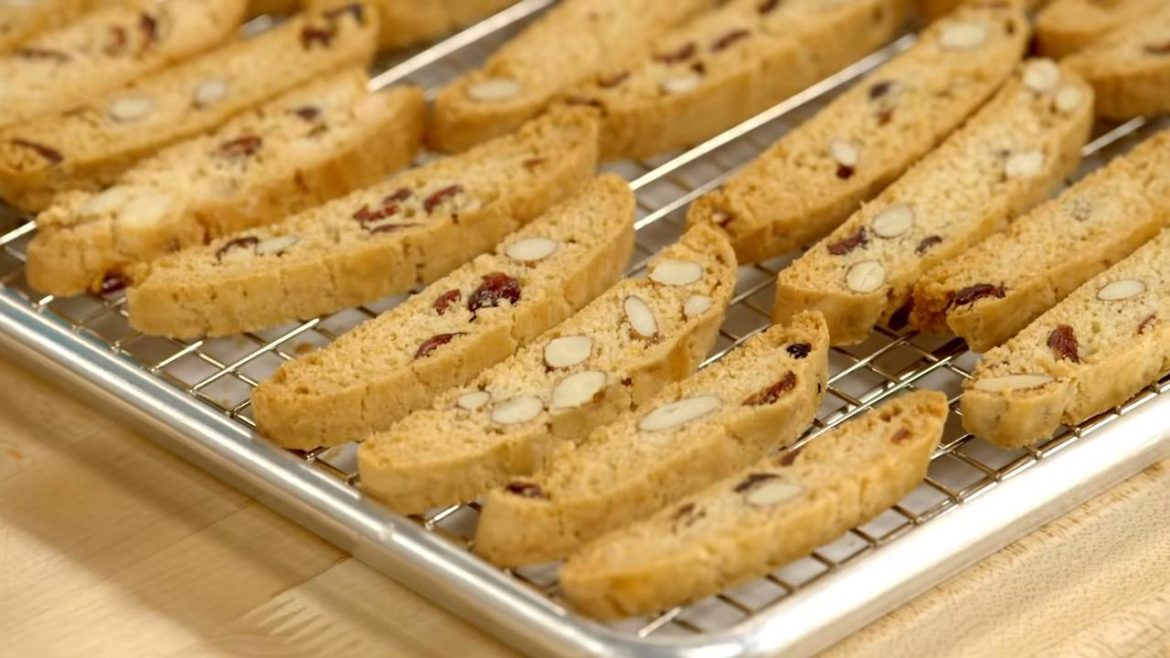 Ingredients
¾ cup (150 g) granulated sugar (caster sugar)
½ cup (125 mL) vegetable oil
2 large eggs
2 tsp (10 mL) finely grated lemon zest
¾ tsp (4 mL) pure almond extract
¾ cup (120 g) whole raw almonds
½ cup (65 g) dried cranberries
1 ¾ cups (265 g) all-purpose flour (plain flour)
2 tsp (10 mL) baking powder
½ tsp (2 mL) fine salt
½ tsp (2 mL) ground nutmeg
1 egg whisked with 2 Tbsp (30 mL) water, for brushing
Instructions
Preheat the oven to 325 F (160 C) and line a baking tray with parchment paper.
In a large mixing bowl, whisk the sugar, oil, eggs, lemon zest and almond extract together. Stir in the almonds and dried cranberries.
Sift the flour, baking powder, salt and nutmeg in a separate bowl, add this to the wet mixture and stir until completely blended. Shape the dough into 2 logs about 12-inches long, place on the baking tray and pat down to flatten (you can flour your hands to prevent sticking). Brush the logs with the egg mixture and bake for about 35 minutes, until a rich golden brown. Cool the logs on the baking tray a little bit, but so they are still warm to the touch.
Using a serrated knife, slice the logs into cookies just over ½-inch thick. Place these back on the baking tray, leaving just a little space between them (you may need a second baking tray) and return them to the oven to bake about 20 minutes, until lightly browned. Remove from the baking tray to cool completely.
Did You Make This Recipe?
Recipe video
---
Bon Appétit