Bulgur Pilaf is on the menu in Book recipe, and we are going to teach you how to make this delicious recipe from scratch!
Today we have a great recipe that is one of our absolute favorites. It's important to us both as heritage, and as to how healthy and "bereketli" it is. Bulgur means boiled, dried, and cracked wheat grains and it comes in different sizes. When it is coarsely ground, we use it to make pilav. A medium grind is usually used to make kısır and dolma.
Finely ground bulgur is great for soups, meatballs, and veggie balls. To give you a clear picture, if Asia is the homeland of rice, America, is the homeland of corn, Anatolia is the homeland of bulgur wheat.
We use bulgur in almost every dish. It is nutritious, fulfilling, and a superfood so it is a good ingredient in times of famine as well. Today we will be making the ultimate Bulgur pilav the way my dad taught me. It is soft, fluffy, healthy, and heaven on earth! Enjoy and leave us a like and a comment if you liked the video. Have a wonderful weekend!
Follow along with the ???? recipes below????????????????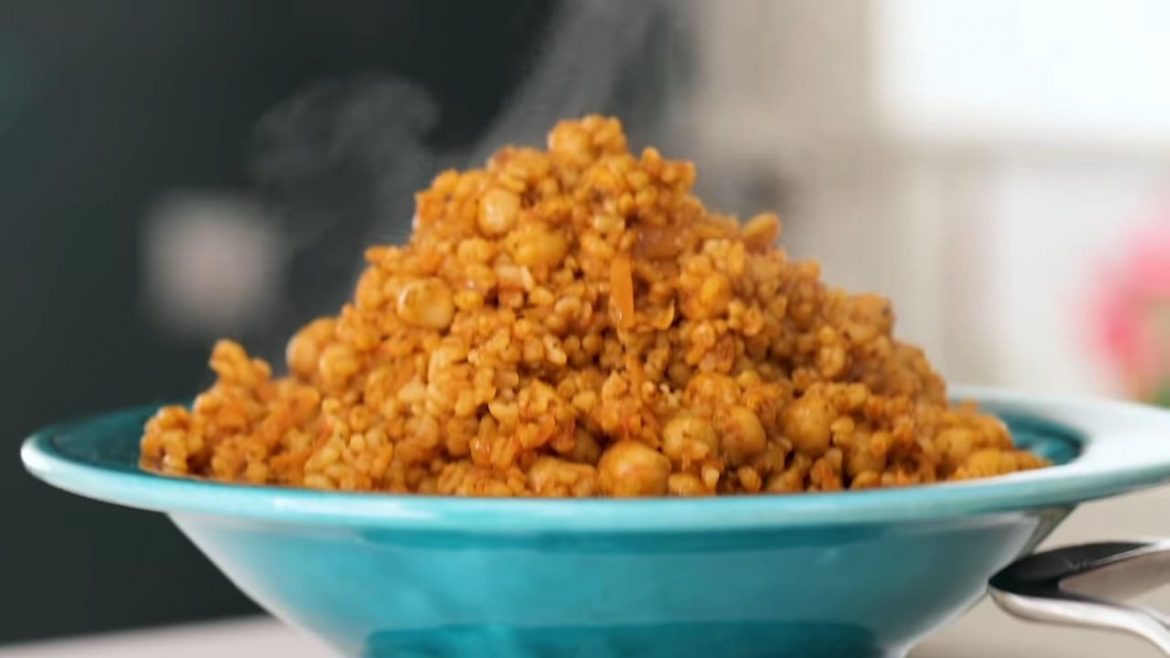 Ingredients
2 cups coarsely ground bulgur
2 onions, diced
1 small carrot, grated
4 cloves of garlic, sliced
2 tablespoons olive oil
1 heaped tablespoon + 1 teaspoon butter
2 tablespoons hot red pepper paste
2 tablespoons tomato paste (alternatively, 200 ml tomato puree)
400 g boiled chickpeas
1 tablespoon dried mint
1 teaspoon dried thyme ( or oregano)
1 teaspoon salt
1 teaspoon black pepper
To garnish:
Instructions
Brown the 1 tablespoon butter and olive oil in a pot.
Add in the onions and sauté for a couple of minutes.
After the onions are softened, stir in the garlic and continue to sauté.
Add the tomato and pepper paste. Use the tip of your spatula to mix the paste with the onion and garlic evenly.
Add the bulgur, carrot, and chickpeas. Continue to stir after adding every ingredient.
Time to spice up the pilav! Season with dried mint, thyme, salt, and black pepper, and add 1 teaspoon red pepper flakes, if using sweet red pepper paste.
Pour in boiling water up to 2 cm higher than the level of the bulgur. It will take around 4 cups of boiling water depending on the size of your pan.
Add 1 teaspoon butter and simmer for 10-15 minutes-depending on the size of the bulgur- on low heat. Unlike rice pilav, leaving a little water at the bottom of the pan will make your pilav better.
Turn off the heat and cover it with a kitchen cloth and let it rest for 10 minutes.
Fluff up and serve with yogurt and pickles to level up the joy and eat the bulgur pilav as we do!
Did You Make This Recipe?
---
Enjoy
Let us know what you think of today's Bulgur Pilaf tips, tricks, and hacks!