Carrot Soup is on the menu in Book recipe, and we are going to teach you how to make this delicious recipe from scratch!
Follow along with the ???? recipes below????????????????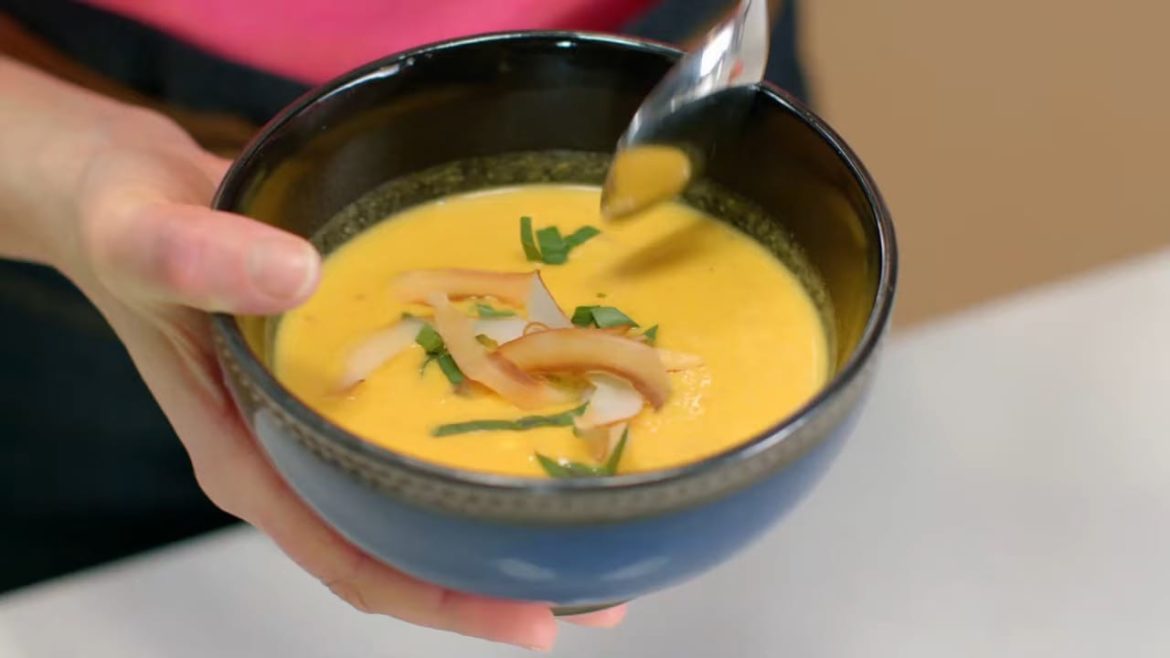 Ingredients
30 mL (2 Tbsp) olive or vegetable oil
120 g (1 cup) diced cooking onion
450 g (1 lb) peeled and diced carrots
225 g (1/2 lb) peeled and diced sweet potato
5 cm piece (2-inches) lemongrass, bruised with the back of a knife
1 clove garlic, sliced
20 g (25 mm piece) fresh ginger, peeled and sliced
5 mL (1 tsp) lime zest
750 mL (3 cups) chicken or vegetable stock
200g ¾ cup cream cheese
juice of 1 lime
salt & pepper
Sambal or chili paste, to taste
Toasted coconut, for garnish
chopped fresh Thai basil, for garnish
Instructions
Heat a medium soup pot over medium heat and add the oil. Add the onion and sauté until the onion is translucent, about 5 minutes. Add the carrot and sweet potato and stir. Add the piece of lemongrass, ginger, garlic and lime zest and stir for one minute, until you can smell the fragrances. Add the stock and bring to a full simmer. Reduce the heat to a gentle simmer, cover and cook until the carrots and sweet potato are tender, about 20 minutes.
Remove the lemongrass and discard it. Puree the soup until smooth. Add the cream cheese, a little at a time and puree until incorporated. Adjust the consistency (if needed) to thin it out by adding a little extra stock or water. Stir in the lime juice and season to taste. Stir in the sambal or chili paste to taste, or serve it as a garnish, along with the toasted coconut and Thai basil, which can be sprinkled on top.
Did You Make This Recipe?
Recipe video
---
Bon Appétit