Pork goulash soup is on the menu in Book recipe, and we are going to teach you how to make this delicious recipe from scratch!
Hungarian goulash soup is like Ukrainian borsch or Finnish fish-soup. Unforgettable taste is surely worth of time needed for cooking this famous dish. And the point is that it is quite easy. Let's start!
Follow along with the ???? recipes below????????????????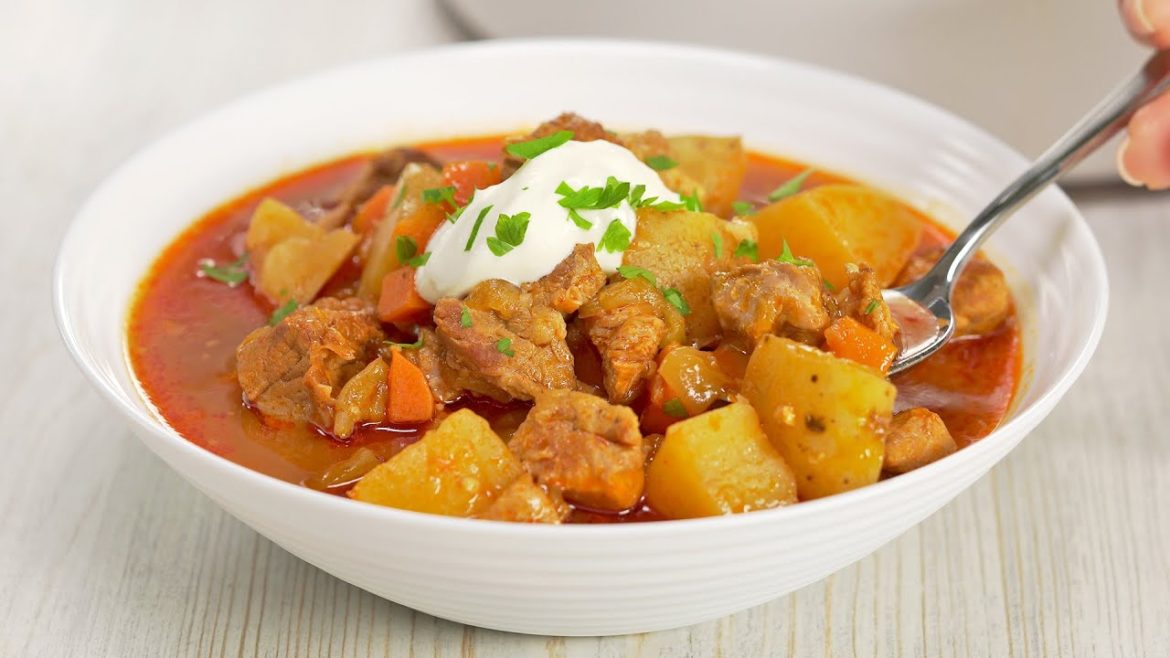 Ingredients
bacon – 3 oz /100 g
pork, neck preferable – 28 oz /800 g
bulb onion – 7 oz /200 g
carrot – 10 ½ oz /300 g
potato (not peeled) – 21 oz /600 g
garlic – 4 cloves
smoked paprika – 3 tbsp
light beer – ½ l
wheat flour – 1 tbsp
meat broth – 4 cup /1 l
crushed tomatoes – 1 cup /250 ml
pickled bell pepper (fresh can be used) – 4 oz /125 g
salt – to taste
ground black pepper – to taste
parsley – 3 stalks
vegetable oil – 2 tbsp
water – ¼ cup /50 ml
You will need:
saucepan ≥ 4 l
carving board
2 bowls
Instructions
Cut the pork, bacon, bulb onion, carrot, thoroughly washed but not peeled potato and pickled bell pepper into dices of medium size, mince the garlic.
Lay the bacon into the heated saucepan and fry over medium heat for 4-5 minutes until crispy. Take the bacon out into a bowl.
Fry the pork in the same saucepan until golden crust on all sides, portionwise, for 3-4 minutes over high heat. Place into the bowl.
Add the vegetable oil, bulb onion, and carrot into the saucepan and fry over medium heat for about 3 minutes until onion is translucent. Add the garlic and smoked paprika and keep frying for another minute.
Add the beer into the saucepan with veggies and cook for 2 minutes over low heat then add the fried bacon and pork.
Combine 2 fl oz /50 ml of cold water and the wheat flour, add into the saucepan, and stir.
Add the broth, crushed tomatoes, pickled bell pepper, potato, and salt and pepper to taste. Bring to a boil and reduce the heat to low, cover with a lid and braise for 2 hours. Serve Hungarian goulash soup with sour cream and sprinkle with parsley.
Did You Make This Recipe?
---
Enjoy