Hello friends! Today we're going to share with you how to make a classic and super delicious French pumpkin soup (soupe à la citrouille), and the recipe is from Michelin star chef Thomas Keller.
No matter how you call it pumpkin soup or squash soup, pumpkin soup is always classic. It's my family favorite, and it's something that never gets old. Also, it's healthy, creamy, and keeps you cozy. You can use various squashes to make this soup, like butternut squash or kabocha squash. This soup is indeed delicious, perfect for a cold day, and it's also a beautiful dish to serve on a holiday.
We strongly recommend you try this recipe if you love pumpkin soup, once cooked, served with crispy bacon, croutons, or our favor "crème fraîche and nutmeg". Hope you like this post.
How to make pumpkin soup / squash soup?
Follow along with the ???? recipes below????????????????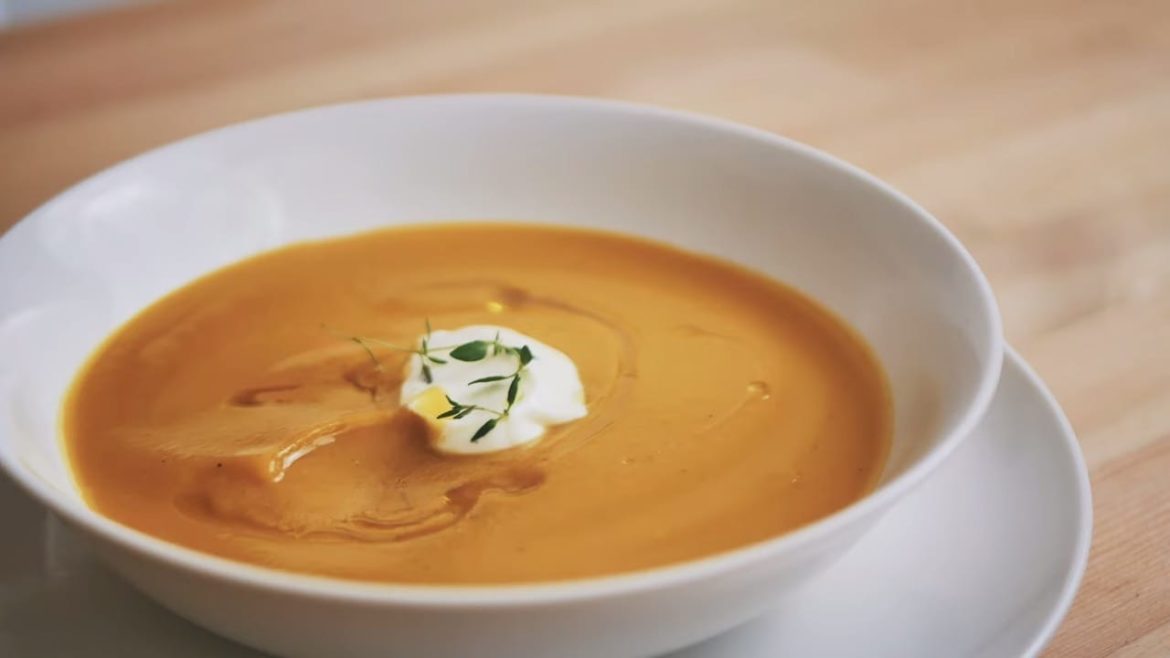 Ingredients
kabocha squash 3, diced 180g, rostered 120g
olive oil 20ml
2 springs sage
celery 15g
carrots 30g
shallots 20g
onions 30g
garlic cloves smashed
honey 15ml
vegetable stock 600ml, more if needed
bouquet garni 1 spring, about Italian parsley, thyme, and bay leaves
salt Q.S
ground black pepper Q.S
Instructions
Slice the carrot, shallot, celery and onion, peel and smash the garlic.
Slice the squash in half lengthwise. Then scoop out and discard the seeds of squash. Keep two half squash for use later. Carefully peel away the skin from the squash until you reach the orange flesh. Dice the flesh into small cubes.
Preheat the oven to 170°C, line a foil on the baking tray. Brush each half inside and out with olive oil, and sprinkle the cavities with salt and pepper, then put a sprig of sage into each. Place cut side down on the baking sheet, bake for 44-45 minutes or until tender. The baking time depends on the size of squash.
Remove the roasted squash from the oven and let cool, then scoop out the flesh and set aside.
Pour the remaining olive oil in a stockpot over medium high heat, add celery, carrots, onions and shallots, fry for 3-5 minutes or until tender.
Add diced squash and smashed garlic, season with salt and black pepper, reduce the heat to medium low to keep the squash and garlic from coloring, stir for 2 minutes.
Add honey and keep stirring for 2 minutes, then pour the broth and bouquet garni, bring to a simmer and cook for 10 minutes or until the squash is tender.
Add the roasted squash and simmer gently for about 30 minutes.
Once cooked, remove from the heat and discard the herbs. Blend and puree the soup. Strain the soup into a bowl. Taste the soup and season if needed. You can serve it while the soup is not too hot, or chill overnight and enjoy in next day.
Notes
???? How To Enjoy:You can mix and whisk the crème fraîche and nutmeg, and spoon some in top of the soup. Or put some croutons or bacon bits are good ways to enjoy it.

Did You Make This Recipe?
---
Bon Appétit
French vegetable Broth:you can check our Mushroom soup recipes, don't need to add mushroom stems, all you need are a medium-size carrot, half onion, a stick of celery, and 5-6 black peppercorn, you also need a bundle of Bouquet Garni, includes bay leaf, thyme, and parsley.