Hello friends! Today we're going to share with you how to make a classic French creamy mushroom soup. (Soupe Aux Champignons)
French mushroom soup is a simple and easy recipe that you can make every day or on a weeknight. This easy homemade mushroom soup is so comforting, it's hearty, rich, and earthy, and it's quite versatile. You can also make it vegan by using vegetable broth, and use coconut milk instead of heavy cream. This recipe just keeps it simple and gluten-free. This will definitely become a go-to recipe! It's a perfect soup for a chilly fall day. Hope you like this post. Enjoy. :)
How to make Classic French Mushroom Soup Recipe?
Follow along with the 📝 recipes below👇🏾👇🏾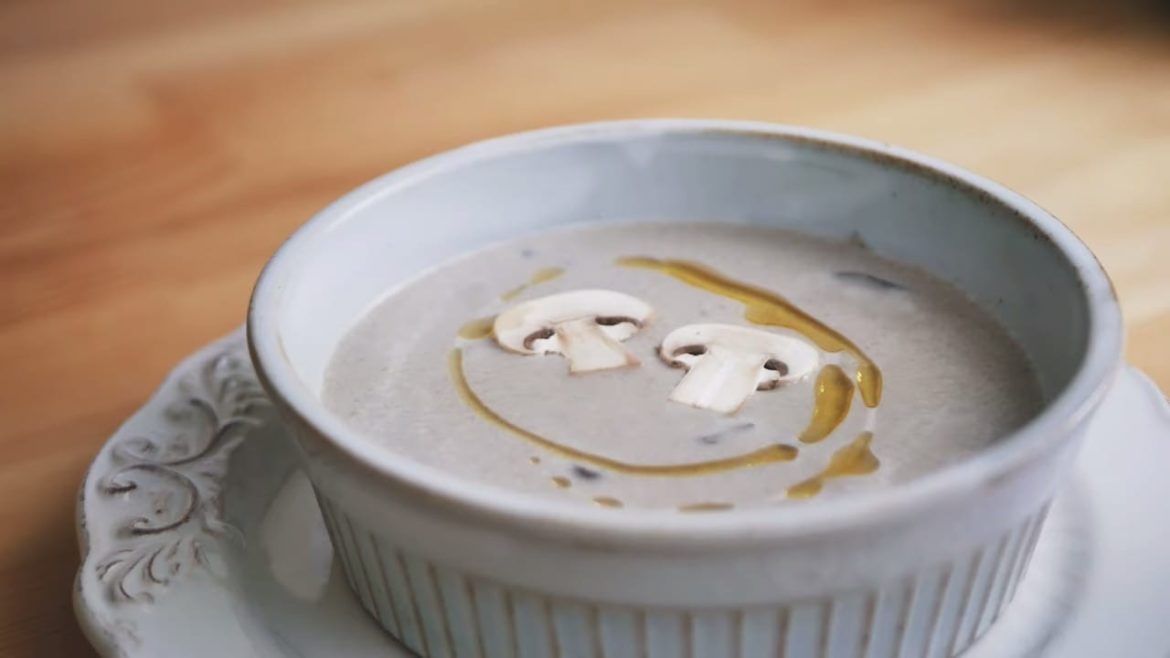 Ingredients
For broth:
half onion
fresh thyme 2 bunches
fresh parsley 1 bunch
bay leaf 1
carrot 1
celery 1 stalk
black peppercorn Q.S.
water 500ml
For the mushroom soup:
mushroom 270g, remove the stem, the net weight is about 250g
olive oil 15g
unsalted butter 15g
half onion
whipping cream 120g
salt Q.S.
a knob of butter for pureeing
Instructions
For the broth:
The best way to clean mushrooms is to not wash them, but if they are dirty, you can wash them gently one by one and immediately pat dry them with paper towels, don't keep them in water too long.
You can cut off the stem or remove the stem by fingers, but don't throw it away, use them to make broth. Place the mushroom caps on the cutting board and slice them. Set aside.
Peel the carrot and trim off the top, cut carrot and celery into a few big pieces.
Trim the ends of the onion, cut in half, peel off skin both halves and discard the skin. One halve cuts into big pieces for broth. Another halve chops into small pieces for frying with mushroom slices.
Throw onions, carrots, celery, peppercorns, and herbs in a pot. Cover with 500ml of water, set the pot over medium-high heat, and bring it to a boil, then turn the heat down to low heat and cook for 30 minutes. The cooking time depends on how much stock you make.
Remove the pot from the stove, and set a strainer over a bowl, pour the stock through, pressing on the solids to extract any extra liquid, and discard the vegetables.
For the mushroom soup:
Cook onions in olive oil and butter in a soup pot over medium-high heat, then reduce heat to low and cover to cook for 8 minutes until soft but not browning.
Add the mushroom slices and salt, stir evenly, cover with a lid and cook for 10 minutes until liquid from mushrooms has mostly evaporated.
Pour the vegetable broth and whipping cream and stir constantly, keep the heat on low, and cover to cook for 30 minutes.
Transfer 3/4 soup to a blender and puree until smooth, creamy and thick.
Return soup to pot and stir well. Season with salt and black pepper if needed, and serve in bowls, garnish with mushroom slices or drizzle a few drops of olive oil. Enjoy!
Did You Make This Recipe?
---
Bon Appétit