ONE POT Chicken & Rice Pilaf is on the menu in Book recipe, and we are going to teach you how to make this delicious recipe from scratch!
Cook a true chicken pilaf. Crumbly rice, tender pieces of chicken, spices, herbs, and cauldron – it is possible to cook such a pilaf over an open fire or on a stove in the kitchen.
Follow along with the ???? recipes below????????????????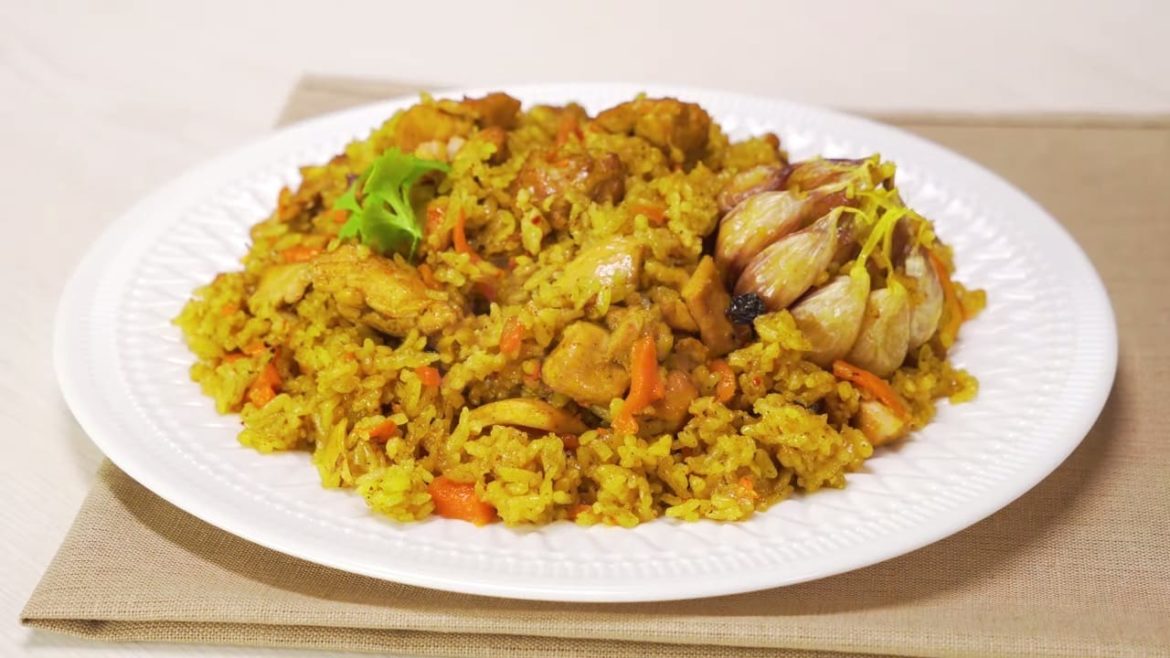 Ingredients
chicken – 2 lb /1 kg
rice – 18 oz /500 g
bulb onion – 14 oz /400 g
carrot – 11 oz /300 g
garlic – 4 heads
water – 2 cup /500 ml
4 bay leaves
red chili flakes – 1 tsp
jeera – 1 tsp
turmeric – 1 tsp
barberry – 1 tbsp
salt – 1 tbsp
ground black pepper – 1 tsp
vegetable oil – 1/3 cup /100 ml
You will need:
cauldron
carving board
bowl
Instructions
Wash the rice several times until the water is clear. Leave the rice in the water.
Chop up the bulb onion, cut the carrot into strips, the chicken into pieces.
Heat the vegetable oil in a cauldron and fry the bulb onion over high heat until golden for 2-3 minutes.
Add the chicken meat and keep frying over high heat for 3 minutes stirring so that the pieces fried on all sides.
Add the carrot and fry for 2-3 minutes over high heat.
Add the black and red pepper, turmeric, jeera, barberry, salt, and bay leaves.
Pour 2 cups/500 ml of water into the cauldron, bring to a boil and cover with a lid.
Braise over low heat for 10 minutes, try the broth to check whether the salt and spices are enough.
Drain the soaked rice and layout into the cauldron into an even layer not stirring with the meat. The broth is to be above the rice layer. If not add some hot water and dip the cleaned whole garlic heads into the pilaf.
Cover the lid tightly and braise over low heat for 15 minutes.
Open the lid and push the rice together into the center with a skimmer. If there is still a lot of the broth, make holes in the rice till the bottom with a wooden stick to have extra liquid evaporated.
Then cover the lid and cook the chicken pilaf for 10 minutes more over the lowest heat. Your chicken pilaf is ready!
Did You Make This Recipe?
Recipe video
---
Bon Appétit