Hummus Crackers & Roasted Carrot Dip are on the menu in Book recipe, and we are going to teach you how to make this delicious recipe from scratch!
Follow along with the ???? recipes below????????????????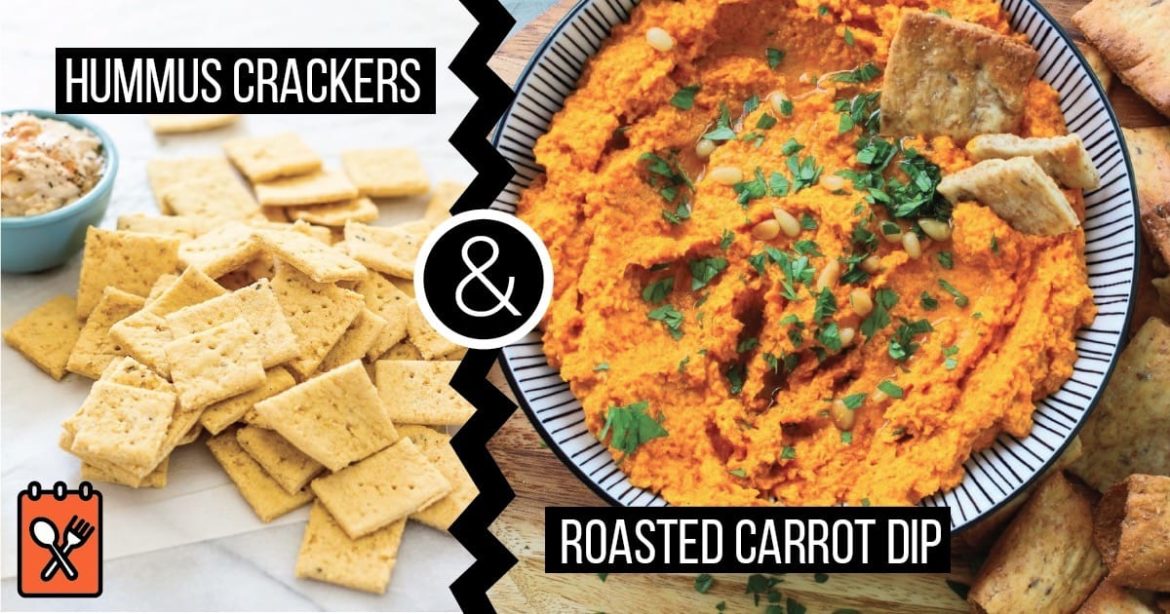 Ingredients
Hummus Crackers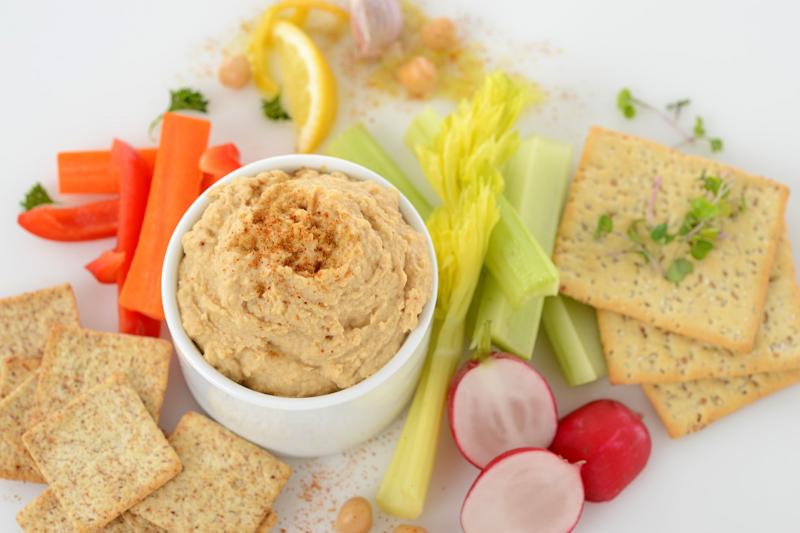 Makes about 5 dozen crackers Prep Time: 15 minutes, plus chilling Cook Time: 8 minutes These crispy crackers are a delicious savoury snack all on their own or as an addition to a cheese platter, and served with a Roasted Carrot Dip (recipe follows) it's as if you've reversed the traditional carrot sticks and hummus.
¼ cup (60 mL) water
3 Tbsp (24 g) ground flaxseed
1½ cups (180 g) chickpea flour
3 Tbsp (27 g) sesame seeds
2 tsp finely grated lemon zest
¾ tsp ground cumin
½ tsp fine salt
1 clove garlic, minced (or 1 tsp dried granulated garlic)
2 Tbsp (30 mL) extra-virgin olive oil
2 Tbsp (32 g) tahini (sesame paste)
2 Tbsp (30 mL) fresh lemon juice
Roasted Carrot Dip
Serves 8 (Makes about 2 cups/500 mL)
Prep Time: 15 minutes
Cook Time: 45 minutes
The natural sweetness of carrots really comes through in this dip, and while the chickpeas give this dip some structure (and protein), they don't overwhelm the carrot taste, so you won't mistake this dip as hummus. I love roasting parsnips and carrots together in the fall: why not try a variation of this dip made with half carrots and half parsnips?
1 lb (450 g) carrots, peeled and diced (about 3 cups/750 mL)
3 Tbsp (45 mL) extra-virgin olive oil
2 cloves garlic, peeled
2 tsp chopped fresh thyme
Salt and ground black pepper
1 cup (250 mL) cooked chickpeas (or tinned, well drained and rinsed)
¼ cup (64 g) tahini (sesame paste)
2 Tbsp (30 mL) fresh lemon juice
1 tsp finely grated lemon zest
1 tsp ground cumin
½ tsp ground coriander
Instructions
Hummus Crackers
Preheat the oven to 375°F (190°C) and line two baking trays with parchment paper.
Stir the water and ground flaxseed together and set aside. Place the chickpea flour, sesame seeds, lemon zest, cumin, salt and garlic in the bowl of a food processor and pulse once or twice to combine. Add the flaxseed water, oil, tahini and lemon juice and pulse until the dough comes together. If the dough feels sticky, wrap and chill for 10 minutes (to let the chickpea flour absorb some of the liquid) otherwise turn the dough out onto a rolling surface.
Roll out the cracker dough to under ¼ inch (6 mm) thick, dusting it and the work surface with chickpea flour as needed to prevent sticking. Use a 2-inch (5 cm) round cookie cutter to cut out crackers. Arrange them on the baking trays so they are close together but not touching. Re-roll the scraps and continue cutting until all of the dough has been used. Bake the crackers for about 8 minutes, until golden brown.
Cool the crackers on the trays on cooling racks. The crackers will keep in an airtight container at room temperature for up to 1 week.
Roasted Carrot Dip
Preheat the oven to 350°F (180°C).
Toss the carrots with the olive oil, garlic cloves, thyme and a sprinkling of salt and pepper in a large baking dish. Roast the carrots, uncovered, for about 45 minutes, stirring occasionally, until they are tender when pierced with a fork. Cool before making the dip.
Purée the carrots in a food processor along with the now-roasted garlic cloves, chickpeas, tahini, lemon juice, lemon zest, cumin and coriander until smooth, adding a little water if needed (up to ½ cup/125 mL) to make it smooth. Season to taste and chill until ready to serve. The dip will keep for up to 4 days, refrigerated.
Did You Make This Recipe?
Anna Olson is live and cooking two incredible recipes! Her Hummus Crackers and Roasted Carrot dip are wonderful snack, so check out the ingredients below and cook along with Anna live!
---
Enjoy