Chocolate Mousse Cups are on the menu in Chef Anna Olson's amazing kitchen, and she is going to teach you how to make this delicious recipe from scratch! Follow along with the recipe below!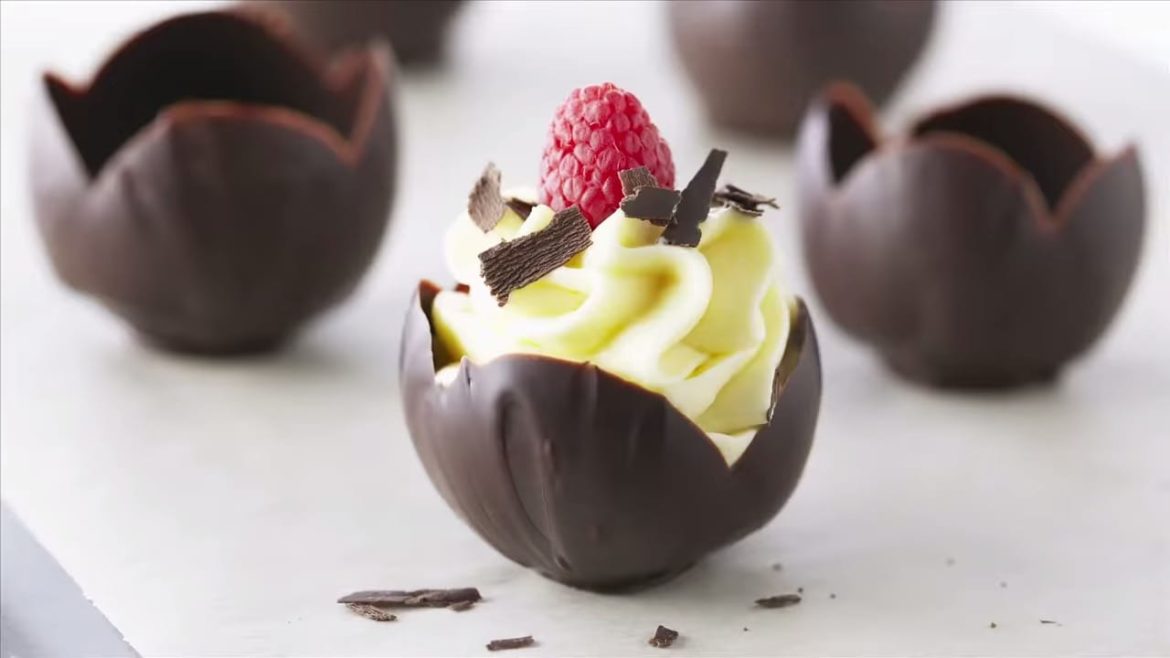 Ingredients
White Chocolate Mousse (Makes about 3 cups)
8 oz (225 g) chopped white chocolate
2 Tbsp (30 g) unsalted butter
1 ¼ (310 ml) cups milk
3 large egg yolks
3 Tbsp (37 g) sugar
2 Tbsp (15 g) cornstarch
2 tsp (3 g) gelatin powder, softened in 3 Tbsp (45 ml) cold water
1 cup (250 ml) whipping cream
Chocolate Cups
8-10 mini balloons
4 oz (110 g) bittersweet chocolate, chopped
1 recipe white chocolate mousse, chilled
raspberries or chocolate shavings, for garnish
Instructions
For the white chocolate mousse, place the white chocolate and butter in a medium bowl, with a strainer placed over it. Heat the milk to just below a simmer. In a separate bowl, whisk the yolks, sugar, and cornstarch together.
Whisk the hot milk into the egg mixture gradually, whisking while adding. Return this to the pot and continue to whisk over medium heat until glossy and thickened, about 4 minutes then stir in the softened gelatin.
Pour this through the strainer and stir until the chocolate and butter have melted. Cool the chocolate mixture to room temperature.
Whip the cream until it holds a soft peak and folds this into the chocolate mixture. Chill the mousse until set slightly but still soft, about 90 minutes.
For the chocolate cups, inflate and tie the mini balloons. Give them a little wipe with a damp cloth and allow them to dry. Have ready a parchment-lined baking tray.
Melt the chocolate in a metal bowl, place it over a pot of barely simmering water, stirring gently until melted. Remove the chocolate from the heat.
Dip the balloons halfway into the chocolate at an angle, and lift and rotate as dipping repeatedly, creating a tulip shape. Shake off excess chocolate and place each balloon onto the parchment-lined tray. Chill the balloons until the chocolate has set.
Use a pin to gently pop the balloon and let the air out slowly. Lift the balloon out of the cup and discard it. Pipe the white chocolate mousse into the cups and top with raspberries or chocolate shavings. Chill until ready to serve.
Did You Make This Recipe?
Recipe video
---
Enjoy