Recipe i'm using the same milk loaf recipe for all my printed loaf bread which I got the recipe from nasilemaklover.blogspot.com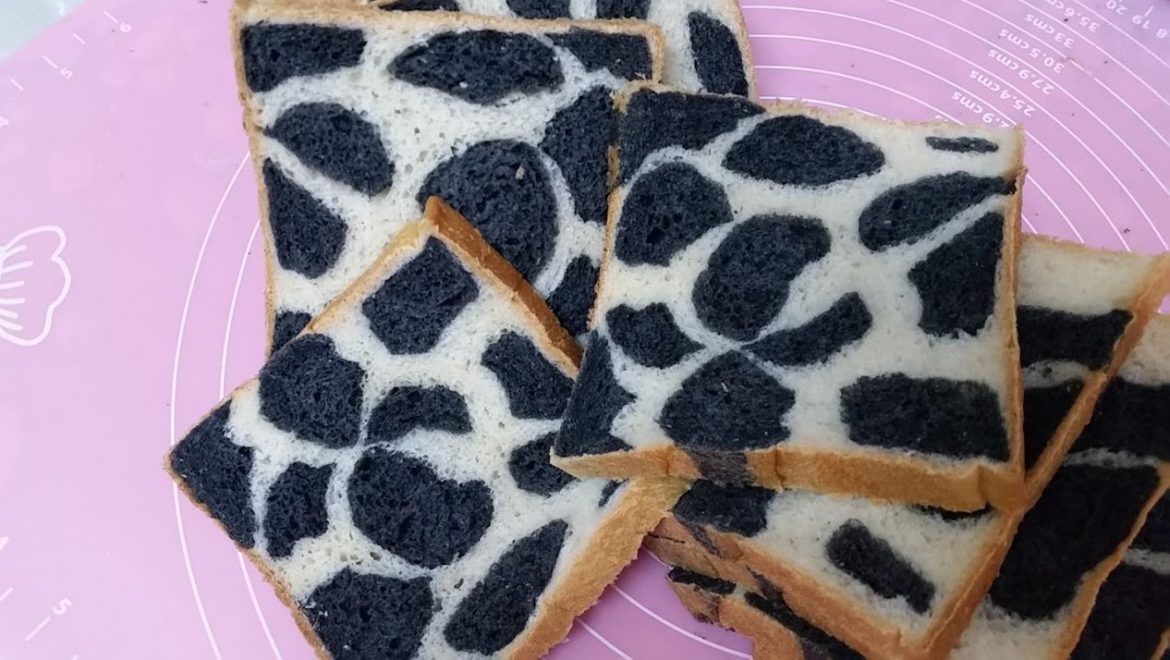 Ingredients
Recipe for the dough:
375gm bread flour
35gm sugar
1tsp instant yeast
1/2 tsp salt
250ml milk
20gm softened unsalted butter
5gm bamboo charcoal powder
10ml milk
Instructions
Mix bread flour, sugar, and yeast together. Give it a stir before adding in salt and then milk. Mix it well and knead it into a rough dough. Then add the softened butter and knead for 20mins, or till it passes the stretching test.
Divide the dough into 2 portions. Cover 1 portion of the dough and let it rise for 1 hour. Add bamboo charcoal powder and milk into another portion and knead to well combine. Cover and let it rise for 1 hour.
After 1 hour deflates the plain dough and randomly cut into 6 portions. Set aside.
Deflate the black dough and cut out 2/3 of the dough then divide randomly into 6 portions. Do the same to the other 1/3 dough.
Flatten and roll the bigger black dough and roll it like a swiss roll, set aside. Then flatten and roll the smaller black dough and roll it like a swiss roll too. Merge these two together. Set aside.
Flatten and roll the white dough big enough to cover the black dough and wrap it up. Try to cover it properly without seeing the black dough (my 1st 2 can see black dough but it doesn't affect much of the outcome).
Do the same for all 6 dough... then randomly stack it inside the Pullman tin. Cover with a plastic wrap and let it rise till 90% full then cover the tin and let it rise for at least 20mins...
Bake in preheated fan force 180c oven for 30mins in the middle rack.
Unmould and let it cool completely before slicing.
Please give proper credit by linking back to my video if you're using my recipe and tutorial. Highly appreciate it. Thanks.
Did You Make This Recipe?
---
Enjoy
Here's the other printed loaf I made: