Ramazan Pides are on the menu in Book recipe, and we are going to teach you how to make this delicious recipe from scratch!
This might just be the easiest flatbread in the world. This Ramazan Pidesi requires 0 kneadings, no special equipment, and only a few simple ingredients
More Turkish bread
Follow along with the ???? recipes below????????????????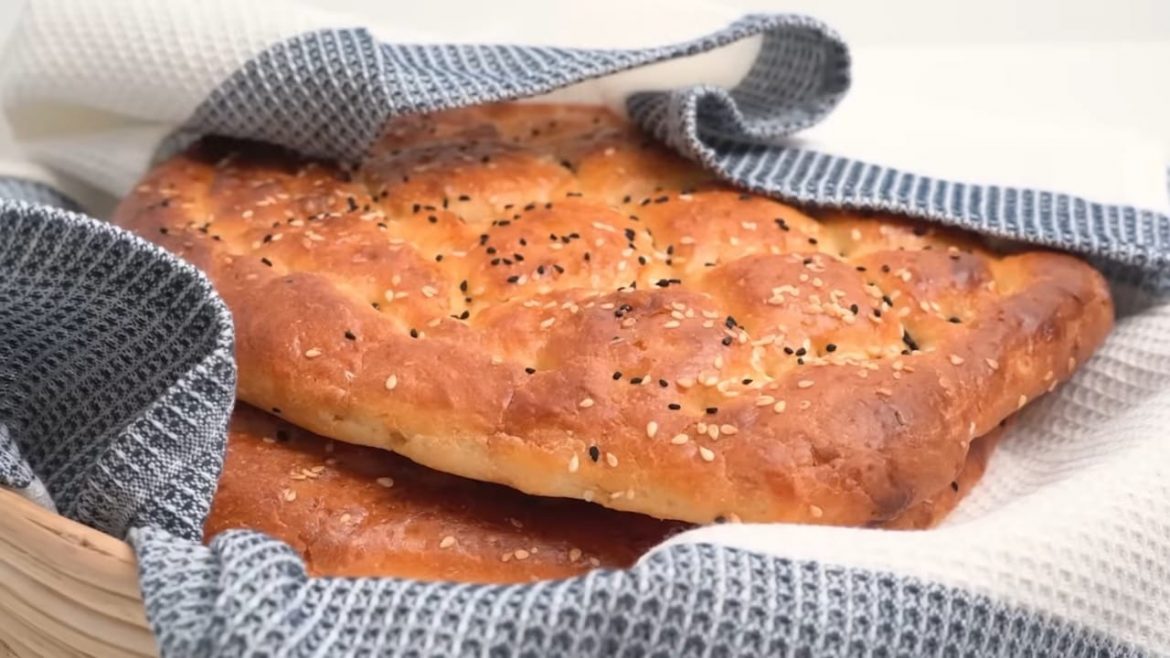 Ingredients
Starter:
200g (200ml) Whole Milk (can be replaced with water, but will be drier)
120g All-Purpose Flour
10g Yeast
4g Granulated Sugar
Dough:
415g All-Purpose Flour
245g (245ml) Water
40g Olive Oil
1 Tsp Salt
Egg wash:
1 Egg Yolk
1 Tbsp Water
1 Tbsp Yoghurt
Garnish:
1 Tbsp Nigella Seeds
1 Tbsp Sesame Seeds
Instructions
Starter:
Begin by heating your milk to between 25-35c. It is fine if it heats to a little over 35 as long as it cools down before you add the yeast
Add the milk to a bowl and then add in your sugar and yeast. Mix well to dissolve most of the yeast
Add the flour, and mix well until it forms into a smooth but loose batter
Cover with plastic or a kitchen towel, and leave somewhere warm until doubled in size and foamy. Mine took about 25m
Dough:
Once the starter has foamed up, and gluten formation has occurred, we can make the dough. If it has not yet foamed like the video, then leave it to rest for longer.
Add the water and olive oil to the bowl, then add the flour and mix well
It will take about 1 minute to mix all the flour in, and you want to keep mixing until no clumps of flour remain, and the dough is smooth and no longer shaggy
Cover the dough once more and allow it to rest until it has more than doubled in size. Mine took about 25 minutes
To shape:
Flour your worktop generously, then gently pour out the dough, trying to keep as much air in it as possible
Apply a little flour to the top and sides of the dough, then shape it into an oblong shape
Cut in half, then gently shape each half into a ball
Prepare a baking tray for each half by lining it with baking paper, place a ball of dough on each one
Shape the dough by stretching it outwards until it's just under 1cm thick, and it has an oval shape of about 30 * 20 cm
Dust this with flour, and allow to rest one last time for 25-30 minutes until puffy and doubled in depth
To bake:
Preheat your oven to its hottest temperature (I cooked mine at 240c fan)
Add a baking dish to your oven filled with boiling water to create steam
Make the egg wash by mixing together all the ingredients until smooth
Apply the egg wash to the dough gently with a brush, ensuring you cover the entire thing
With clean hands, press your fingers down into the dough, forming a ring around the entire oval about 2 cm from the edge
After the circle, use your fingers to make diagonal lines in the bread, going from one corner to the one across from it, and on either side of that line. Repeat in the other direction to give it a baklawa-like appearance. You can press down again in the same lines to give better indentation and a stronger appearance
Sprinkle with nigella seeds and sesame seeds
Place one piece of bread in the oven at a time, and bake until the exterior is a deep even brown all over. Mine took 12 minutes, yours will be different (rotate your bread if your oven has hot spots)
Remove from the oven and allow to cool on the tray for 10 minutes, then remove and place on a wire rack
Store in an air tight bag
Notes
To reheat the bread:
This bread can dry out overnight. Simple wet a kitchen towel until damp (NOT SOAKING) then wrap it around the bread and microwave/bake until the pide is reheated and soft again

Did You Make This Recipe?
---
Enjoy
Let us know what you think of today's TURKISH Bread tips, tricks, and hacks!