Bread, is on the menu in Book recipe, and we are going to teach you how to make this delicious recipe from scratch!
I'm here today with one of the simplest yet most delicious bread recipes called Bazlama. It's going to take you 30 mins to cook from laying out the dough to serving it with your meal. I'm also going to show you a way to bake Turkish pide by using bazlama as the base. I have no doubt that you'll enjoy this bread as much as I enjoyed making this video and sharing it with you ????????
Follow along with the ???? recipes below????????????????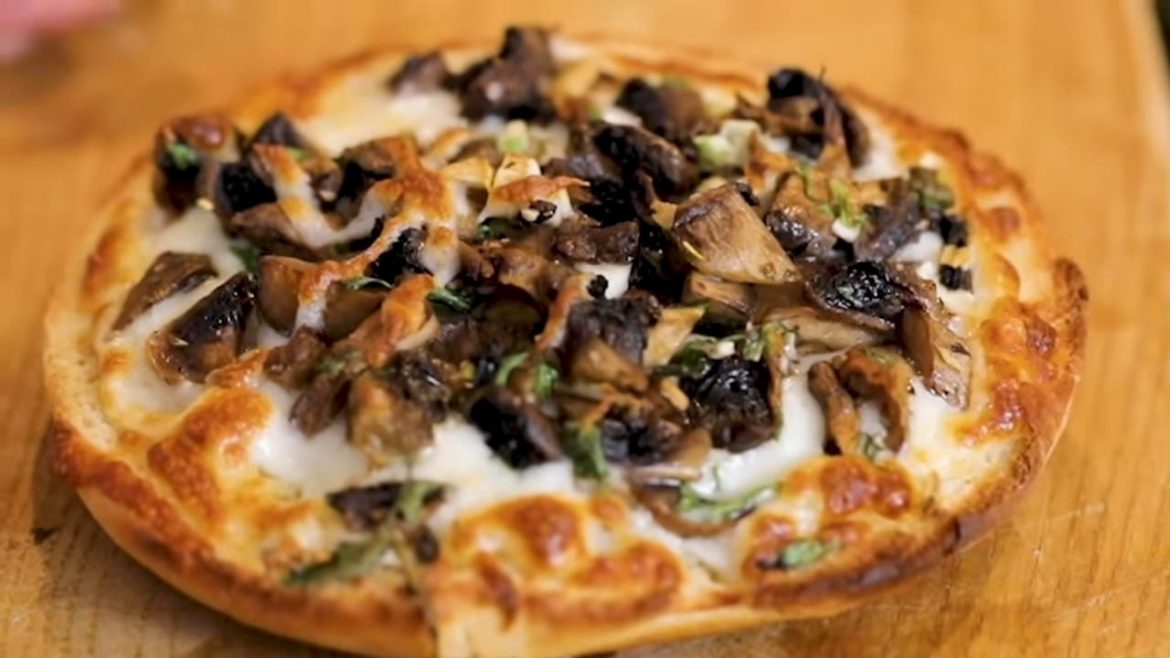 Ingredients
For the bazlama:
500 gr all-purpose flour (~18 oz, 3 and 2/3 cups)
200 ml milk (4/5 cup, ~6,8 fl. oz)
100 ml water (2/5 cup, ~3,4 fl. oz)
3 pinches sugar (less than a teaspoon)
10 gr instant yeast (a heaping tablespoon)
A heaping teaspoon of salt
For the pide with kofte:
2 kofte (Turkish meatball, check the comments for the recipe)
a handful of grated kasar cheese (You can use any kind of melting young cheese)
a teaspoon of butter
For the pide with mushroom:
8 mushrooms
3 stems of spring onion
3 cloves of garlic
4-5 stems of coriander
2 tablespoons olive oil
Salt
Black pepper
a handful of grated kasar cheese (You can use any kind of melting young cheese)
Instructions
Mix 200 ml of milk and 100 ml water in a beaker. The mixture should be around 28 C (82.4 F). If you use cold milk from the fridge make sure to add hot water.
Add 3 pinches of sugar to milk and water to wake up the yeast faster.
Add 10 gr of instant yeast to the mixture, mix with a wooden spoon, and let sit around for a couple of minutes.
In a big bowl mix 500 gr of all-purpose flour and a heaping teaspoon of salt.
Add the milk mixture to the flour and give it a good mix in the bowl. Make sure you are using a wooden spoon because yeast is a live organism and antibacterial materials such as steel might affect the yeast badly.
When the dough starts to get together, start to knead in the bowl and always check the consistency. It can change from flour to flour, how much liquid it can absorb so if it is too hard you can always add more liquid or if it is too sticky you can always add more flour.
Take the dough to your countertop and start to knead with your palms rolling the dough back and forth. This will help to wake up the gluten faster.
After kneading for about 5 minutes, the dough should be smooth, elastic, and not sticky; put the dough into the bowl and cover with a plastic wrap. Make sure the film has a little hole to let the dough breathe.
Let the dough rest for around 12 minutes in a warm place and not windy. If your countertop has a cold surface like marble put a wooden board or a cloth underneath the bowl so the dough won't get cold.
If your kitchen is cold you can cover the bowl with a kitchen cloth to keep it warm.
After 12 minutes when your dough rises and doubled its size, flour your work surface and take the on it.
Divide the dough into equal 4 pieces and shape them into balls. Try not to press too much and take the air out of the dough. Put the dough in the palm of the hand and round the sides or fingers with your other hand to make a perfect ball. Another way to make the balls is to turn the edges of the dough under itself so it will shape into a ball automatically.
Because it is a faster version, we will keep the balls as fluffy as we can. If you have time you can take the air out, shape them and let the dough rise again.
After making balls press onto them to make bigger circles. Around 15 cm (around 6 in) will be enough.
Cover the dough with a damp cloth.
For cooking, put stainless steel, cast iron, or enamel pan on heat. When they are hot put the dough on the pan and turn the heat on low. Cook 8-10 minutes until both sides get light brown... Don't flip the bread before one side is done otherwise it can stick to the pan make sure you cook on low heat so the inside can cook before the outside gets burned.
If you want to bake them in the oven you can set the oven to 200 C( 392 F) on upper and lower heat before kneading the dough. Bake them for around 15-20 minutes on the medium oven rack until they get light brown.
Before taking the bread out of the pan, cook each side for a minute to make sure the center of the bread is cooked.
Don't forget, the rest of the dough will be bigger bread because they waited more time than the first ones so they had time to rise more.
The crunchy outside and soft inside, bazlama is ready. Cut in half and spread some butter while it is hot. Sprinkle some salt and black pepper and you are ready to eat the whole bread in seconds!
To make something more irresistible, I insist you try our delicious pide; check the comments for delicious pide recipes.
Did You Make This Recipe?
---
Enjoy
Let us know what you think of today's Bread, tips, tricks, and hacks!