Turkish Lahmacun is on the menu in Book recipe, and we are going to teach you how to make this delicious recipe from scratch!
Lahmacun are lamb topped flatbreads that hail from Turkey. The topping is a mixture of freshly minced vegetables and lamb spiced with red pepper paste and Allepo chilli. They're a great meal to have for breakfast or lunch and are surprisingly light and refreshing.I'm Obi from Middle Eats and I'm on a mission to show you how to cook delicious food from across the Middle East. Give the video a like if you enjoyed it and if you want to request a Middle Eastern Recipe, please leave a comment below.
Follow along with the ???? recipes below????????????????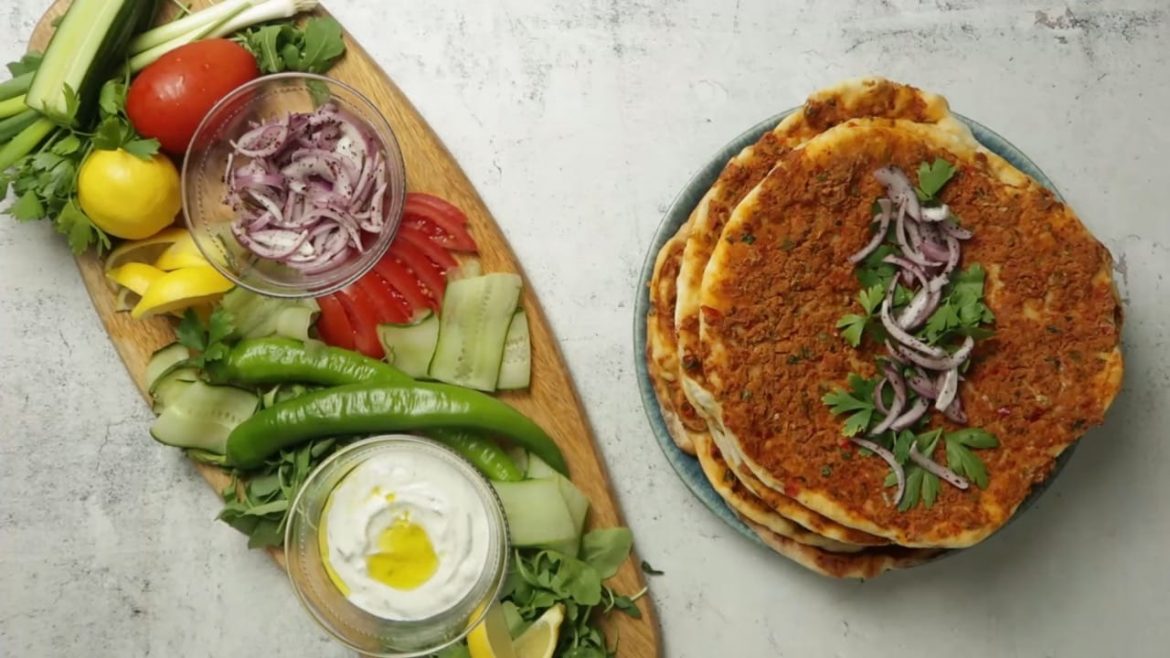 Ingredients
For 8 25cm (10in) Lahmacun :
500G (1lb) All-Purpose Flour
375 ml (12.6 fl oz) Whole Milk Room Temperature
6 Tbsp Vegetable Oil
1.5 Tsp Instant Yeast
1.5 Tsp Salt
Meat topping:
375G (3/4 lb) Lamb Mince (can also use beef)
2 Plum Tomatoes
1/2 Brown Onion
1/2 Green Pepper
1/2 Red Pepper
1 Green Chilli
3 cloves of Garlic
Bunch of Parsley
75g (3.2 oz) Red Pepper Paste
50g (1/6 oz)Tomato Paste
1 Tbsp Pul Biber or Allepo Chilli
1 Tsp salt
30ml (1 fl oz) Vegetable oil
To garnish:
Large bunch of Parsley
1 Red Onion
1/2 Tsp Salt
1 Tsp Sumac
2 - 4 Lemons
Instructions
To make the Dough:
Pour your milk into a stand mixer with the dough hook attachment
Add the instant yeast and mix briefly to combine
Add the AP flour and salt then mix to combine until a dough ball forms
When all the milk is absorbed into the dough turn the mixer speed to high and knead for 5-8 minutes until the dough pulls away from the walls of the mixer bowl and has a tacky texture (sticks and leaves a little residue but is springy)
Add 1 tbsp of the oil to your dough at a time and work it in, this is easiest done by hand. Once absorbed repeat until all the oil is used
Grease a bowl with some vegetable oil and pour out the dough into it
Let it rest for 30-60 minutes until doubled in size
To make the Topping:
Roughly chop and prepare the following; 1/2 a brown onion, 1/2 a green pepper, 1/2 a red pepper, 2 plum tomatoes, 1 green chilli and 3 cloves of garlic
Add them all to a food processor or blender and then add in a bunch of parsley as well as 1 Tsp salt, 30ml vegetable oil, 1 tbsp Pul Biber, 50g Tomato Paste and 75g Red Pepper Paste
Process until fine paste forms, taste for seasoning and ensure it is over salted
Add your meat to the food processor and process till well combined with the vegetables
To make the Cured Sumac Onion garnish:
Thinly slice a whole red onion and place it in a bowl
Add 1/2 a teaspoon of salt and mix well to work into the onions
Add 1 teaspoon of sumac and mix to combine
Set aside for 15-30 minutes so the onions can cure
To Cook:
Pour your dough out onto a well-flowered work surface and divide into 8 equal-sized pieces
Roll a piece of dough out as thin as you can get it, you should use a non-stick pan this size (make sure it has metal handles)
Place your dough onto a non-stick surface and then add a few tablespoons of the topping
Spread the topping out into a thin even layer, spread it all the way to the edges
When ready to cook, heat your non-stick pan on medium-high heat and preheat the grill in your oven. Fold your lahmacun in half and transfer it into the pan, unfold the lahmacun in the Pan and re-distribute any topping which has moved
Let it cook for 2-3 minutes until the underside is just starting to brown and the topping starts to bubble slightly
Place the pan under your grill for 3-4 minutes until the topping is dry and well browned
Remove the pan and place it back on the stove until the underside of the Lahmacun is evenly browned
When cooked, stack the lahmacun one on top of the other on a plate. This will help them remoisturise and will soften the dough.
To serve:
Place a lahmacun on a plate and top with a handful of fresh parsley
Add some of the Cured Sumac Onions
Squeeze on the juice of 1/4 - 1/2 a lemon
Roll up the Lahmacun into a wrap and enjoy
Did You Make This Recipe?
---
Enjoy
Let us know what you think of today's Turkish Lahmacun tips, tricks, and hacks!