Flatbread with cheese & herbs are on the menu in Book recipe, and we are going to teach you how to make this delicious recipe from scratch!
Cheese and herbs flatbread cooked in a pan take only 30 minutes of your time. Serve hot right out of a pan for your breakfast, dinner or evening meal.
Follow along with the ???? recipes below????????????????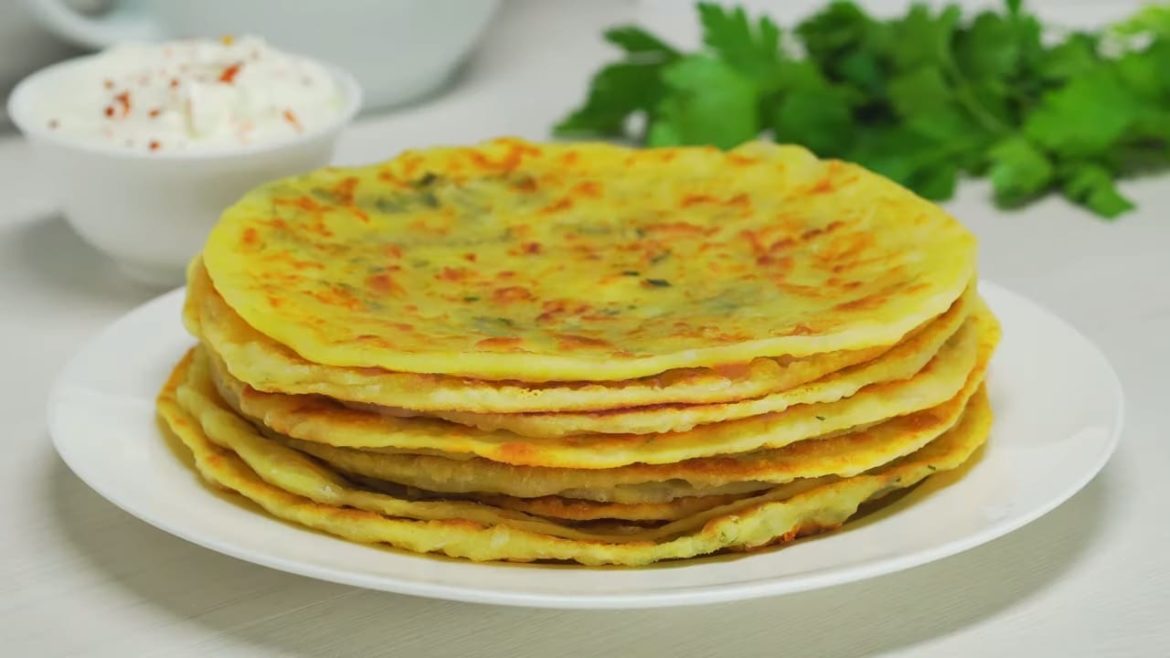 Ingredients
1 egg
buttermilk (kefir) – 7 fl oz /200 ml
wheat flour – 12 oz /350 g
baking powder – 1 tsp
salt – ½ tsp
hard cheese – 7 oz /200 g
vegetable oil – 3 tbsp
parsley – 1 tbsp /5 g
dill – 1 tbsp /5 g
You will need:
Instructions
Whisk the egg, add the salt and kefir and stir.
Add the baking powder into the sieved flour, combine and add into the prepared mixture, knead the dough.
Lay out the dough onto the surface dusted with flour, add 1 tbsp of vegetable oil onto the dough and knead until smooth.
Flour the dough and roll into a disk 1/5 in /5-6 mm thick.
Lay out evenly the cheese, grated coarsely, onto the dough disk.
Sprinkle with the chopped up parsley and dill.
Wrap the disk into a tight roll.
Cut the roll into pieces of equal size about 2 in /5 cm width.
Dip each piece in the flour and roll into a round cake 1/5 in /4-5 mm thick.
Heat a pan and brush with vegetable oil, bake the cakes over medium heat for 2 minutes on each side until golden.
Take out the baked cakes onto a paper towel to remove extra oil.
Serve your cheese flat cakes hot with sour cream or garlic sauce.
Did You Make This Recipe?
---
Enjoy