Poğaça is on the menu in Book recipe, and we are going to teach you how to make this delicious recipe from scratch!
Today's recipe is one of the Turkish classics, the amazing 'poğaça'. Poğaça is one of the most beloved and comforting savoury pastries in Turkey. Could be with cheese, ground beef, potato or greens. We eat it for breakfast, teatime or even just to feel better.
Today I have an easy and quick version for you with two different fillings. One will be the classic with cheese and parsley and the second one is with halloumi, spring onion and dill. Hope you enjoy as much as we did!
Follow along with the ???? recipes below????????????????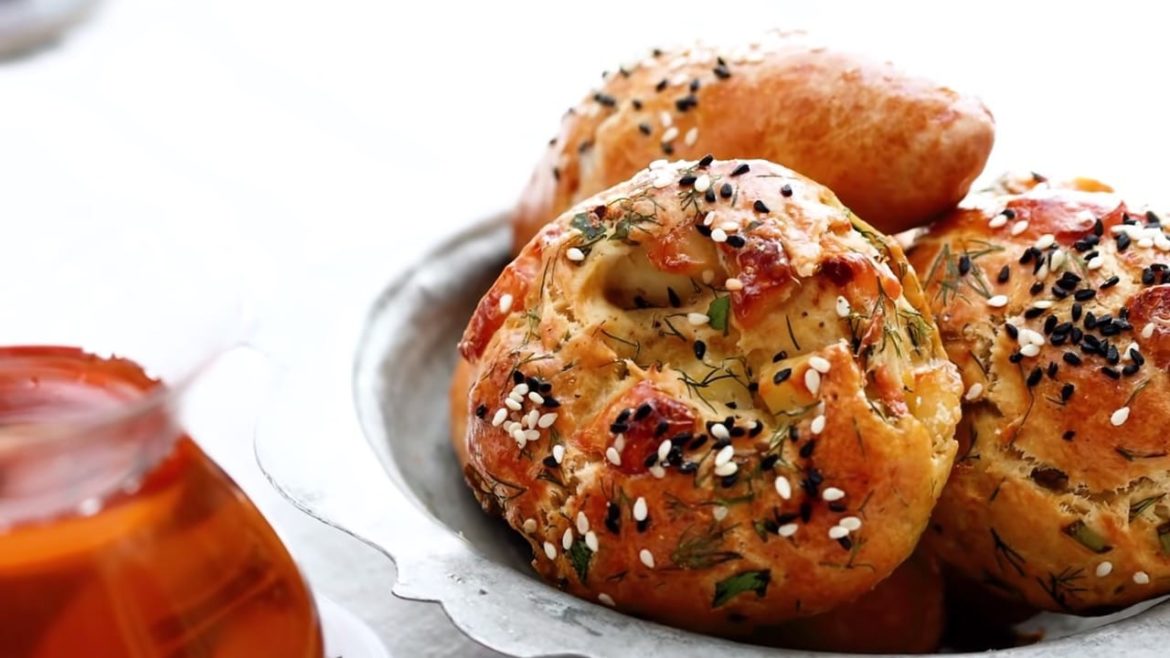 Ingredients
500 g all-purpose flour (3 cups + 2 tablespoons)
90 ml olive oil (1/3 cup + ½ tablespoon), or any seed oil
350 g labneh or cream cheese or 250 g savoury yoghurt
A pinch of sugar
A teaspoon salt
A pack of baking powder (10 g)
1/2 teaspoon mahaleb seeds, crushed into powder
Classic white cheese filling,
100 g white cheese (Feta)
1 egg white
2 sprigs of parsley
Refika's halloumi filling,
80 g halloumi, diced, use a cheese that doesn't melt easily
3 sprigs of spring onion, chopped
3 sprigs of dill, chopped
2 pinches of black pepper
A pinch of red pepper flakes
Topping,
1 egg yolk
1 tablespoon water
Nigella & sesame seeds
Instructions
Mix the flour, olive oil, labneh, sugar, salt and baking powder in a large bowl.
Add the crushed mahaleb into it and knead until smooth for about 8 minutes.
Cover with a damped cloth and let it rest until you make the fillings.
Preheat your oven to 190 C(375 F) on upper and lower heat without fan.
For the classic cheese filling, mash the white cheese with a fork and mix with the egg white and parsley.
For the halloumi filling, mix the halloumi, spring onion, dill, black pepper and red pepper flakes.
Divide the dough into 12 equal pieces and round them into balls.
To make the classic poğaça, press the dough and flatten to a round shape around 10 cm( 4 in). Add a teaspoon cheese mixture on the half of the dough and cover over the other half on top. Seal the edges by pressing or you can fold the edges onto itself from bottom to top. It usually looks more beautiful and seals better. Make six poğaças.
To make the halloumi poğaça, press a piece of dough on the mixture and let it stick on the dough. Then, knead the dough in your hands to distribute the mixture evenly. Shape into a ball or you can put some filling on the dough and fold it into itself and then shape it to balls.
Place them on an oven tray.
Mix the egg yolk with a tablespoon water. Brush the poğaças.
Sprinkle some nigella and sesame seeds to your taste.
Place the tray into the oven, closer to the bottom. Bake for 30-35 minutes until golden.
Transfer them on a rack to cool down. Enjoy the satisfying, crispy, taste bombs poğaças with tea!
Did You Make This Recipe?
---
Enjoy