Eggs Cooked On The Table are on the menu in Book recipe, and we are going to teach you how to make this delicious recipe from scratch!
Today I would like to show you one of my magical tricks! An egg recipe for your breakfast which is cooler than eggs benedict or scrambled eggs and way much easier to make. It cooks on the table so you have a little show for your guests or family and the taste of it can't be described but only experienced!
Follow along with the ???? recipes below????????????????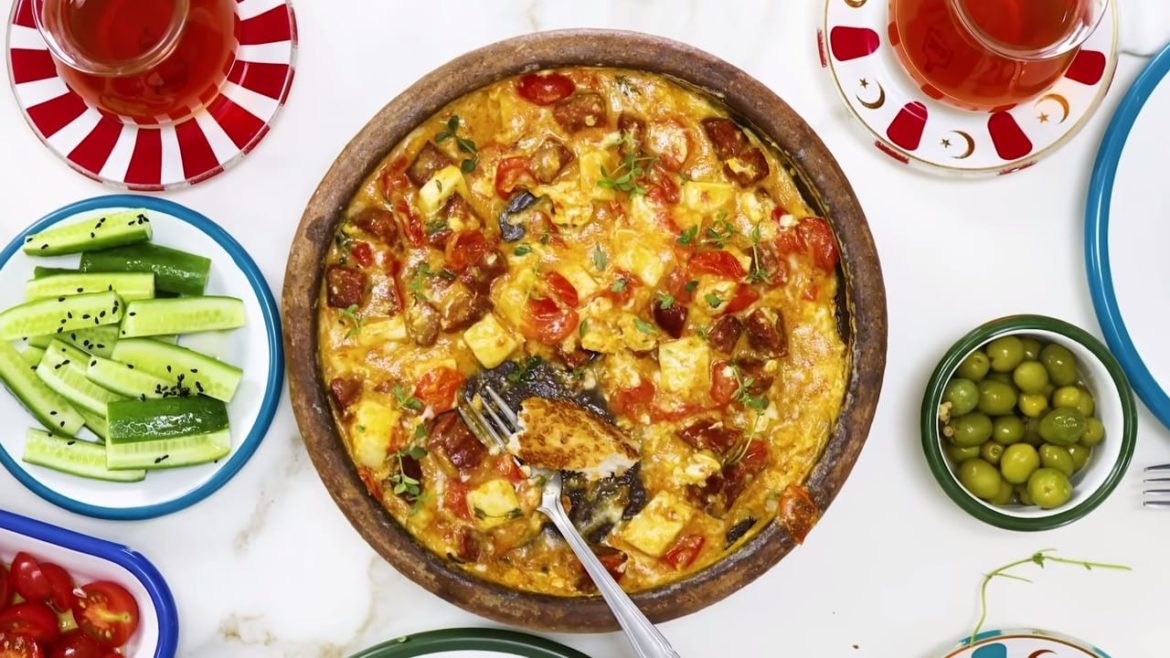 Ingredients
2 tablespoons olive oil
90 g halloumi, diced, use any non-melting cheese that you like or 60 g parmigiano
150 g sucuk, diced, (a Turkish dry, spicy and fermented sausage, use any sausage or cured meat of your choice which are fatty like chorizo, salchicha, bacon or make your own sucuk:
15 cherry tomatoes, halved
3 sprigs of fresh thyme, leaves picked
1 teaspoon butter
2 eggs
Fresh thyme, to garnish
Instructions
Preheat your oven to 220 C (430 F) on upper and lower heat without fan. Arrange the middle rack of the oven.
The fundamental thing about this recipe is to use a clay or cast-iron dish which can be used in oven as well. These materials are thick so they can capture the heat for a long time, and this will enable us to do the magical trick of this recipe.
Grease your clay or cast-iron dish with the olive oil.
Add the halloumi, sucuk and tomatoes in the dish and mix. Use less tomatoes if yours are bigger.
Sprinkle thyme leaves and add the butter in small pieces. Season with salt and black pepper if not using spicy, cured meat.
Bake for 17 minutes and place the dish at the bottom of the oven and bake for another three minutes.
You need to be quick from now on. Take out the dish from oven and bring to the breakfast table.
Crack the eggs into the dish and mix. The heat of the dish is going to cook the eggs slowly and all the flavour from tomatoes, sucuk and halloumi will mix well. Moreover, the dish will keep your egg warm for a long time while you're enjoying your Turkish breakfast.
Garnish with fresh thyme. Dip your bread into your incredible egg!
Did You Make This Recipe?
---
Enjoy