Shish Kebab is on the menu in Book recipe, and we are going to teach you how to make this delicious recipe from scratch!
Today is the day to learn how to make Turkish Adana Kebab which is the staple of beautiful Turkish cuisine. You will definitely be surprised by the ease of making a great, homemade shishkebab and the best way to eat your #kebab. On the recipe I mix the original recipe with some special Refika tricks, do not miss the video ????
Follow along with the ???? recipes below????????????????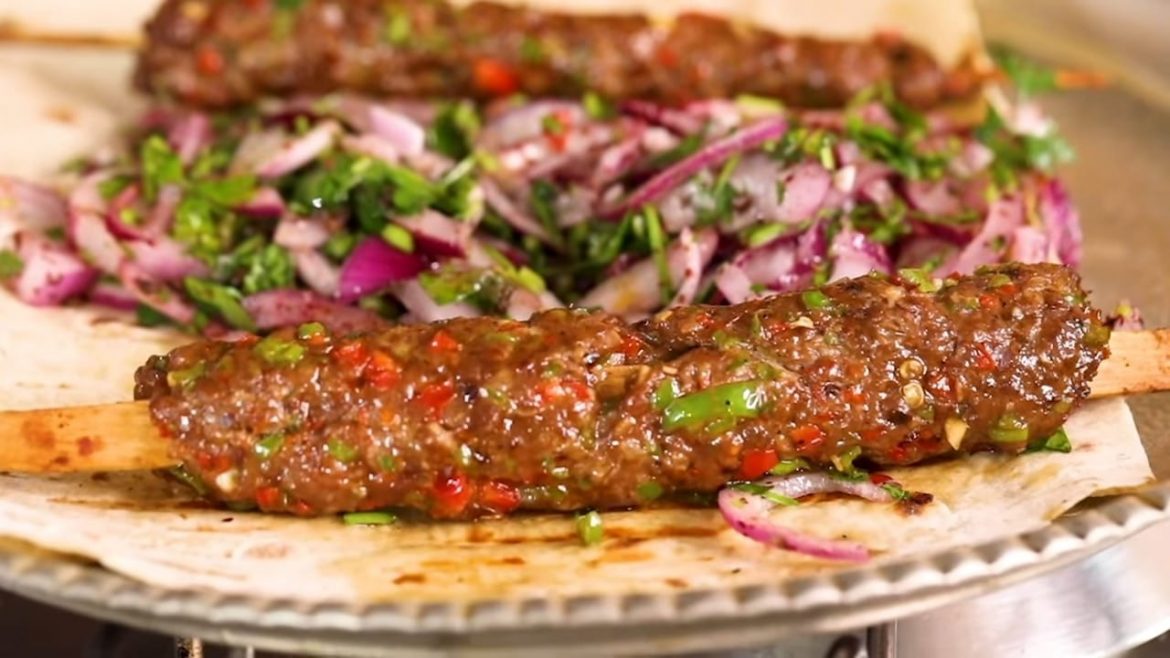 Ingredients
For the kebap:
250 g ground beef, (rib) single ground (alternatively, lamb meat or a mixture of 60% beef & 40% lamb)
1 red hot chili pepper, finely chopped (soak in hot water if using dried pepper)
1/3 red pepper, finely chopped (bell peppers works great as well)
4 small green peppers, finely chopped
2 cloves of garlic, finely chopped
1 tablespoon red pepper flakes
1 teaspoon salt
Lavaş (or tortillas)
For the red onions with sumac:
2 red onions, sliced into semicircles
7-8 sprigs of parsley, chopped
A pinch of salt
2 tablespoons olive oil
1,5 tablespoons ground sumac
Instructions
Soak 4 wooden skewers in water for an hour to prevent burning. You can skip that step if you use metal skewers.
Mix the red hot chili pepper, red pepper, green peppers, and garlic and chop them together again.
Season with salt and red pepper flakes -if using sweet peppers-.
Add the meat and chop them together to mix for 2 minutes.
Divide the mixture into 4 equal parts.
Mold each part onto separate skewers. Slowly push the meat mixture from top to the bottom with your fingers. Leave 3 cm gaps between the top and the bottom of the skewer. If the meat mixture is separated from the skewer, refrigerate it for around 15 minutes. Wetting your hands with cold water will help prevent stickiness.
Refrigerate for 15 minutes.
These are traditionally cooked on the barbecue, but I have a technique for you to create the same great taste at home using a cast iron pan. Heat your cast iron pan on high heat.
When the pan is hot, place your skewers on the sides of the pan without touching any part touching the bottom. This way, the heat from the pan will cook them.
Flip the skewers regularly and cook for 5-6 minutes.
For the onion with sumac, sprinkle a pinch of salt on the onions and rub it to soften.
Add in the olive oil, ground sumac, parsley, and the rest of the salt, then mix again.
Put the lavaş on the kebap and press to let the bread soak all the flavors from the kebap.
It is time to eat! Wrap them all together in the lavash and take the perfect bite. Enjoy with your loved ones!
Did You Make This Recipe?
---
Enjoy
Let us know what you think of today's Shish Kebab tips, tricks, and hacks!