Artisan Pizza Crust is on the menu in Book recip, and we are going to teach you how to make this delicious recipe from scratch!
This is our go-to pizza dough recipe. In spring, we suggest a mix of seasonal mushrooms for toppings. The earthiness of the mushrooms pairs best with a Bordeaux-style red wine like Jordan Cabernet Sauvignon. Summertime calls for ingredients fresh from the garden, such as tomatoes and basil.
Follow along with the 📝 recipes below👇🏾👇🏾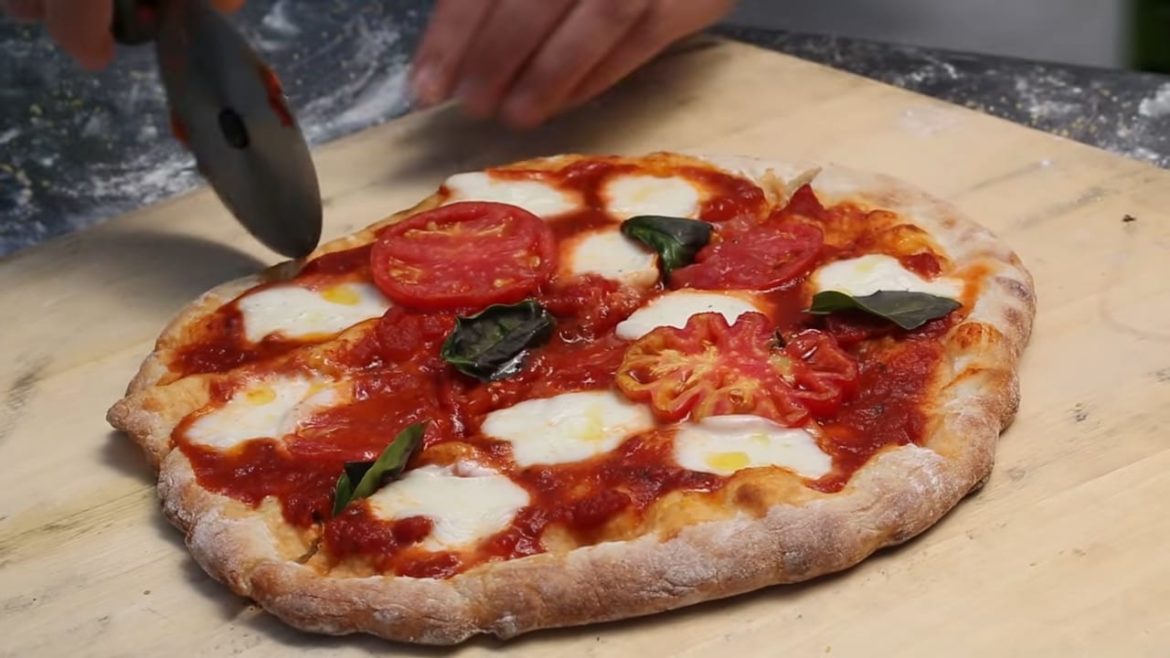 Ingredients
1½ cups warm water (about 90-100°F)
1½ tsp active dry yeast
1 tsp honey
2 cups unbleached bread flour or Tipo 00 flour
2 cups unbleached all-purpose flour
1½ tsp kosher salt
Unbleached all-purpose flour, for dusting
Cornmeal, to prevent sticking
SUGGESTED TOPPINGS
Mt. Tam triple-cream cheese
Maitake mushrooms
Royal Trumpet mushrooms
Aleppo crushed red pepper flakes
Tomatoes
Basil
Olive Oil
Instructions
Yeast works best at temperatures between 70°F and 80°F. Before you begin, take the temperature of your flours and determine the temperature your water should be to get into this range.
Combine water, yeast and honey into the bowl of an electric stand mixer. Gently whisk to ensure the yeast begins to dissolve and does not remain at the bottom of the bowl. Add flours and mix at low speed for approximately 1 minute, until the ingredients mix together.
Remove bowl from mixer, cover with plastic wrap and let rest at room temperature for approximately 15 minutes. After the dough has rested, remove plastic wrap, place bowl back on the mixer and add the salt. Mix the dough and salt on medium speed for another 2-3 minutes. The dough should be one smooth mass and not shiny, lumpy or sticky.
Using a dough or bowl scraper, transfer the dough to a bowl that has been lightly coated with vegetable spray. Cover with plastic wrap and set in a warm area until doubled in size (approximately 30 minutes to an hour). Remove dough from bowl. Using a bench scraper or sharp knife, divide the dough into four sections (approximately 6 ounces each). Shape each section into a ball. If freezing, lightly brush each dough ball with olive oil and place in a plastic freezer bag for up to a month*.
Prepare a tray or pan with a thin layer of cornmeal to prevent sticking and place the dough balls on top. Allow enough room between the dough balls for each to double in size. Let rest for a minimum of 20 minutes before use. The dough can be reserved for up to 3 days in the refrigerator.
Preheat a gas grill to medium. Lightly brush grill with olive oil. (If using a wood-fired oven, let fire heat to 600-700 degrees.) Shape one dough ball into a thin disc using fingers, as demonstrated in our video. Dust pizza peel generously with cornmeal to prevent sticking and place disc on peel.
Slide dough on grill. Close the lid and grill until the bottom is firm, 2 to 3 minutes. Turn the crust over; reduce heat slightly and add toppings of your choice. Close the lid and bake until crust is crisp, 6 to 8 minutes. (For wood-fired cooking, simply place pizza in oven for 2 to 3 minutes, turning frequently.)
Notes
When ready to use, remove your pizza dough from the freezer and defrost in the refrigerator for 10-12 hours, keeping the dough in the same plastic freezer bag. If you're in a hurry, remove the dough from the freezer bag, transfer to a bowl, cover with plastic wrap and defrost at room temperature for about 2 hours. Defrosting under the controlled temperature of a fridge is better. The dough can rest at room temperature for up to 3 hours before using. Once defrosted, follow the instructions above to preheat the grill.

Did You Make This Recipe?
Jordan Winery's baker extraordinaire, Cristina Valencia, offers tips and secrets for making the perfect homemade pizza dough crust with a full video demonstration
---
Bon Appétit