Bite-sized key lime pie sprinkled with toasted coconut makes for one zesty, delicious Summer treat.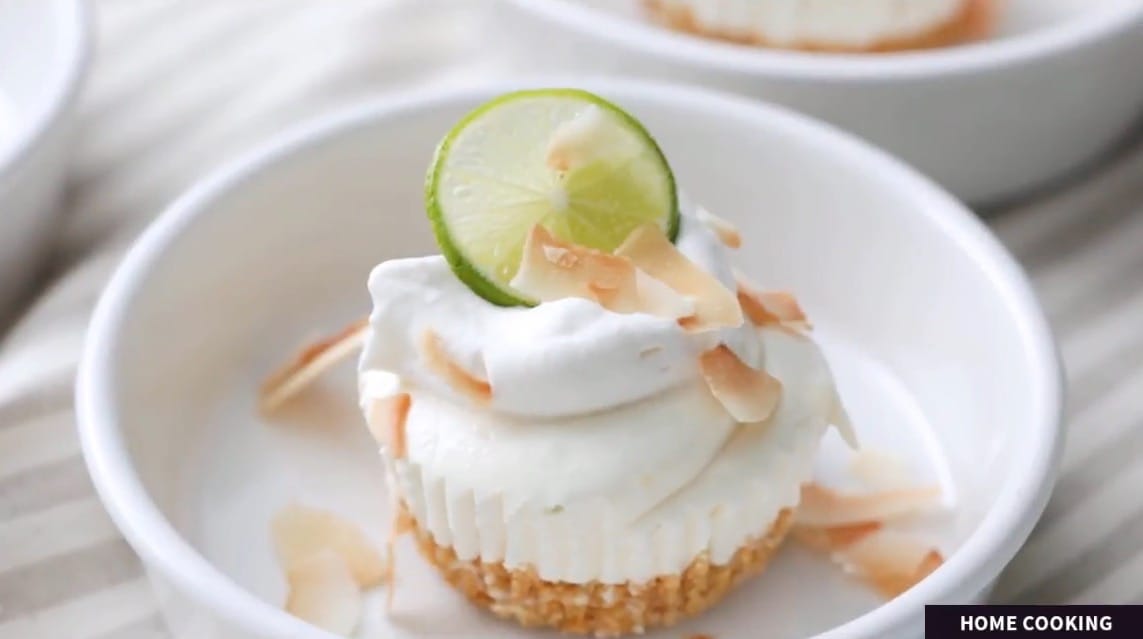 Ingredients
CRUST:
6 tablespoons unsalted butter, melted
2 tablespoons sugar
3/4 cup graham cracker crumbs
1/4 cup coconut flakes
1/4 cup finely chopped macadamia nuts
FILLING:
1 (8-ounce) package cream cheese, room temperature
1 (14-ounce) can sweetened condensed milk
1 tablespoon finely grated lime zest1/2 cup key lime juice
WHIPPED CREAM:
1 cup heavy cream, chilled
2 tablespoons powdered sugar
1 teaspoon pure vanilla extract
GARNISH:
Toasted coconut chips
Chopped macadamia nuts
Key limes, sliced
Instructions
For crust:
Line a standard-size muffin tin with paper liners.
In a medium bowl, combine melted butter, sugar, graham cracker crumbs, coconut, and macadamia nuts. Add a heaping tablespoon of mixture into each muffin cup, and use a glass to press down. Set aside.
For filling:
In a large bowl, beat together cream cheese, sweetened condensed milk, key lime juice, and lime zest until light and smooth. Set aside.
For the whipped cream:
Into a large bowl, add the heavy whipping cream and beat until it reaches the consistency of melted ice cream. Sprinkle in the powdered sugar and vanilla and whip to stiff peaks. Fold half the whipped cream into the key lime mixture. Place the remainder into the fridge.
To assemble:
Add the filling to a large zip-top bag, then cut off one corner. Pipe filling into each muffin cup. Place in the freezer for at least 3 to 4 hours.
Remove cups from the freezer. Remove wrapper and place it on a plate. Spoon whipped cream on top, sprinkle with toasted coconut and garnish with a slice of key lime.
Did You Make This Recipe?
---
Enjoy