Cross Buns are on the menu in Book recipe, and we are going to teach you how to make this delicious recipe from scratch!
What sets these hot cross buns apart is the hot glaze that gets poured over the buns right when they come out of the oven. It creates a sheer layer of sweetness, and then the sugar cross is piped on after the buns cool.
The aroma of these baking will fill the whole house with springtime familiarity – that mix of spice with lemon zest will bring a smile to everyone's face. This is a great recipe to make with kids – check out the math & science lessons below that can be learned while you bake together.
Recipe listed below! Watch along – or bake along! – as professional chef, Anna Olson prepares her own delicious Hot Cross Buns
Follow along with the ???? recipes below????????????????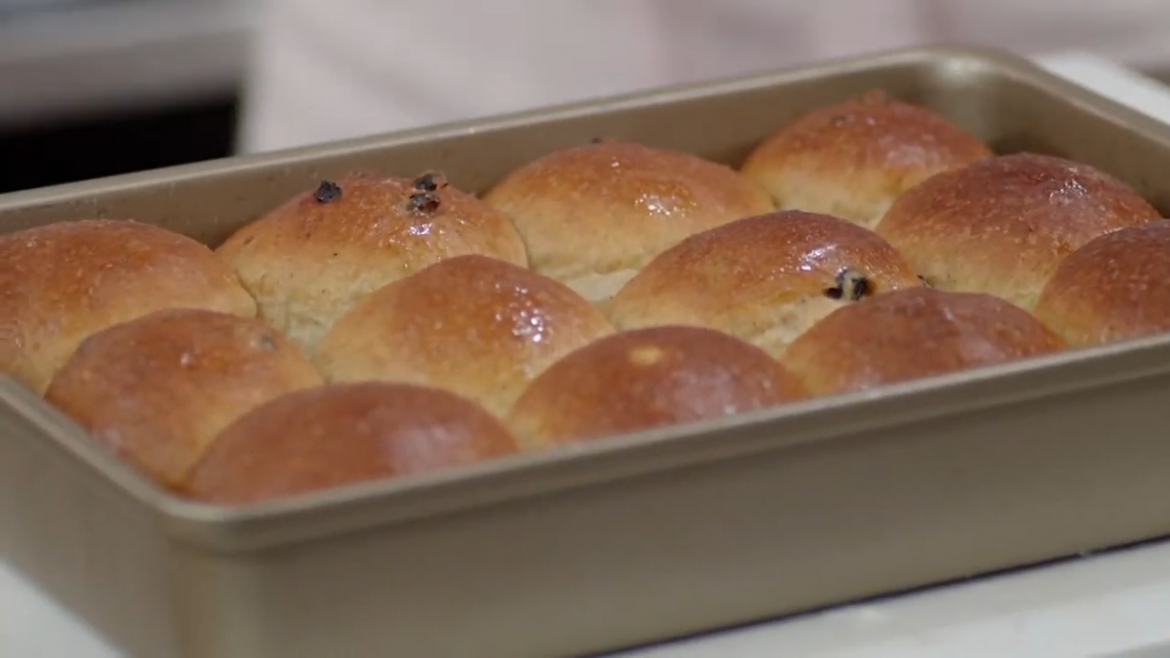 Ingredients
Dough:
¾ cup (180 ml) of 2% milk, heated to just above body temperature (110 °F/43 °C)
4 ½ tsp (16 g) instant dry yeast
1/3 cup (70 g) granulated sugar
3 large eggs, at room temperature
½ cup (125 ml) vegetable oil
3 ¾ cups (560 g) of all-purpose flour
1 tsp of finely grated lemon zest
¾ tsp fine salt
½ tsp ground cinnamon
¼ tsp ground allspice
¼ tsp ground nutmeg
¼ tsp ground cloves
1/3 cup (45 g) dried currants (or chopped raisins)
¼ cup (25 g) mixed diced peel
Hot Glaze:
½ cup (100 g) granulated sugar
3 Tbsp (45 ml) water
1 tsp vanilla extract
Icing:
¾ cup (100 g) icing sugar, sifted
1 Tbsp (15 ml) of 2% milk, plus extra if needed
Instructions
For the dough, measure all of the ingredients except the currants (or raisins) and peel them into the bowl of a mixer fitted with the hook attachment or in a large bowl. Mix the dough on low speed until it comes together, then increase the speed by one and knead until the dough is smooth and elastic, about 5 minutes (the dough is soft and should stick to the bottom of the bowl). If mixing by hand, stir the ingredients with a wooden spoon until the dough comes together, then turn out onto a lightly floured work surface and knead until smooth. Towards the end of kneading, add the currants (or raisins)and mixed peel and knead in. Scrape the dough into a lightly oiled bowl, cover with plastic wrap and let rise for 75 to 90 minutes, until doubled in size.
Turn the risen dough out onto a lightly floured work surface and divide it into 12 even pieces. Shape each piece into a ball by rolling it between your hands while it remains on the work surface. Place the rolled buns in a greased 9-x-13-inch pan leaving space between them. Cover the pan with plastic wrap and let the buns rise for 45 minutes.
Preheat the oven to 350 °F (180 °C). Uncover the buns and bake for 25 to 30 minutes, until a rich brown on top. While still hot from the oven, prepare the glaze.
For the glaze, bring the sugar, water, and vanilla up to a simmer, stirring until the sugar is fully dissolved. Brush this syrup over the still-hot buns, until it has all been used. Let the buns cool completely in the tin.
For the icing, stir the icing sugar together until a thick consistency is suitable for piping (add a few more drops of milk, if needed). Pour this into a small piping bag and pipe crosses on top of each bun, letting the icing set for an hour before serving.
Notes
The buns will, keep, well wrapped, for a full day, or can be frozen for up to 3 months.

Did You Make This Recipe?
---
Enjoy
Let us know what you think of today's cross buns tips, tricks, and hacks!