Lemon Blueberry Trifles are on the menu in Chef Anna Olson's amazing kitchen, and she is going to teach you how to make this delicious recipe from scratch!
Follow along with the recipe below!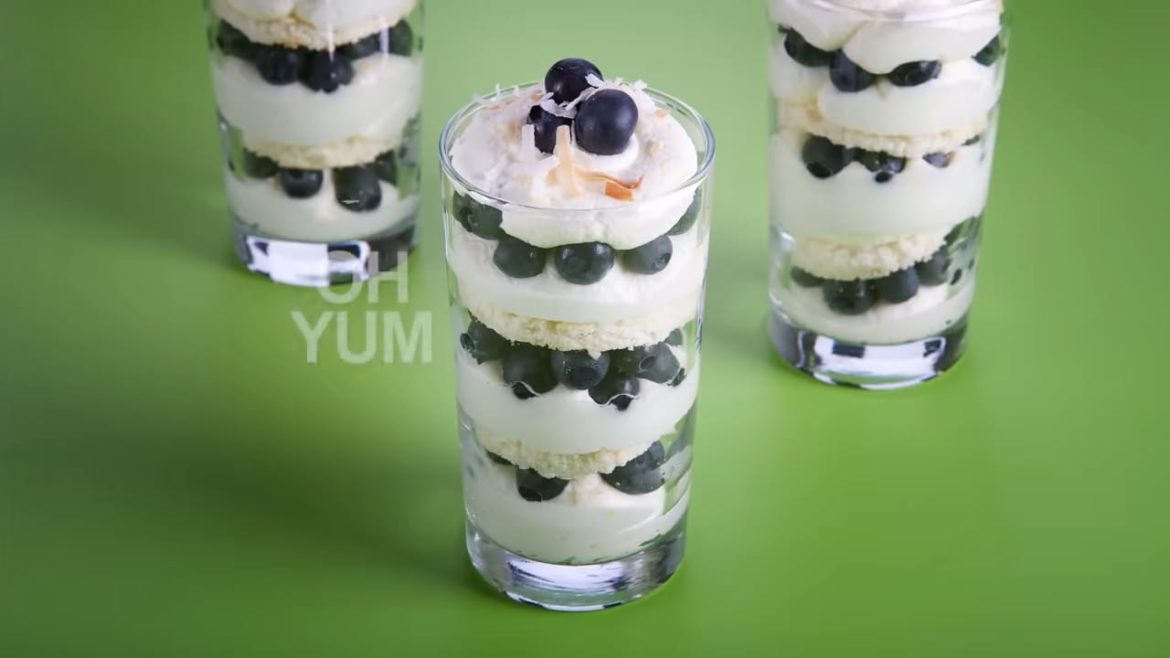 Ingredients
Coconut Dacquoise
3 large egg white, at room temperature
3 Tbsp (35 g) granulated sugar (caster sugar)
¾ cup (85 g) icing sugar
¼ cup (30 g) cake & pastry flour
2/3 cup (60 g) unsweetened desiccated coconut
Lemon Cream & Assembly
1 cup (250 mL) whipping (35%) cream
½ pkg (125 g) cream cheese, softened
¼ cup (50 g) granulated sugar (caster sugar)
1 ½ tsp (7 mL) finely grated lemon zest
3 Tbsp (45 mL) lemon juice
1 tsp (5 mL) vanilla extract
1 ½ cups (375 mL) fresh blueberries
toasted coconut, for décor
Instructions
Preheat the oven to 350 F (180 C). Line the bottom of a 9-x-13-inch (23-x-33-cm) baking pan with parchment paper.
Whip the egg whites with electric beaters or in a stand mixer fitted with the whisk attachment, on high speed until they are foamy and then add the sugar, continuing to whip until the whites hold a medium peak when the beaters are lifted.
Sift the icing sugar and flour together and then stir in the coconut. Add this all at once to the whipped whites and fold until blended (the whites will deflate as you fold). Spread this into the prepared pan and bake for about 15 minutes until lightly but evenly browned on top. Allow the dacquoise to cool completely before assembling the trifle (the dacquoise can even be baked a day ahead).
For the lemon cream, whip the cream and set aside. Beat the cream cheese and sugar (by hand or with beaters) until smooth and add the lemon zest, lemon juice, and vanilla. Fold in the whipped cream.
Select individual glasses for the trifle. Use a round cookie cutter just smaller than the diameter of the glasses to cut out discs of the dacquoise (2 or 3 per glass – 3 if the glasses are tall & narrow, such as a champagne flute). Fill a piping bag fitted with a large plain tip with the lemon cream.
To assemble the trifles, pipe a layer of lemon cream in the bottom of each glass. Sprinkle a few blueberries over the lemon cream, then top with a dacquoise disc. Top the disc with lemon cream, then berries then a second dacquoise disc. Repeat this again if you are using tall, narrow glasses. Finish with a final layer of the lemon cream, a few berries and a sprinkling of toasted coconut. Chill the trifles until ready to serve.
Notes
The trifles will keep for a day, refrigerated.

Did You Make This Recipe?
Recipe video
---
Enjoy