Falafel & Hummus are on the menu in Book recipe, and we are going to teach you how to make this delicious recipe from scratch!
For the new year I wanted to make a vegetarian treat with every detail on how to make a perfect creamy basil hummus together with one of my inventions EATBALL, which can be a great replacement for falafel ???? It is much easier to make and maybe even tastier than falafel! When these two beauties come together, it's a great way to start a year with full of goodness!
Follow along with the ???? recipes below????????????????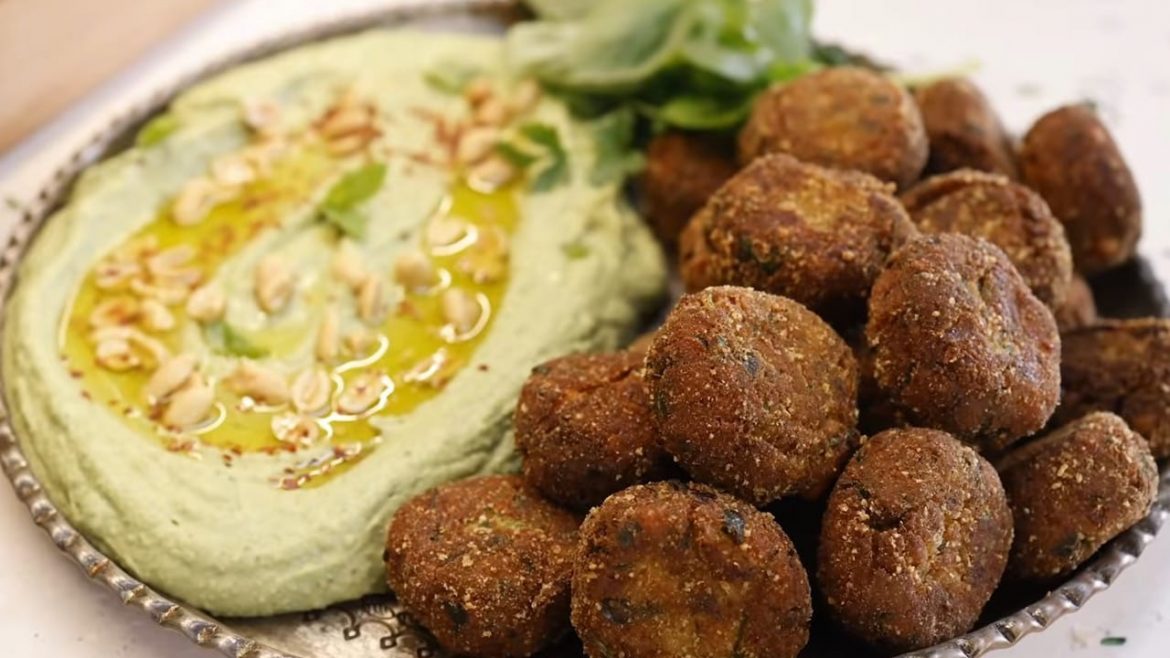 Ingredients
EATBALLS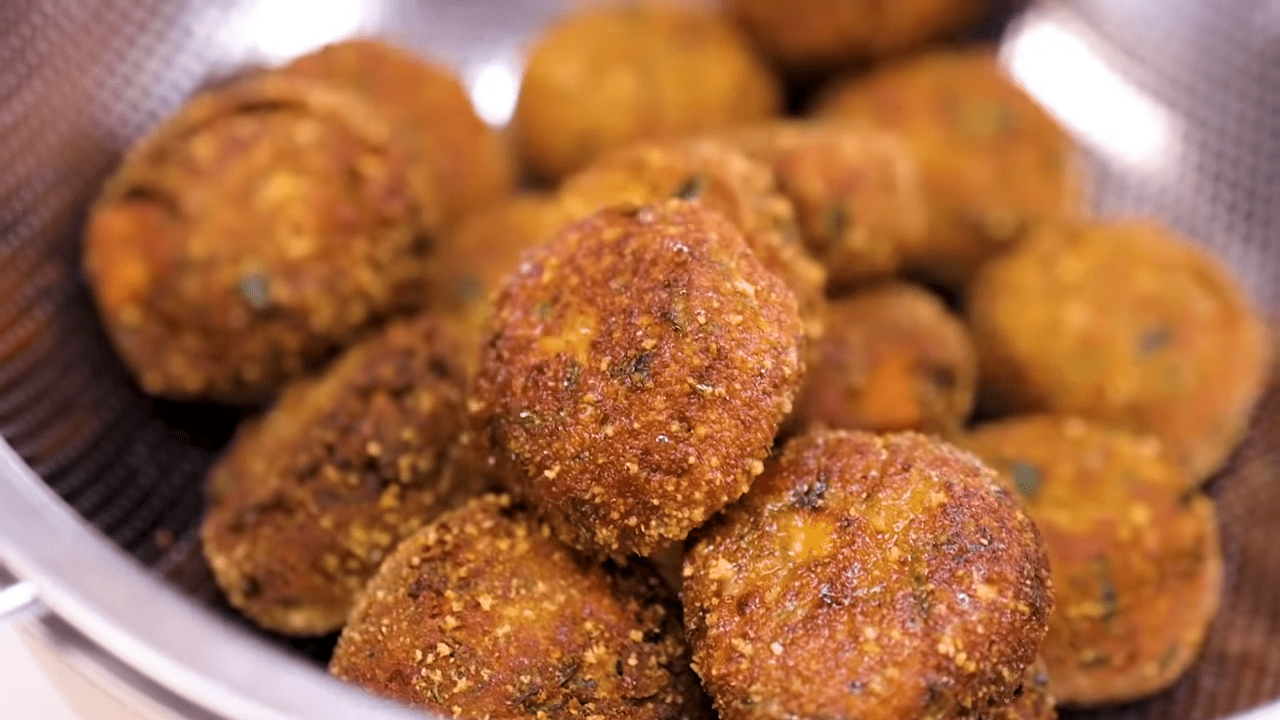 1 large onion, roughly chopped
400 g canned chickpeas, to peel off the skins easily, see the hummus recipe below
4 cloves garlic
1/2 bunch parsley, roughly chopped
1/4 bunch dill, roughly chopped
2 eggs
3 tablespoons breadcrumbs, + 1/2 cup for coating
1 tablespoon flour
1 teaspoon black pepper
3 teaspoons cumin
1 heaped teaspoon of salt
1 heaped tablespoon of red pepper paste, salsa sauce would do good as well
125 g halloumi, diced
Sweet chili sauce
Sunflower or any frying oil
Creamy Basil Hummus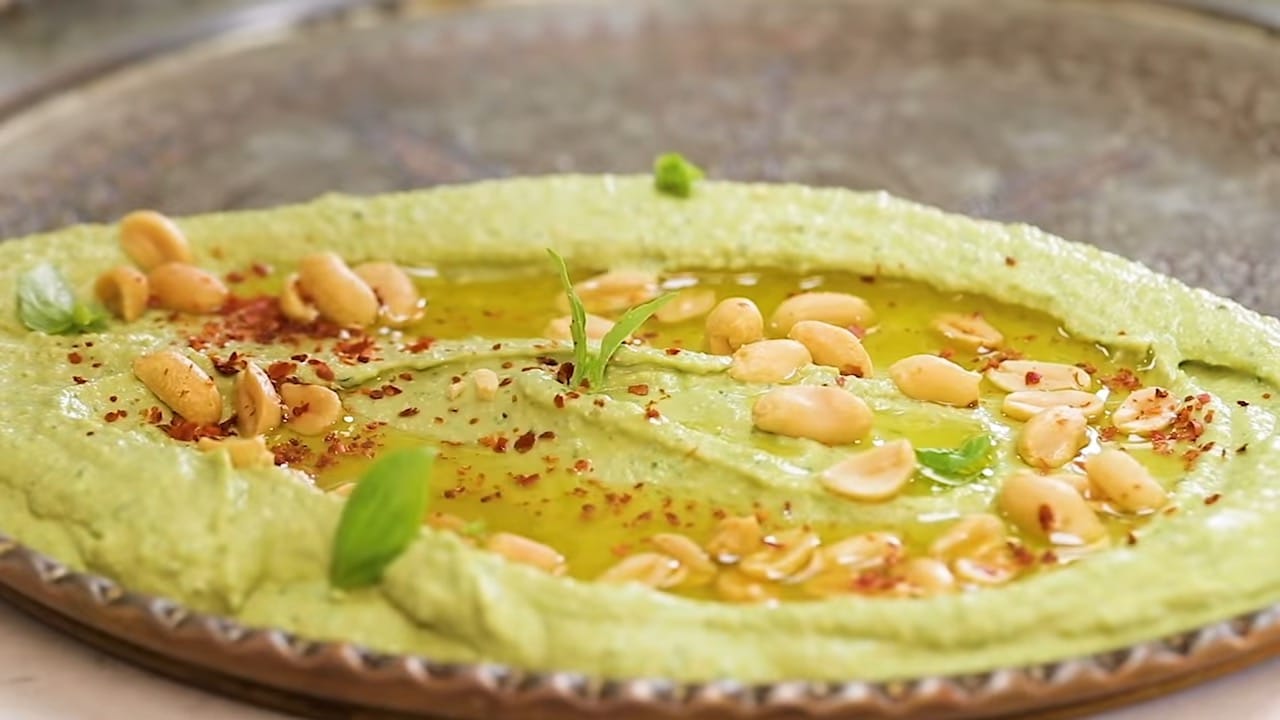 2 small bunches of basil
1 teaspoon salt
2 tablespoons olive oil
400 g canned chickpeas
2 cloves of garlic
6 tablespoons tahini
1 lemon, use half if it's a large one
8-10 Ice cubes
To garnish:
Olive oil
Red pepper flakes
Peanut
Fresh basil leaves
Instructions
EATBALLS
Put the canned chickpeas in the food processor with garlic and onion. Blitz them, leaving large chunks. Add in the parsley and dill, and pulse for another 5-10 seconds.
Then, add the red pepper paste, eggs, cumin, black pepper, salt, 3 tablespoons bread crumb, and flour respectively to the mixture. Knead it for 2-3 minutes, till it reaches to a meatball consistency. Finally, add the halloumi. The consistency should be sloppier than that of meatball.
Let it sit for 15 minutes if you have time.
Pour the half cup of dry bread crumb onto a plate. Coat the hand-shaped meatballs with flour. When every part of the meatballs is covered with the bread crumb, put them aside. At this stage, you should be gentle with the meatballs, as they may fall apart easily.
Pour frying oil with a depth of 2 fingers into a large frying pan and fry the eat balls in two batches when the oil is hot.
Transfer them to a sieve to drain excess oil when they turned into brown.
Serve and enjoy with creamy basil hummus and sweet chili sauce.
Creamy Basil Hummus
To achieve the perfect creamy texture for hummus, you need to peel the chickpeas. This might sound like a lot of work, but I have a brilliant shortcut for that! Pour the chickpeas into a salad spinner and fill with water. Slightly rub the chickpeas. The skins will pop up to the surface and when you push the basket up and down, the skins will group on the surface of the water, and it will be easier to collect them. If you don't have a salad spinner, pour the chickpeas into a large bowl, and rub them under running water. The running water will also help the skins of the group.
Beat the basil with the salt using a pestle and mortar. This will ensure all green juice and oil of basil come out. If you don't have pestle and mortar, you can use a plastic bag to beat the basil in it.
Pour the olive oil into the mortar to collect all the flavor easier and transfer it into a food processor. You might say, what if I use the processor for beating the basil but believe my pestle and mortar always make greener hummus.
Put the chickpeas, tahini, and garlic in the food processor. Squeeze the lemon juice and pulse until the texture becomes silky and creamy for about 10 minutes. Adding ice cubes while running the processor will prevent heating and help the smoothness. You can add up to 8-10 cubes depending on your processor's performance. Taste and add more salt, tahini or lemon if needed.
Transfer the hummus to a wide dish and make a crater with the back of a spoon.
Drizzle some olive oil and top with red pepper, fresh basil leaves, and peanut. Creamy, green basil hummus is ready.
Did You Make This Recipe?
---
Enjoy
Let us know what you think of today's Falafel & Hummus tips, tricks, and hacks!