DOLMA is on the menu in Book recipe, and we are going to teach you how to make this delicious recipe from scratch!
Today our topic is the anatomy of dolma. I really think and believe that dolma represents our society. It is collectivistic and there are many parts that make dolma beautiful.
Rice, meat, onion, garlic, spices, tomato, herbs, fat, oil… all have a different role and when they come together to become dolma, the sum becomes more than its parts! You've probably seen and made more than one dolma in different ways. However, I would like to explain to you in detail what the Turkish style of dolma is using a simple delicious stuffed bell pepper.
Thus, when you want to make another type of dolma, you can use this technique to make your own one with your ingredients.
Follow along with the ???? recipes below????????????????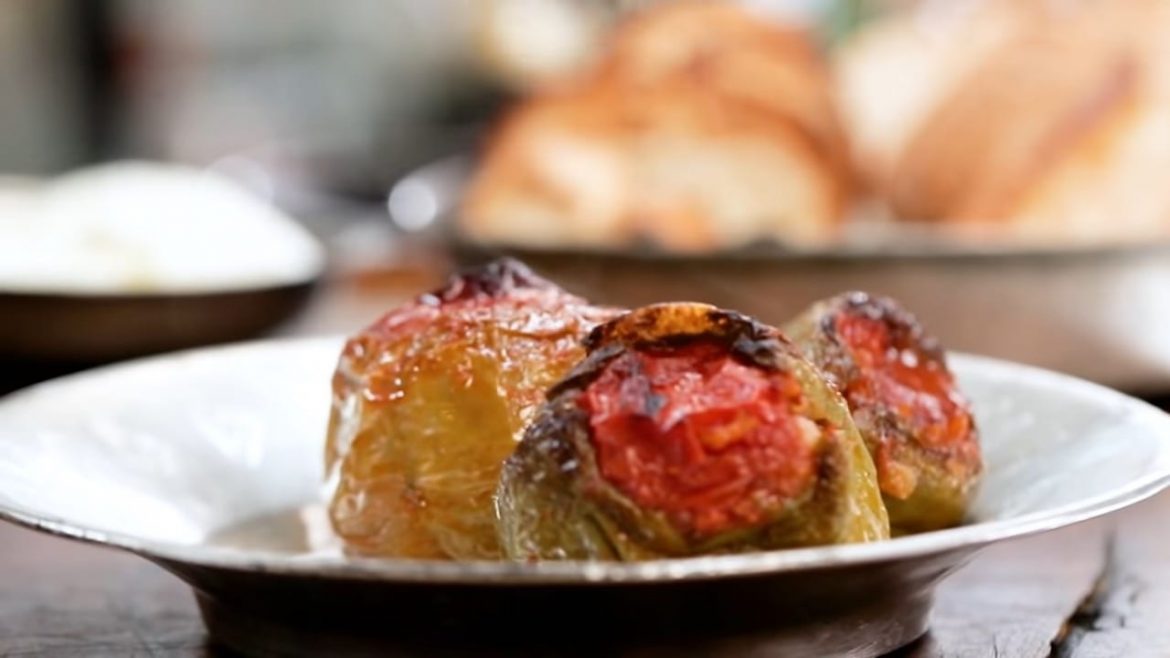 Ingredients
20 green bell peppers
1 teaspoon salt
1 teaspoon sugar
For the stuffing:
200 g minced meat
1.5 large onion, grated
1 tablespoon salt
4 cloves garlic, pureed
100 ml tomato puree, 1/3 cup + 1 heaping tablespoon
1 tablespoon pepper paste
4 tomatoes
1/2 teaspoon cumin
1/2 teaspoon allspice
1/2 teaspoon black pepper
2 tablespoons butter
100 ml olive oil, 1/3 cup + 1 heaping tablespoon
12 spring parsley, finely chopped
2 spring fresh mint, finely chopped
250 g rice, 1 +1/4 cups
For the sauce:
500 ml hot water, 2 cups
1 tablespoon butter
100 ml tomato puree, 1/3 cup + 1 heaping tablespoon
1 tablespoon tomato paste, increase tomato puree to 200 ml if you don't have paste
1 teaspoon salt
1/2 teaspoon black pepper
2 pinches of sugar
3 tablespoons olive oil
Instructions
Remove the stems of the bell peppers by pressing your thumb down gently and taking out the extra seeds. Thus, you will have a perfect hole for stuffing.
Mix the sugar and salt and rub the inside of the peppers with the mixture to explode the cells so that the flavors of the stuffing mixture will get into the skin of the pepper.
Cut the sides of the tomatoes and set them aside to use them as lids. Grate the rest of the tomatoes for the stuffing mixture.
Soak the rice in water for 15 minutes.
Combine the minced meat with the onion, salt, and garlic and knead it.
Add the tomato puree, pepper paste, grated tomatoes, olive oil, butter, black pepper, cumin, and allspice.
Then add the rice, parsley, and fresh mint and mix until all the ingredients are combined.
To make the sauce, mix the hot water, butter, tomato puree, tomato paste, salt, black pepper, sugar, and olive oil in a beaker.
Add 200 ml sauce to the stuffing mixture to make it juicier and tastier.
With a teaspoon fill each pepper with the stuffing. Make sure that you don't overfill your peppers. Rice should have enough space to expand while it cooks. Close the peppers with the tomato lids.
After filling the peppers place them tightly into a large, shallow, and oven-safe pot.
Pour the tomato sauce on the peppers, cover with the lid, and start to cook it on high heat until it boils. Then turn the heat on low and cook for 25 minutes.
After 25 minutes, take the lid and place the pot into the oven, a little higher than the middle rack. Bake at 200C (392F) on upper and lower heat with a fan for 30 minutes until partially browned. Your great Turkish dolma is ready to dig in. I strongly recommend serving it with yogurt.
Did You Make This Recipe?
---
Enjoy
Let us know what you think of today's DOLMA tips, tricks, and hacks!