TENDER & JUICY Slow Cooked Roast is on the menu in Book recipe, and we are going to teach you how to make this delicious recipe from scratch!
We're making Omani Shuwa, an extremely delicious leg of lamb, that is traditionally roasted for 24 hours. It's covered in a spicy marinade and cooked till fall off the bone tender. This one is a dish you've got to try.
Follow along with the ???? recipes below????????????????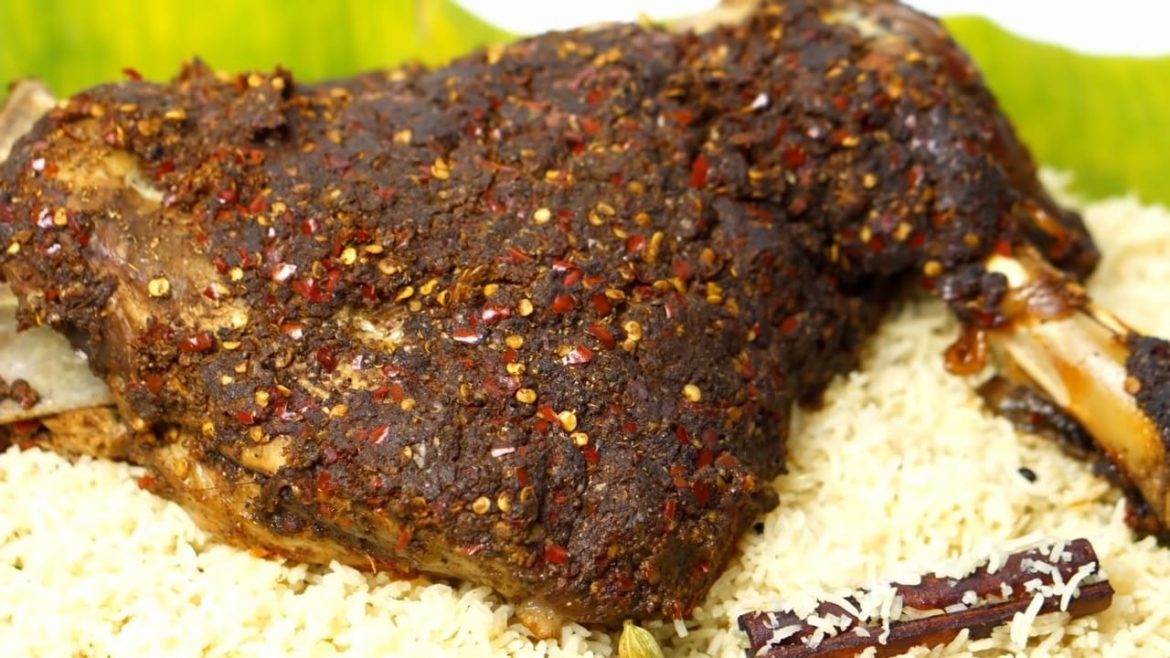 Ingredients
Marinade:
250ml Date Vinegar (replace with 50:50 Malt and Apple cider vinegar)
150g Tamarind pulp (Optional)
50g Garlic
50g Whole Cumin Seeds
50g Coriander seeds
50g Chilli flakes
25g Black Peppercorns (Optional)
25g salt
10 Cardamom Pods
1 Dried Lime (White or Black) (Optional)
Other spices you can optionally add:
Cinnamon
Turmeric
Ginger
Cloves
Other ingredients:
1 Lamb shoulder about 2.5kg
3-4 Banana Leaves (optional)
6-10m Parchment Paper
Instructions
Marinade Directions:
Break the tamarind up into small pieces and dissolve in 300g of boiling water
Let it sit for half an hour, then break it up with a potato masher, and strain the liquid to remove any seeds
Toast your Cumin, Coriander, Black Pepper, and cardamom in a dry pan over medium heat for 4-5 minutes
Once the spices are aromatic, pour them out of the pan and set them aside to cool
When cooled, grind your toasted spices into a fine powder as well as the Dried Lime
In a food processor or blender, add your garlic and date vinegar, and blend until the garlic is very finely minced
Add the ground spices, salt, chilli flakes, and the strained tamarind
Blend all together until you are left with a thick paste
Place in a jar and let it ferment for 3 days, or use it right away
To prepare the lamb:
In a baking dish, start applying the marinade to the lamb, making sure to cake it on in a thick layer
Ensure you get full coverage of the entire leg, and that the layer of spice is quite thick
Place the lamb in your fridge to marinate for at least 6 hours, and up to 1 day
When ready to bake, take your banana leaves, and wash then dry them
Take your parchment paper and cut 3 2 metre sections, then roll them up into a ball and soak in water for 10 seconds
Lay 2 banana leaves in a cross shape, then place your lamb leg on the topmost leaf
Fold the leaves over the lamb leg, so that it's surrounded on all sides
Add a third leaf folded in the other directions
Lay your parchment paper, and wrap it entirely around the meat ensuring you cover all sides
Repeat the paper 2 more times until you have used all 3 layers
To cook the lamb:
Preheat your oven to 140c, and place the lamb in a baking dish
Place the baking dish in your oven and let this cook undisturbed for at least 6 hours
Remove from the oven and let this rest for at least 10 mins before serving
To add a smoke flavour, place a lit piece of charcoal in the baking dish, then pour on a little oil
Notes
Cover immediately with some foil or paper and let this sit for 10 minutes before serving

Did You Make This Recipe?
---
Enjoy
Let us know what you think of today's TENDER & JUICY Slow Cooked Roast tips, tricks, and hacks!