Someone requested me to make a tiger print bread to round up the printed loaf I made… it took me quite a while because I'm busy with my pregnancy and then my nb.. finally found a time slot to make this…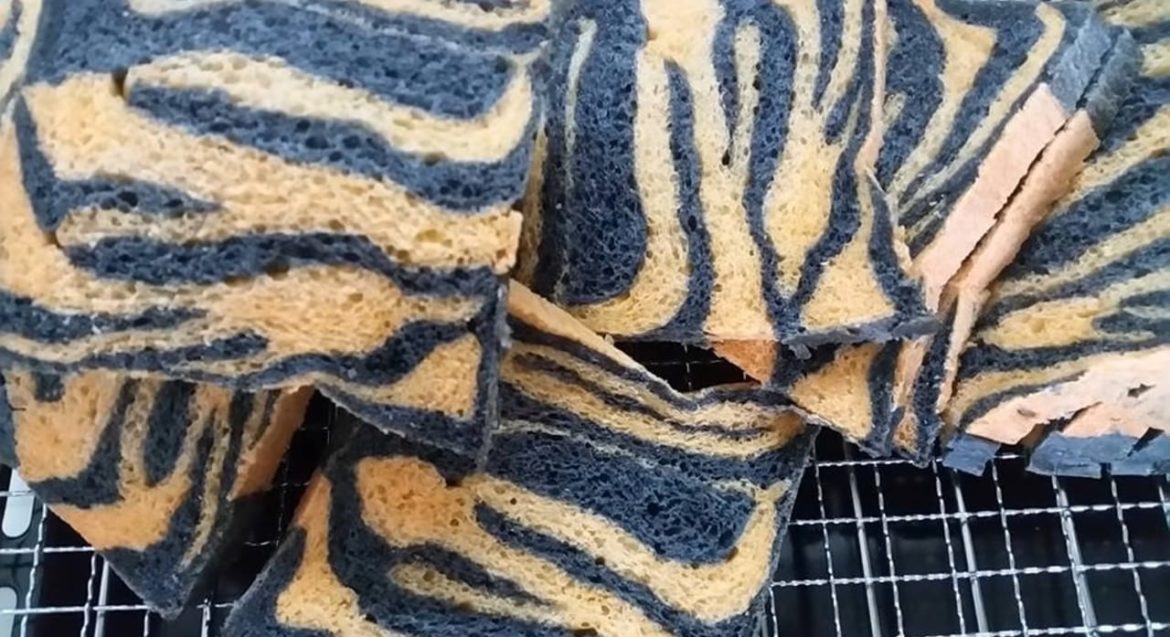 Ingredients
Recipe for the dough
375gm bread flour
35gm sugar
1tsp instant yeast
1/2 tsp salt
250ml milk
20gm softened unsalted butter
Instructions
Mix bread flour, sugar, and yeast together. Give it a stir before adding in salt and then milk. Mix it well and knead it into a rough dough. Then add the softened butter and knead for 20mins, or till it passes the stretching test.
Divide the dough into 2 and color it one orange and one black. If you do not wish to use food coloring, you can make a pumpkin loaf then color 1 portion with edible bamboo charcoal. Today I'm just using food coloring.
Set aside and let each dough rise for 1 hour or at least double in size.
Randomly cut each color dough into 12 portions, then roll it and stack each color alternately. Do it as random as you can so that the loaf didn't turn out with a straight line.
Turn the dough 90deg towards you then put into a lightly grease Pullman tin. Let the dough rise up to 90% of the tin then cover it up and let it sit for 25mins.. then pop it into a preheated 180c fan force oven for 30mins.
Remove it from the pan once baked and let it cool down completely before slicing up the bread. Enjoy your bigger bread.
Please give proper credit by linking back to my video if you're using my recipe and tutorial. Highly appreciate it. Thanks.
Did You Make This Recipe?
---
Enjoy
The recipe I'm using the same milk loaf recipe for all my printed loaf bread which I got the recipe from nasilemaklover.blogspot.com
Here's the other printed loaf I made: