Baked ladyfinger cookies and made tiramisu similar to the traditional way (tiramisu cake with ladyfingers).
It was really delicious because the ladyfinger made with egg yolk and mascarpone cheese was soaked with plenty of cream and coffee.
Most of the lady-finger cookies on the market are tasteless but you can use them by baking them yourself.
Cream cheese has a sour taste, so it feels refreshing.
I like the tiramisu made with mascarpone cheese more delicious
The top side is filled with whipped cream with diagonal lines and sprinkled with cocoa powder.
If you make it and eat it right away, the cream is so soft that it is stored in the fridge for more than 3 hours.
I kept it in the fridge overnight and it was really nice because the cookie syrup and cream blend together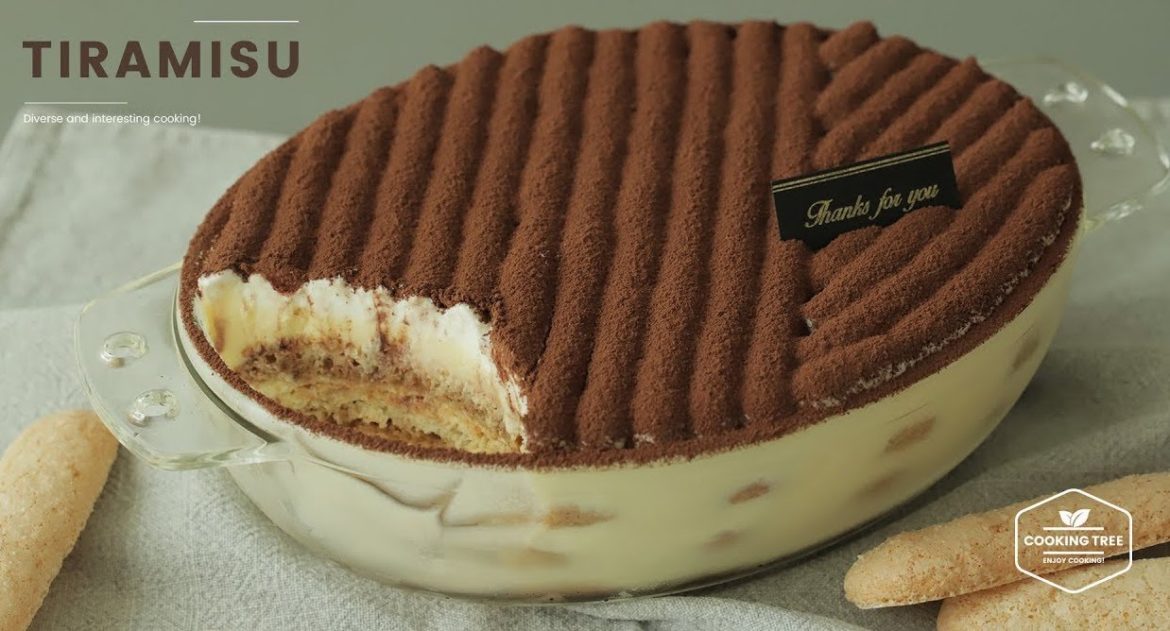 Ingredients
3 Egg yolks
20g Sugar
3g Vanilla extract
3 Egg whites
70g Sugar
90g Cake flour 
5g Corn starch 
1g Baking powder 
30g Sugar
30g Powdered sugar
200g Warm water 
30g Sugar
6g Instant coffee powder 
2 Egg yolks
45g Sugar
2g Vanilla extract
250g Mascarpone cheese
120g Whipped cream (whipped up 50%)
Instructions
Add sugar and vanilla extract to egg yolk and mix until slightly white.
While whipping the egg white, divide the sugar into 3 portions and whip it to make a meringue with soft horns.
Add a small amount of meringue to the egg yolk mixture and mix, then put it in the bowl containing the meringue and mix.
After mixing soft flour, corn starch, and baking powder, sieve in (3) and mix lightly.
Squeeze in an oven pan, mix sugar powder and sugar, sprinkle twice on the dough, and bake in an oven preheated to 180 degrees for 13 minutes.
Mix sugar and instant coffee powder in warm water and transfer to a large bowl to cool.
Place the bowl of egg yolk, sugar, and vanilla extract on the pot of boiling water and raise the temperature to about 65 degrees while stirring.
Remove the bowl from the pot and whip until the yolk turns white, add the mascarpone cheese, and mix.
Add 50% whipped cream and mix.
Lay the coffee-soaked lady's finger in the container and level it with the cream. Repeat 2 more times.
Cover with cling film and harden in the refrigerator for 3 hours or more or overnight.
Did You Make This Recipe?
---
See also: