Traditional Chinese flatbreads Cong You Bing /蔥油餅 are made of unleavened dough in a pan. In the Chinese language, it means «green onion pancakes» but differs from pancakes with elastic dough. These green onion flatbreads are so popular in China that cooked both in the streets and restaurants. Serve Cong You Bing with any sauce you like yet we recommend a special sauce made of garlic, soy sauce, and light rice vinegar – how to cook it see in our video recipe, Cong You Bing.
Follow along with the ???? recipes below????????????????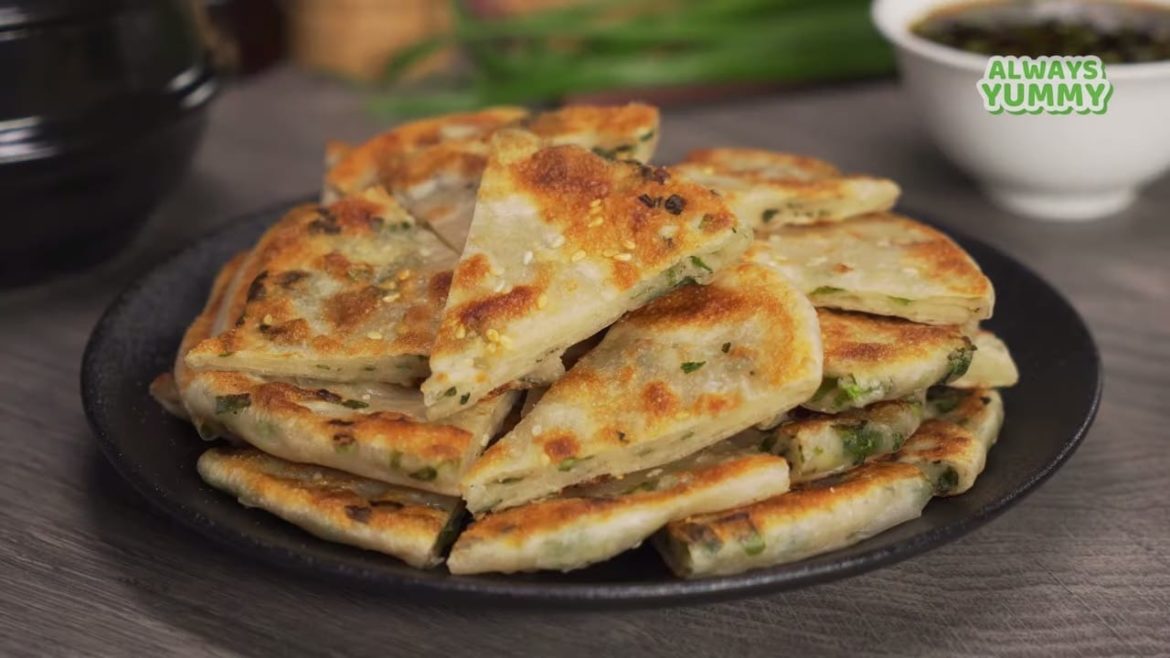 Ingredients
wheat flour – 10 oz /300 g
boiling water – 1/3 cup /80 ml
cold water – 2/3 cup /150 ml
salt – 1 tsp
ground black pepper – to taste
green onion – 3 oz /75 g
garlic – 1 clove
vegetable oil – 5 tbsp
soy sauce – 3 tbsp
rice vinegar – 3 tsp
sugar – 1 tsp
You will need:
rolling pin
pastry board
bowl
pan
carving board
Instructions
In a bowl combine 10 oz /300 g of flour and ½ tsp of salt and divide the flour into 1/3 and 2/3 parts with a spatula.
Pour 1/3 cup /80 ml of boiling water into 1/3 of the flour, stir with the spatula and make the dough.
Pour 2/3 cup /150 ml of cold water into 2/3 of the flour and stir.
Combine 2 types of dough and knead with hands 3-5 minutes long until smooth and elastic.
Cover the dough with a towel and leave for 20 minutes.
Chop up the green onions except for their white parts.
In a small bowl mix sauce ingredients: 3 tbsp /15 g of green onion, chopped garlic, 1 tsp of sugar, 3 tbsp of soy sauce, 3 tbsp of water, and 3 tsp of rice vinegar.
Flour a pastry board, layout the dough, knead with hands, and divide into 4 parts. Roll each into a disk 2-3 mm thick.
Spread 1 tsp of vegetable oil on the disk surface, salt, and pepper to taste, sprinkle with the chopped up green onion, make a roll and crimp the edges into a snail. Flatten the dough a bit with fingers and roll neatly into a disk 5-6 mm thick. Make the same steps with the rest of the dough.
Brush the heated pan with 1 tbsp of vegetable oil and fry the flatbreads on each side for 3 minutes over medium heat.
Serve your Cong Yu Bing flatbreads hot with the prepared sauce.
Did You Make This Recipe?
---
Enjoy