Shakshuka is on the menu in Book recipe, and we are going to teach you how to make this delicious recipe from scratch!
Today is all about eggplants because I think eggplants can be as famous and addictive as potatoes with good cooking. Unlike potatoes, eggplants can be unbearable if you don't know how to treat them, so I will give you the tips and tricks about cooking eggplants and making a great Turkish shakshuka.
The word meaning of shakshuka is "all mixed up" and unlike the other cultures, in Turkey, Shakshuka is not an egg dish. It's a vegan meze with fried eggplants and pepper (and sometimes potatoes too) with garlic-tomato sauce, shared around a big table with friends and family in summers!
Follow along with the ???? recipes below????????????????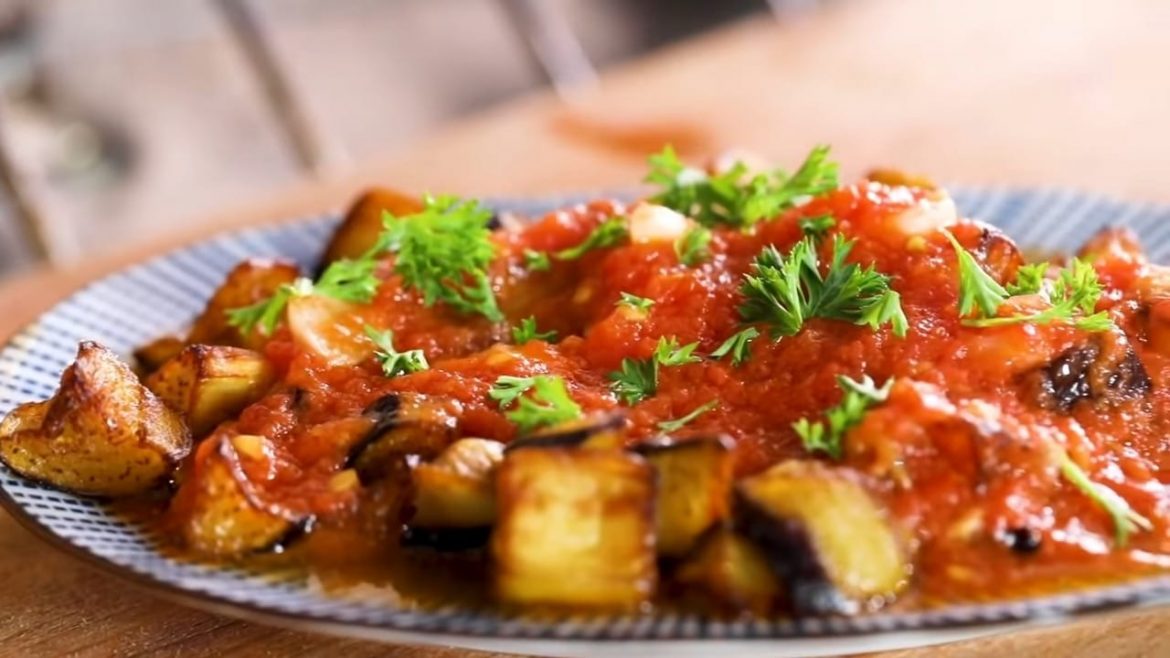 Ingredients
3 eggplants, peeled strips off, and diced
5 green peppers, sliced into circles (2 diced green bell peppers work fine as well)
Salt
3-4 cups frying oil of your choice
Tomato sauce
6 small tomatoes, finely grated (400 ml (1+ ¾ cups) of tomato puree would do great)
3 tablespoons olive oil
2 large garlic cloves, peeled and chopped
2 pinches of salt
A pinch of black pepper
A good pinch of sugar
1 teaspoon white wine vinegar
To garnish:
2 sprigs of parsley, chopped
Instructions
Pour the frying oil into a large frying pan and turn the heat on to medium-high.
Peel the strips off the eggplants and dice while the oil is heating. This way you will be able to fry them before the flesh turns brown.
Dip the handle of a wooden spoon in the oil. If there are bubbles coming out of the spoon immediately, the oil is hot enough for frying. If there are no bubbles yet, heat a little more.
Add the eggplants to the pan and fry until brown. Don't take them out if they still have green-yellow colours and stir occasionally.
While eggplants are frying, you can make the tomato sauce. Cut the tops of the tomatoes and finely grate. This way you will use all the flesh and don't have to peel them before grating.
Heat the olive oil in a small saucepan on medium heat and add the garlic.
Then, add the tomato puree before the garlic changes colour. Garlic can taste bitter if over fried.
Season with salt and black pepper.
Add in the sugar and vinegar. You can add some hot pepper if you like.
Mix it well and simmer for 10-12 minutes.
Place a sieve in a large bowl and transfer the fried eggplants into it. Season with salt and shake it well. Sieve works way better than paper towels in terms of draining excess oil and keeping them crispy.
Turn the heat down to low and fry the peppers as well. Unlike the eggplants, fry them just for 30 seconds, we want them to keep their bright green colour instead of turning brown.
Transfer the peppers to the sieve and season with salt. Set aside with eggplants for a couple of minutes to slightly cool down.
Mix the tomato sauce with the eggplants and peppers in a large bowl. Transfer to a dish and garnish with chopped parsley. Your amazing, vegan şakşuka is ready. It is great when it is hot but if you be patient and wait until it cooldowns, the taste will settle and be much greater. Even the next day you won't believe how amazing it becomes as it waits. Place a slice of white cheese (feta) on a piece of bread and top with şakşuka, you are in heaven with each bite!
Did You Make This Recipe?
---
Enjoy
Let us know what you think of today's Shakshuka tips, tricks, and hacks!