Desserts With Ripe Bananas are on the menu in Book recipe, and we are going to teach you how to make this delicious recipe from scratch!
Bananas are one of the most versatile fruits out there. So go to the kitchen and try these delicious, desserts.
1-BANANA FRITTERS (Servings: 4-8)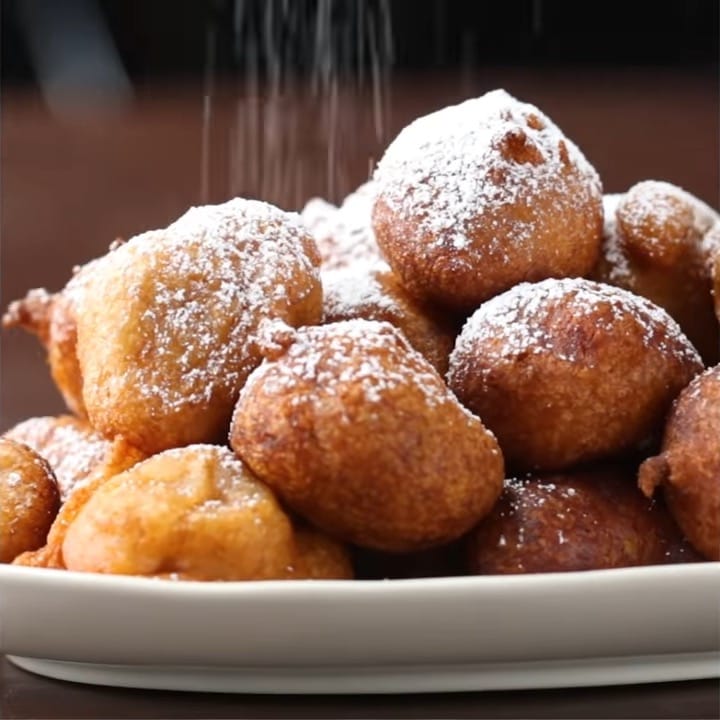 INGREDIENTS:
2 ripe bananas, peeled
1 cup pancake mix
½ teaspoon cinnamon
¾ cup milk
Oil for frying
Powdered sugar to serve
PREPARATION
In a mixing bowl, use a fork to mash the bananas
Add in pancake mix, cinnamon & milk. Whisk together until combined.
Fry in oil. About 1 tablespoon per fritter.
Cook for about 2-3 minutes until they are golden brown and cooked through the middle.
Sprinkle powdered sugar
2-CHOCOLATE BANANA BREAD (Serves: 4-6)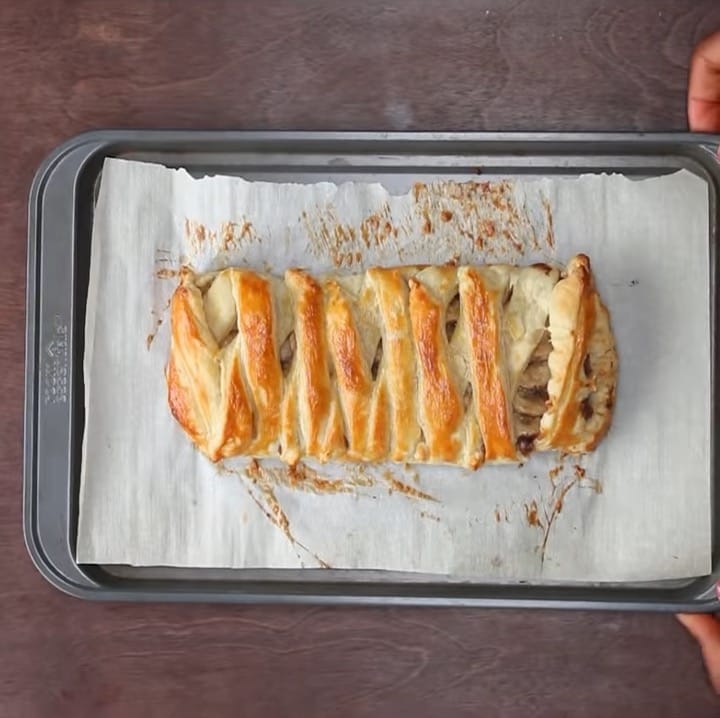 INGREDIENTS:
2 ripe bananas, peeled and sliced
1 sheet puff pastry, thawed
¼ cup chocolate hazelnut spread
1 egg, beaten
PREPARATION
Preheat oven to 400°F (220°C)
Unfold the puff pastry. Spread the chocolate hazelnut spread onto the middle third.
Arrange the sliced bananas on top of the spread in a single layer. 4. Bananas may slightly overlap.
Cut out a triangle of the top right corner of the pastry. Repeat on the other side.
Cut diagonal slits along both sides of the pastry. Each will be around 1" thick.
Fold over the top piece of dough to partially cover the top row of bananas.
Alternating both sides, fold the strips of pastry over the bananas, mimicking a braid pattern.
Trim the excess dough on the sides, and fold over the bottom flap.
Brush the top of the braided pastry with the beaten egg. Transfer to a parchment-lined baking sheet for and bake 15 minutes or until the pastry is golden brown.
Allow resting for 10 minutes before slicing.
3-BANANA PUDDING (Servings: 4)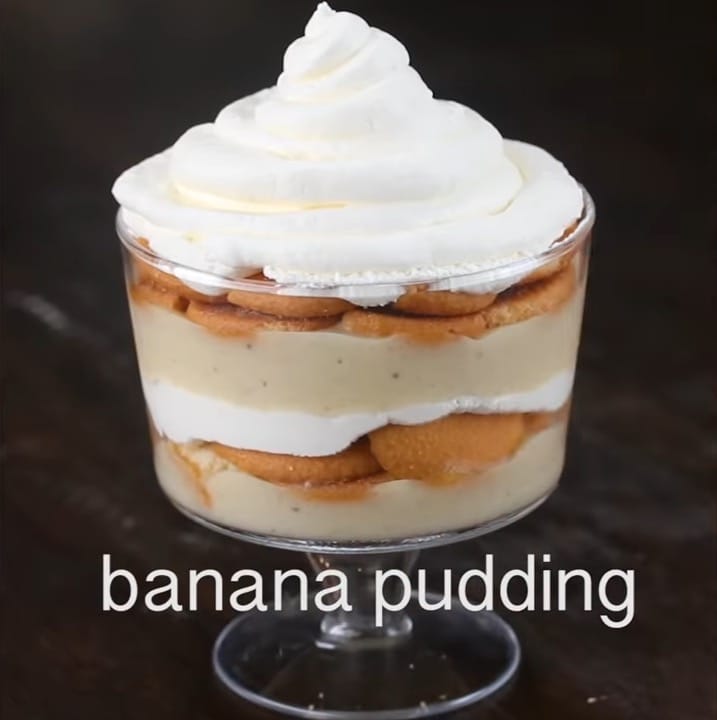 INGREDIENTS:
2 ripe bananas, peeled
3 egg yolks
⅓ cup of sugar
3 tablespoons cornstarch
1 teaspoon vanilla
2 cups of milk
To serve:
Vanilla wafers
Whipped cream
PREPARATION
Place the bananas, egg yolks, sugar, cornstarch, vanilla, and milk into a blender and blitz until smooth.
Transfer mixture to a saucepan and cook over medium heat until thick stir constantly for about 8-10 minutes.
Pour mixture into a heat-safe bowl, cover, and chill for at least 4 hours
To serve, scoop a few spoonfuls of pudding into a serving glass. 5. Add one layer of vanilla wafers, then whipped cream. Repeat. Serve or allow to sit in the fridge for up to 4 hours.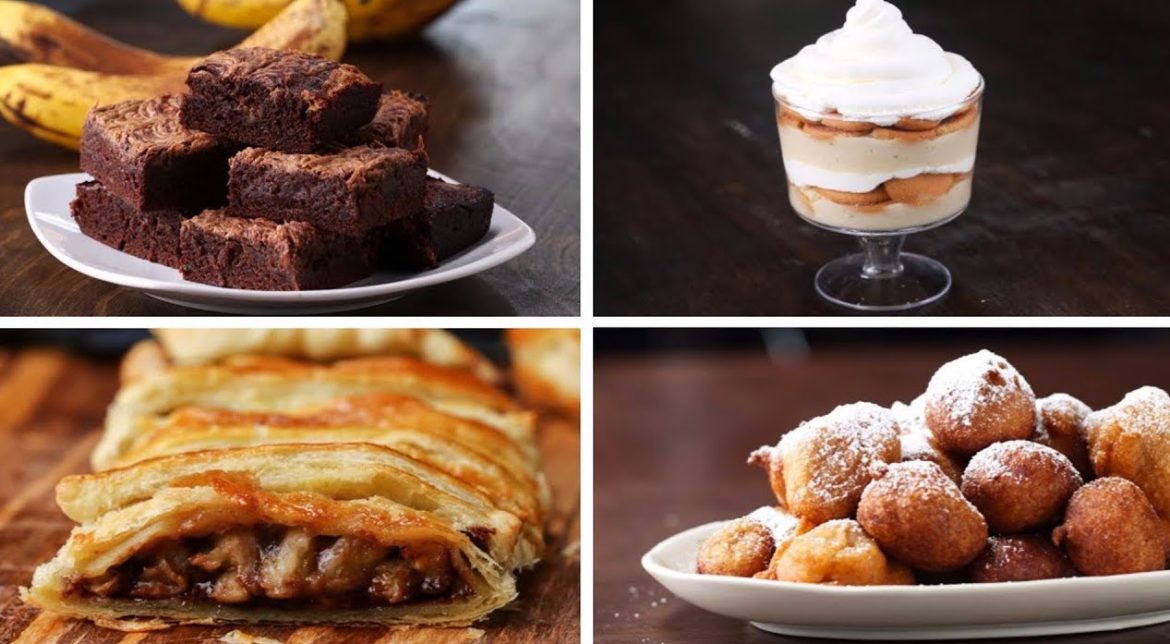 Ingredients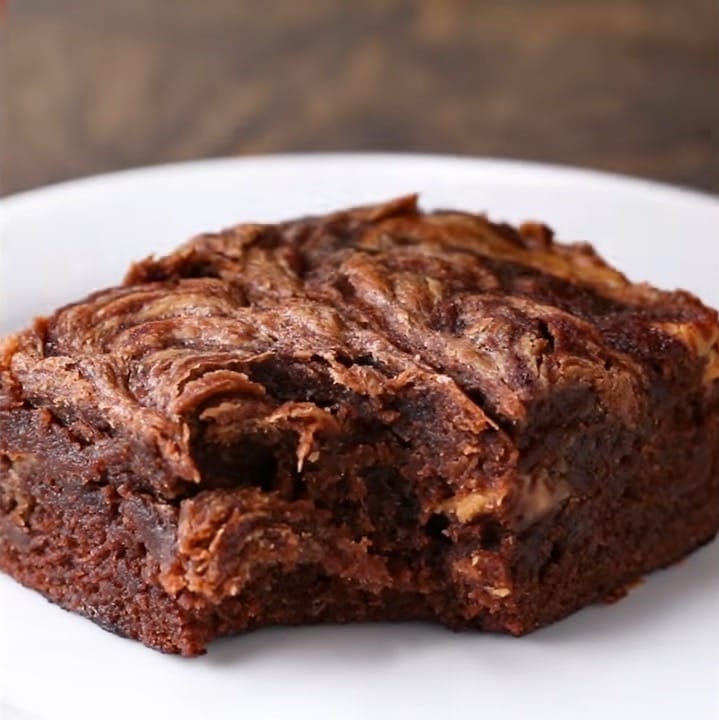 2 ripe bananas
1 cup sugar
½ cup, plus 1 tablespoon unsalted butter, melted
1 teaspoon vanilla extract
¾ cup flour
¼ cup, plus 1 tablespoon cocoa powder
⅛ teaspoon salt
½ cup smooth peanut butter
Instructions
Preheat oven to 350°F (180°C).
In a bowl, use a fork to mash the bananas. Add the sugar, ½ cup of butter, and vanilla, and whisk until combined. Add the flour, salt, and cocoa powder, and whisk until fully incorporated.
Use the remaining 1 tablespoon of butter to grease a 9x9-inch baking tray.
Use the remaining 1 tablespoon of cocoa powder to dust every side of the baking tray.
Pour batter into prepared baking dish.
Use a spoon to add dollops of peanut butter on top of the batter.
Use a butter knife to swirl the peanut butter into the brownie batter.
Bake for 25-30 minutes, until the center no longer jiggles when the pan is shaken.
Allow brownies to cool completely before cutting.
Did You Make This Recipe?
---
Enjoy
Let us know what you think of today's desserts with ripe bananas tips, tricks, and hacks! Which one was your favorite recipe?