Crème Brulée is on the menu in Book recipe, and we are going to teach you how to make this delicious recipe from scratch!
A Creme Brulée Twist Perfect for a Dinner Party!
Follow along with the ???? recipes below????????????????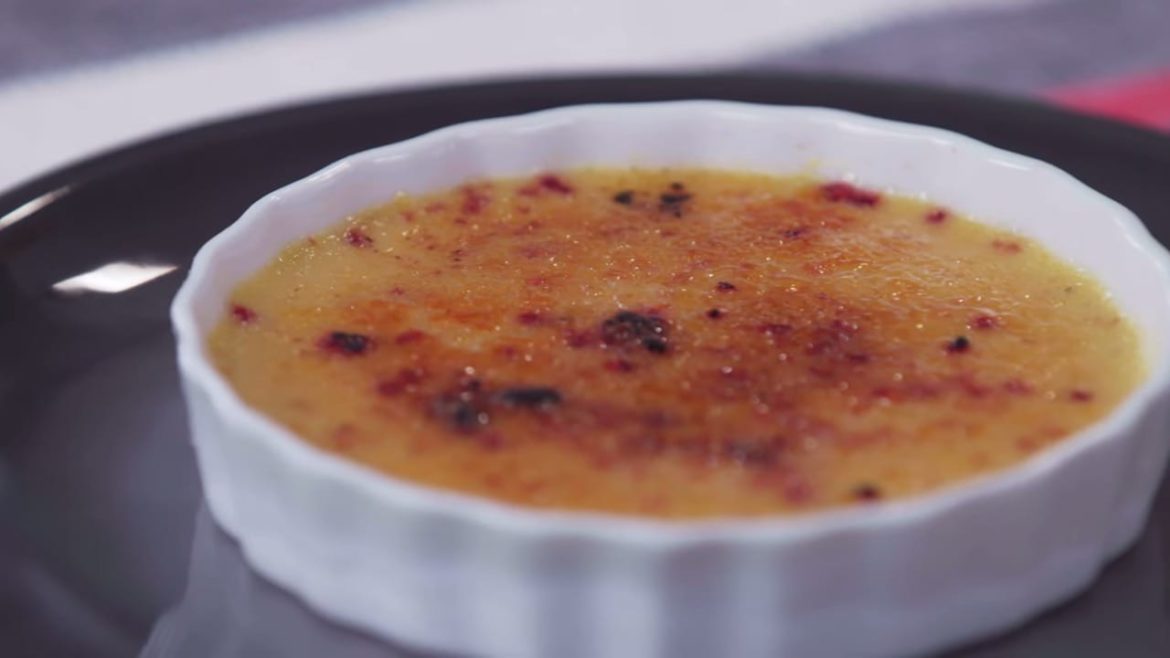 Ingredients
1 cup (250 mL) whipping cream
1 tsp vanilla extract or vanilla bean paste
2 oz (60 g) ruby or white baking/couverture chocolate, chopped
3 large egg yolks
1 Tbsp finely crushed freeze-dried raspberries (optional)
1 Tbsp granulated sugar, plus extra for brulée
Instructions
Preheat the oven to 325°F (160°C). Arrange 4 crème brulée dishes in a roasting pan or other dish with a lip.
Bring the cream and vanilla up to a simmer in a small saucepan over medium heat. Remove the pan from the heat and whisk in the chocolate until melted.
In a small bowl, whisk the egg yolks and sugar together and slowly pour the hot cream into the bowl while constantly whisking. Remove any bubbles that form on the top of the mixture by dabbing gently with the corner of a sheet of paper towel. Whisk in the crushed freeze-dried raspberries, if using. Ladle or pour the liquid into the brulée dishes. Carefully pour boiling water into the roasting pan so that the water comes hallway up the sides of the dishes.
Bake for 15 to 20 minutes, until the custards no longer jiggle. Carefully remove the dishes from their water bath onto a rack to cool to room temperature, and then chill for at least 2 hours before serving.
To serve, sprinkle a thin but even layer of sugar on the surface of each custard and use a kitchen torch to melt and brown the sugar. Continue this, adding a thin layer of sugar and torching until it has an even, golden brown shell of caramelized sugar. Serve immediately.
Did You Make This Recipe?
---
Enjoy