Chocolate Chip Cookie Birthday Cake is on the menu in Book recipe, and we are going to teach you how to make this delicious recipe from scratch!
A chocolate chip cookie birthday cake that will be the crowning achievement of any birthday party! You have to make this cake!
Follow along with the ???? recipes below????????????????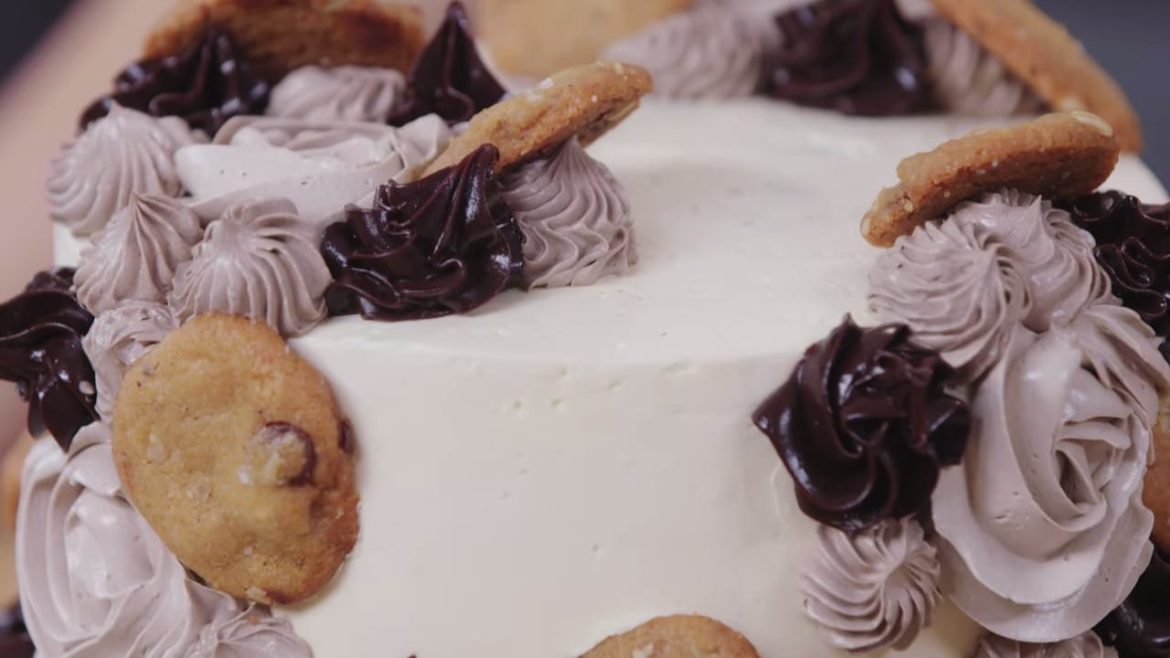 Ingredients
Chocolate Chip Cake
3 cups (390 g) cake & pastry flour
1 cup (200 g) granulated sugar
½ tsp baking powder
½ tsp baking soda
½ tsp fine salt
2 cups (400 g) packed light brown sugar
1 cup (225 g) unsalted butter, at room temperature and cut into pieces
6 large eggs, at room temperature
1 cup (250 mL) full-fat sour cream
2 tsp vanilla extract
1 ½ cups (270 g) mini chocolate chips
Fudge Sauce Filling
1 cup (250 mL)whipping cream
½ cup (120 g) Dutch process cocoa powder
½ cup (100 g) granulated sugar
¼ cup (50 g) packed light brown sugar
¼ cup (60 mL) white corn syrup
6 oz (180 g) dark baking/couverture chocolate, chopped
¼ cup (60 g) unsalted butter
1 tsp vanilla extract
½ tsp fine salt
Brown Sugar Swiss Buttercream
6 large egg whites
1 cup (200 g) packed light brown sugar
2/3 cup (140 g) granulated sugar
1 2/3 cups (365 g) unsalted butter, at room temperature and cut into pieces
2 tsp vanilla extract
For décor
Brown food colouring gel
12 baked, small salted caramel chocolate chip cookies, for décor
Instructions
Preheat the oven to 325°F (160°C). Lightly grease three 8-inch (20 cm) round cake pans. Line the bottoms with parchment paper and dust the sides with flour, tapping out any excess.
Sift the flour, granulated sugar, baking powder, baking soda, and salt into a large mixing bowl or into the bowl of a stand mixer fitted with the paddle attachment. Stir in the brown sugar. Add the butter and using electric beaters or the mixer at medium-low speed, work in the butter until bits of butter are no longer visible. Whisk the eggs, sour cream, and vanilla together and add this all at once to the flour, mixing until blended at low speed and then increasing the speed to medium, to beat until smooth and fluffy, about 2 minutes. Stir in the chocolate chips by hand. Divide the batter between the pans and spread to level it.
Bake the cakes for about 45 minutes, until a tester inserted in the center of a cake comes out clean. Cool the cakes in their pans on a rack for 20 minutes and then turn them out to cool completely.
For the fudge sauce filling, bring the cream, cocoa powder, brown sugar, granulated sugar, and cornstarch up to a simmer over medium heat, whisking often, until smooth. Stir in the chocolate and butter and return to a simmer while whisking constantly. Stir in the vanilla and salt and remove from the heat. Cool to room temperature and then chill for at least 4 hours before using.
For the buttercream, place the egg whites, brown sugar, and granulated sugar in a metal bowl and set over a saucepan filled with 2 inches (5 cm) of gently simmering water. Whisk constantly (but not vigorously) until the mixture reaches 150°F (65°C) on a candy thermometer, about 6 minutes.
Use electric beaters or transfer the mixture to the bowl of a stand mixer fitted with the whip attachment and whip at high speed until the meringue has cooled to room temperature (it will hold a stiff peak by then).
With the mixer running at high speed, add the butter a few pieces at a time. At first, the meringue will hold its volume, then the buttercream will deflate a little and become very creamy yet fluffy looking. Beat in the vanilla. Use immediately, or cover and chill or freeze for later use. Just let it come to room temperature on the counter and re-whip the buttercream to make it fluffy and spreadable.
To assemble the cake, place a cake layer on a cake stand or cake turntable. Spread the top of the cake with an even layer of the chilled fudge sauce filling. Top this with the second cake layer and repeat with the fudge sauce frosting. Place the third cake layer on top and cover the top and sides of the cake with the buttercream, spreading to level it as much as possible. If possible, chill the cake for 2 hours before completing the decor.
To decorate, divide the remaining buttercream between two bowls and tint with brown food coloring in two shades. Place each buttercream into a piping bag fitted with a different size/shape of star tip. Spoon the remaining fudge sauce filling to a third piping bag with a different star tip. Pipe rosettes of all 3 colors and tips on the cake, in scatterings around the top and sides of the cake. Arrange the small chocolate chip cookies around the cake, and then chill until ready to serve.
Notes
Ideally, pull the cake from the fridge an hour before slicing.

Did You Make This Recipe?
---